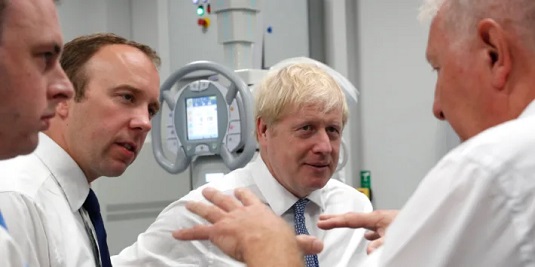 The Tories are imposing a one per cent pay rise on NHS workers. Which, thanks to inflation and the projected five per cent increase in council tax everywhere, is really a pay cut. This has upset and angered a lot of people. According to
polling by Opinium
, 72% thought the pay "offer" should be more generous, with 58% of self-identified Tories also agreeing. Interestingly, 51% said they would support strike action
of nurses
against the derisory settlement versus 36% opposed. There's something in the air ...
Not in free circulation is an appreciation of the problems the Tories have got themselves into.
Their line
isn't working like they hoped, but sadly some comrades refuse to see the mess in front of their faces. There are otherwise sensible people seemingly believing the attempted imposition of one per-cent isn't a screw up, but rather a clever-clever game of rank manipulation. It's all part of an elaborate master plan.
Look, the Tories know how to
manage politics
, but they're not ominpotent. There's nothing supernatural about their mastery of the dark arts. For instance, let us consider the proposition being pushed, that the Tories are pushing one per cent so they can get away with awarding their real "offer" of 2.1%. They'd be seen being a listening government and, presumably, when the inevitable cave-in comes and this will translate into favourable polling ahead of this May's Super Thursday. Yet this doesn't make sense. On Wednesday at Prime Minister's Questions, Keir Starmer waved around his bit of paper reminding the assembled honourable members that 2.1% was already budgeted for and had been voted through by the Tories in January 2020. The question is if the Tories wanted to look good, they should have simply implemented this instead of damaging themselves and their standing in the eyes of those equivocating voters who've recently travelled back toward them thanks to
the vaccine bounce
. Bouncing back like this just doesn't happen in politics in the absence of a clear out of the incumbent leadership.
This tendency to ascribe the Tories horrifying power comes from a failure to appreciate them as a collective political actor. They operate with numerous advantages, but like all parties
they can make mistakes
. Decision-making and policy in the Tory party is highly centralised and, like any other political actor, its leadership cadre make judgement calls on the basis of evidence, feeling, commitments,
lobbying/favours
, strategies, etc. They are also conditioned by the push-me-pull-you of internal politicking, factionalising, ministerial rivalries, and pressures from outside - both that perceived coming from the wider electorate and what the chief executive whispered into minsters' ears over dinner. Even if one is armed with the most accurate appreciation of what politics is and the
probabilistic character
of social relationships, the correct call is by no means guaranteed and things go wrong. Misreadings are a commonplace, and the one per cent pay "increase" is such a moment.
What is the Tory thinking in this instance, given how we find them willingly and unnecessarily
risking their authority
over something that is marginal to their project
again
. There's the ongoing
cuts to the NHS
, which amount to running it down so it can be offered up cheaply to those whose nests the Tories have generously feathered throughout the pandemic. But of more consequence is the concerted efforts of the government to dampen down expectations after Covid has abated. They have navigated the crisis
with some political skill
. They're not on the hook for 125,000 deaths, nor the economic cataclysm, and so there's no real reason to believe they can't win the peace - especially when the official opposition has barely challenged their overtly politicised management of Covid-19. The Tories want things to go back the way they were, and holding down public sector pay - including NHS workers - is a statement of intent. It's a reminder to state employees who's boss, so be grateful you have jobs and don't rock the boat, and to assure their support among the fractions of capital, big and small, that stoking the fires of higher wage claims won't be among their worries once an approximation to normality resumes.
And they thought they could genuinely get away with it. One thing about these Tories. Their political management of the big issues is skilled, but on day-to-day tactics they acquire butter fingers and drop the ball frequently. Lockdown timings, holiday hunger,
food parcels
, and now NHS pay. Other concerns appear to crowd out Tory nous and hubris sets in. A majority of 80 and a fondness for old-style Dave/Osborne strivers-vs-the-skivers assumptions would tend to do that, and as this keeps happening there's no reason to believe it won't happen again and they'll make a pig's ear of another tactical matter. Therefore, the labour movement must be alive to the likelihood of more mistakes in the future, and the potential they have for mobilising opposition. Already the government have partially retreated from their money's tight/we're all in the same boat positioning to awaiting the outcome of the independent pay review, but the constant talk of strike action and evidence of mass anger can force further retreats. And if they cave on NHS pay, the road is open for public sector workers first, and then workers more generally to make demands and organise around them. And once we move and move decisively, the Tories' omnipotence is really shown up as impotence.
Image Credit