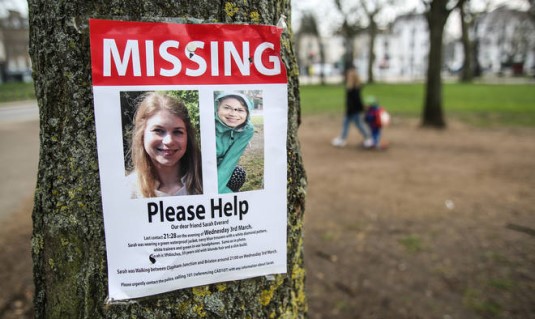 Her name was Sarah Everard, a woman who was just going about her business. She wore bright clothing on the night of her disappearance and stuck to well-lit streets. She had taken the well-meaning advice issued to women who find themselves outdoors after dark, and this wasn't enough. Someone - a man - decided to make this irrelevant. He decided to abduct Sarah and end take her life. If anything good is to come from this disgusting crime, let it be a change in the politics of women's safety. And it can start with changing the terms of reference: the politics of
male violence
. It's not like women fear going out alone at night because a force of nature will assault them. It's time a spotlight was shone on the behaviour of men, because what happened to Sarah was no isolated incident. Violence against women lies on a continuum ranging from commonplace harassment, comments on the street, unwanted and unasked for attention online, physical and mental domestic abuse all the way up to rape and murder. This is not a case of one or two bad men. This spectrum of gendered violence is sustained by the actions and complicity of millions of men. Perhaps even by some reading these words.
Entitlement, predatory behaviour, indifference to women's safety and women's voices, it's interesting and telling how social media reaction, including by
some women
who should know better, have responded by pretending there isn't a problem. That violence toward women by men is not a structural characteristic of gendered relationships and a lived reality of all women. When encountering this resistance to looking at how
so many
men subject women to intimidation and violence, you're forced to ask why. Why are many men resistant to taking this seriously, or keen to conscript this to Britain's dreary culture wars? Have they something to hide? Scared of confronting their own culpability and responsibility for making women feel unsafe? Unwilling to accept they benefit from the privileges, however meagre, being a man affords them? Is it a fear of being shown up to be a
pathetically fragile
human being?
There are another set of questions too. While the chief suspect, who's now been charged, is a serving officer in the Met, we know there is an outstanding indecent exposure case against him. Without pronouncing on his innocence or guilt, he's entitled to a fair trial after all, we need to also talk about the institutionalised sexism of the police. Last year we had the
appalling case
of coppers taking selfies with the bodies of Bibaa Henry and Nicole Smallman, two murdered women of colour. The pitiful level of rape convictions, which shoud be a source of national shame, fell to an
all-time low
since tracking began in 2009. Domestic abuse incidents were
up nine per cent in 2019-20
on the previous year, while arrests were made in just 34% of cases and referrals from the police to the CPS for charging fell almost by a fifth. And of coppers found to have committed gross misconduct on the job,
only 8.4% were dismissed
from post. A case of there not being
enough female officers
? Or a matter of gender imbalances reflecting a male-centred sexist institution?
The culture of the police not only reflects the character of wider society with its abuse and disregard for women, black, asian, and other ethnic minorities, and LGBTQ people, it concentrates it. The police might attract those who want to "help people", or are sucked in by the usual
thin blue line
nonsense, but it also takes recruits from the last people you'd want in a uniform. Because it is the most visible and highest profile arm of the state
as a violent institution
, we find it selects the violently-minded, the bigoted, and those not just happy with the inequalities and crap this society throws up but are prepared to put themselves at risk to defend it. Sure, there are nice coppers. I know quite a few who've done time in the force. But they do not disprove the sexist, racist character of the institution they worked in any more than a friendly Tory councillor challenges the idea their party looks after
the minority class interest
.
Naturally, those on the inside do not see things this way. For serving police, they view their job is a never-ending slog against the dregs of society, or the "evil poor" as the celebrated copper-turned (ex-)blogger NightJack once put it. This is a grim, dirty business but someone has to do it. Therefore, if a suspect gets roughed up a little too much, or a collegue spouts racist, sexist bullshit, or uses their position to harrass or accidentally-on-purpose assault women, it's no harm done. A perk even when faced with the worst of what humanity can throw. Such a culture inculcates a sense of impunity and entitlement, and given the degree of solidarity and occupational identification among coppers so much of it is brushed under the carpet. But it cannot be repressed forever. It struggles to the surface and we see it in the lack of interest in sexual offences cases, domestic violence incidents and, naturally, the dismissive attitude towards complaints against their own.
I feel so sorry for Sarah Everard, but we know she's not going to be the last. Until we deal with men's violence and the social relationships allowing for
and encouraging
it, and the police are confronted not just over their systematic failings but its core institutionalised sexism and routinised misogyny, no woman is safe.