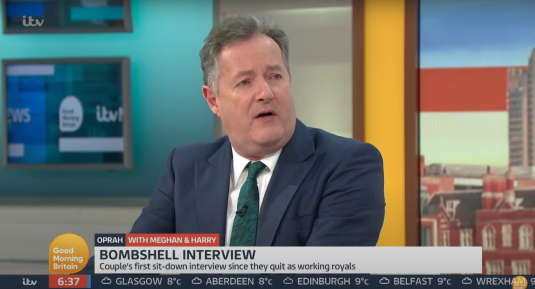 It was one rant too many. Having vented his Meghan obsession following
that interview
, professional arsehole Piers Morgan finally got his comeuppance. Criticised on air by
Good Morning Britain
's weatherman, Alex Beresford, the straw that broke the braying donkey's back was the entirely correct observation that Morgan's antipathy to the Sussexes was thanks to Meghan breaking off their acquaintance. He couldn't handle the detonation of a truth bomb of this size and, in the best tradition of egotistical manbabies, he stormed off the set.
See for yourself
.
And now he's gone. According to the
write up
from ITV, Morgan has merely "left his role as presenter." Were 41,000 complaints and an Ofcom investigation too much even for the
GMB
bosses? Or was his sulking, skulking escapade something of a fatal wounding, a big mouth who was shut up by a bit-part player in the
GMB
line up? Not a good place to come back from when your
shtick
is an obnoxious line in hard questionning. This wasn't a triumph of decency, as if the executives have ever cared about that, but putting a wounded animal out of his misery and avoiding his contaminating the
GMB
brand beyond recuperation.
Where now for Morgan? I'm sure not many people care, but he'll find something. A berth at the
Mail
or
Express
maybe, a new national platform to cry about his cancellation. A path well-trodden by other whingeing right wingers complaining about their marginalisation in the pages of mass circulation titles. Social media has speculated about a slot on
GB News
, the
great white hope
of the Tory culture wars. It depends if it has pockets deep enough, and the station is capacious enough for a simultaneous accommodation of his and Andrew Neil's egos.
Morgan's obsession with Meghan is a high profile example of a depressing commonplace. Here is a
comprehensive trove
of obsessive Morgan tweets about her. Simply put, here was a man who couldn't handle how the object of his preoccupation rejected him and moved on with her life. Compounding this psychic wounding was the dramatic upending of their positions in the celebrity firmament. According to this
syndicated Mail piece
, by his own account he was flattered by their initial contact and clearly cast himself as a gatekeeper (or sugardaddy) willing and able to leaver his superior standing in the celebrity firmament to help her career along. For what in return we can only speculate. And then she met Harry, leapfrogging him
in the rankings
and leaving Morgan nursing his bruised entitlement.
Where have we encountered this before? Oh yes, in the comings and goings of everyday life. All those uncounted occasions of men treating women like property, of assuming an entitlement to women's time and attention. And if women dare brush them off, ignore them, or leave them, then woe betide the consequences. How many women are stalked and harrassed by former partners? How many women attract unwanted and uninvited attention from so-called admirers, or just men wanting to impose themselves on their lives in some way?
Millions
. And that's in this country alone. Morgan simply used his position to try and impose himself on Meghan, firstly with
creepy
flattery and overfamiliarity, and latterly deployed his considerable national platform to subject her to unending abuse and character assassination. If the press wasn't simply a plaything of moneyed interests, then perhaps he'd be the one receiving condemnation for his shitty
and entirely willful
behaviour. He'd have to account for his actions. Not the woman who spurned his unasked for admiration and had the nerve to couple up with someone way above his exalted station.
But there is a positive here. While the reasons for Morgan's departure are somewhat murky, it is
being perceived
as a blow struck against the snarky, obsessive and, yes, racist coverage that is the British media's stock-in-trade. And it's part of a pattern pointing to a slow but certain marginalisation, an uneven glacially-paced
cancellation of right wingers
from television media for whom boorishness and Morgan-style ranting is their bread and butter. Who follows Jeremy Clarkson any more? What happened to David Starkey? Won't someone give Laurence Fox a break? Indeed, the formation of
GB News
is a direct response to this slippage and, with any luck, will be a ghetto for the freakish and backward, a place of no more consequence to politics than Parler is to the global social media landscape. For that reason, it is okay to chalk up today as a good day.
Image Credit