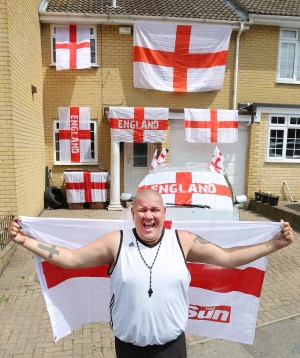 There I was talking about the absurdity of British politics and it goes and takes an even sillier turn. After Dan Ware, or 'White Van Dan' as he'll forever now be known, became the unwitting figure at the heart of Westminster's most stupid resignation ever, the Currant Bun have now given him a 'voice of the nation' platform. Our Dan is the epitome of the working class London Labour luvvies only encounter at the checkout and when the cleaner comes round. Or so we're told.
Plastering Dan all over their paper, however, is unlikely to repeat a Gillian Duffy moment despite their best effort. Knowing a thing or two about the Sun-reading working class - it's where I come from, after all - I can tell you what their army of readers are likely to think. They see a skinhead with a thuggish appearance, a first impression they'll probably stick with when they learn he's a some-time cage fighter. Compounding the unfavourable vibes is his occupation - he owns and runs a used car dealership. And last of all, Ed Miliband might feel respect when he walks by a house festooned like Dan's. Most Sun readers on the other hand would barely notice, or at best think the resident is a bit of a nob. Contrary to what the hacks and the politicians think, the majority of working class people feel that showy displays of patriotism outside of European/World Cup tournaments is tacky and vulgar. So stick that in your pandering, patronising pipe and smoke it.
Let there be no doubt. White Van Dan is not typical of the working class. Nor is he typical of Sun readers.
Nevertheless, now The Sun have set him up as a voice of authenticity, he's been given room to expound his views in his pun-tastic 'Danifesto'. It's pretty much what you'd expect: bash the scroungers, keep out immigrants, a steel rod in the classroom, lock 'em up and throw away the key, sort out public transport and lower taxes. At this point, some fellow lefties might pour scorn on Dan as a racist ("I will continue to fly the flags. I know there is a lot of ethnic minorities that don't like it"), uncultured backwoods reactionary, but they would be mistaken to do so.
Atypical Dan may be, his views most certainly are not. Vilifying him as a knuckle dragger from the multicolour bubble of lefty identity politics is only going to alienate the millions who share these sorts of opinions from progressive politics. Leave the snobbery to the Tories and ex-shadow ministers, our movement should have no truck with it. The alternative is not to crawl before these views (please, please don't let Ed Miliband turn up on Dan's doorstep to offer an apology), but attack the common root of the problems he identifies.
You know what that is, right? It's insecurity anxiety. Dan is a small businessman and as such insecurity is part of his everyday life. Hoping that sales will be enough to keep his head above water. That the bank won't call in its loans. That the new dealership round the corner won't cut into his business. Is it any wonder then his wee manifesto is suffused with a rigid sense of order and stability? And this is precisely why these sorts of views are widespread among working class people. In fact, given the breadth of the housing crisis, low paid work, zero hour contracts, temporary working, unemployment and underemployment, the shrinking of tax credits and the capping of social security support it's a miracle UKIP's 1950s nostalgia-fest doesn't have greater support.
This is why Labour, if it wants to win the general election (which, admittedly, looks a bit sketchy at times) then the party and the labour movement have to put the fight against insecurity at the heart of its politics. That's how it can win over working class voters, petit-bourgeois types like Dan, and the much-genuflected-to swing voters of the "squeezed middle". If it doesn't, then we will lose.