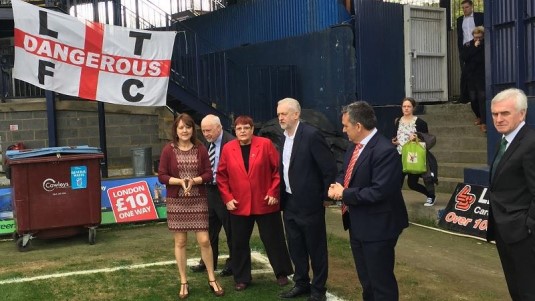 When an unnamed senior civil servant briefed the press that "we" were concerned for Jeremy Corbyn's health and he might be too frail for the rigours of office, three things immediately came to mind. I was touched, positively moved that Whitehall mandarins fret about the wellbeing of the Leader of the Opposition. There's professionalism, and then there's going the extra mile. The second was how ridiculously desperate the powers that be are to avoid a Jez-led Labour government. Of course, there is a ridiculous pretence in British politics that the civil service are neutral, and anyone can form a government and the machinery of administration will grind into action whichever way the Prime Minister decides to set it. Nice if it were true, but it's not. Attempts to reset and remake the state and redress the balance of power in the British economy will meet ruling class resistance from business, from bosses' organisations, and from within state institutions themselves. It's not for nothing that Papa Miliband, in his last book, argued the fist job a socialist government should attend to was a round of redundancies as far as the state's upper echelons are concerned.
And the third? We're going to see more like this in the next general election campaign.
It's true, we don't know when the next one's going to be. It might be Autumn. It might be next year. It might be 2022. But we do know it will follow past strategies to an extent. Over the course of the last weekend, Boris Johnson and Jeremy Hunt have been spraying about cash around like confetti. Money is no object when it is deployed for self-serving ambition - it's only a problem when you want to help people. Yet there still isn't much of a clue about how it can be used to float Tory boats. Johnson talks about giving public sector workers a pay rise, as if a modest sliver of cash can make up for past pay freezes, or the memory of working in run-down services and the uncertain stress of facing the threat of redundancy. Hunt thinks writing off student loans for successful new entrepreneurs will get young people onside. Whichever flavour of PM we get, there's little either can offer that can appeal to a broad coalition of voters. Which is why they might not bother, and try and build something around a right-populist core of no deal Brexit. Which, if not Hunt's approach, is certainly looking like Johnson's.
When we look at how Dave and Theresa May built their 2015 and 2017 coalitions, they were able to exploit two things, albeit with different results. In 2015, the character assassinations on Ed Miliband were about establishing him as weird, weak, and in the pocket of the Scottish nationalists. In 2017, May monstered Corbyn as a man who, um, wouldn't incinerate millions and wanted to spend money on fixing public services. In both cases they tried making the election an issue of character - in Ed's case, a PM who would sell out the country and break up the union, and in Jez's someone who'd turn the place into the GDR. And on this basis, they would inculcate fear. For Dave, Labour was coming for people's houses via the mansion tax and would let the deficit balloon out of control. And a Corbyn government would pave the way for Russian tanks rolling down The Mall. Hate and fear, these are staples not just of the Tories here, but of so-called centre right parties the world over. America, Canada, France, South Korea, all in some way try and establish an illegitimate but indelible link between their political opponents and an existential threat.
We can imagine how this might look in the hands of Boris Johnson: a mix of bumbling and red baiting and Brexit betrayal, you could almost write the ha ha hilarious script for him. But there is something else we need to think about. While all Tory campaigns exploit fear and loathing, they don't always do so in the same way. And we saw a permutation on this theme recently in Australia. Here, we almost had a replay of our 2015 general election. The Liberal Party's Scott Morrison played up a Dad-next-door persona vs Labor's (apparently) uncharismatic Bill Shorten, and it was fought on a presidential basis. The Liberal-led coalition emphasised their economic competence over Labor's tax and spend, and ran a targeted and tightly disciplined campaign. And here came the something new. Rather than promising anything, Morrison's coalition gave next to nothing away - apart from some last minute tax cuts. By way of contrast, Labor were policy heavy and spoke about their manifesto at length. While this was a tremendous boon for Labour in 2017, for Labor in 2019 the right, having no policies to offer or defend, simply attacked, attacked, and attacked again. Labor's policies were front and centre during the election, but it was their costs and practicalities that dominated. And with the Liberals offering nothing it was difficult to make return attacks stick - especially so as the right wing press are so much more dominant than here.
Now, this isn't the main reason Labor unexpectedly lost, but it certainly helped firm up the coalition's coalition. However, given the close relationships between British and Australian politics, particularly on the right, could we see this 'do nothing, attack everything' approach imported to these shores? Arguably, we already did with Dave's deficit determinism (making it, I guess, an export), but with a Tory party bereft of ideas and faced with Corbynism it could be tempted to have a go: a couple of modest and relatively non-threatening policy items, and nothing but attack lines. Nevertheless, the Tories are disadvantaged in a number of significant other ways. The electorate is likely to become more, not less polarised with Johnson in charge, and no doubt Labour will dust down those unused referendum posters with Johnson in Nigel Farage's pocket. This is also a party with a record, and a miserable one at that, and also a party being harried from the right - assuming there is no Tory/Brexit Party accommodation (then the poster comes in doubly handy). And crucially, while the press are still a power in the land it is, like the party they tend to support, in long-term decline.
In short, we know what's coming. Scaremongering, character assassination, relentless negativity. You cant say you haven't been warned.