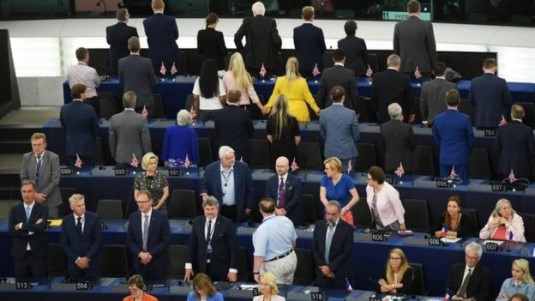 They might turn their backs when Ode to Joy is played, but they certainly won't turn their backs on the salaries, perks, and very generous expense accounts. Nevertheless, the Brexit Party's miserable stunt in Strasbourg earlier can be considered an unqualified success. It led the news across all channels, upset swathes of people they like upsetting (liberals, centrists, leftwingers), and no doubt provide for a frisson of smug satisfaction among the BXP fraternity sat at home. Indeed, in another context and with quite different politics involved, the likes of Nigel Farage and his right wing cheerleaders might call it an example of virtue signalling. For instance, I wonder what they made of Liberal Democrat MEPs who sat there during their silly little protest wearing 'Bollocks to Brexit' t-shirts?
Yes, it was disrespectful of EU institutions, and yes it does remind the bloc of nations of how petty minded and unserious the UK can be. A reminder set to be repeated once Boris Johnson is installed in Number 10 and tries negotiating his fantasy land Brexit deal. But in and of itself, there is nothing inherently wrong with parliamentary protests, and trying to present BXP as illegitimate because they've clowned around in one (what they call "cheerful defiance") is short-sighted and daft. So folks trying to draw links between BXP and the Nazis by drawing parallels between today's antics with Nazi deputies turning their backs to the Reichstag speaker in 1926, aren't terribly helpful. It certainly drives outraged tweets to outraged audiences and reminds them of how awful Farage and his private, limited company are, but it's not about to make anyone change their minds and their votes.
Far from there being nothing wrong per se with protests in parliament, there is something of a tradition of them in this country. Last June, the SNP walked out en bloc in protest against John Bercow's decision to bar Ian Blackford from parliament for the day. Lloyd Russell-Moyle, John McDonnell, and Michael Heseltine(!) respectively interrupted proceedings by half-inching the mace. As lately as April, members of the public glued themselves, semi-naked to the security screen. Fathers 4 Justice famously lobbed a powder bomb at His Blairness as he stood at the despatch box, pro-hunt protesters stormed the Commons, and most spectacularly of all lesbians abseiled into the House of Lords back in 1988 protesting against Section 28. Whether you agree or disagree with the causes protested, they are part of the warp and weft of democratic politics and a reminder it is always something more than votes and speeches.

The truth of the matter is efforts to delegitimise BXP as a political actor is going to have to come from somewhere else. They got the highest vote during the EU elections, and that is legitimacy enough for its supporters. Appealing to an imagined shared reverence for constitutionalism isn't going to cut the mustard among people for whom it assumes zero importance. It means being creative and thinking about who its base are and the interests it articulates. If we can understand them, then we can beat them.