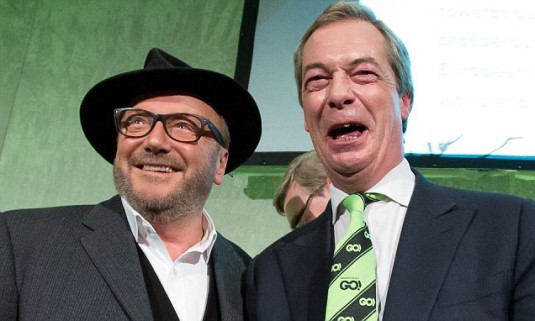 For one time only, George Galloway tells us he's voting for Nigel Farage's Brexit Party. Pushing the oft-heard Brexiteer talking points, we're told parliament has spent the last three years trying to thwart the result of the 2016 referendum. So "we" need to send a message to the "Westminster elite". A rocket up their backsides, if you will, a reminder the angry leave army are not about to have their Brexit taken away from them. But to countenance voting for, urging a vote for, and campaigning for the Brexit Party, isn't that a step too far?
Elaborating his position further, Galloway emphasises the political distance between himself and Farage, but because this is an issue of democratic principle, he is prepared to encourage people to vote for the referendum's outcome to be enforced. Making this easier is the fact Labour's list of candidates - affirmed without any members' participation, it must be noted - can count among them enthusiastically pro-EU figures. These include remain favourite, and ski slope campaigner Lord Andrew Adonis. Because Labour's European challenge is dominated by candidates of this political stripe, this then makes voting for the Faragist list okay.
It does not make it okay.
Left or right, leave or remain, heads everywhere are being lost. A sense of perspective and political purpose is almost entirely absent from politics when reacting and responding to events, so it's time to restate some basics to plot our way through this. Politics is about power, about struggle, and is the medium through which class interests are articulated and prosecuted. This is something the right knows well, despite their disingenuous claims to the contrary. Labour on the other hand is and continues to be the imperfect political vehicle of proletarian interests. That is a rag tag and bobtail alliance of variously organised workers and people who have to sell their ability to work in return for a living. Right now, politics is in the grips of a dynamic of decomposition and recomposition. The powers of old, the Labour right, the meagre forces of authoritarian centrism, and finally the Tories are in historic decline. On the rise are forces incubated by the long decades of the Thatcherite settlement - the negative project of nationalist atavism exemplified by Farage and the Tory right, and the rising class of networked, socialised workers who are in a process of political becoming - they're far from the finished political article. But already their pulse from below is the power behind Corbyn and Corbynism, and Labour is an at times slow, at times rapid struggle of refounding itself. This is the conjuncture that must always be borne in mind when making sense of the twists and turns of Brexit's tortured politics.
What then is the immediate priority from the standpoint of working class politics now? Brexit? No. It is the consolidation and expansion of the Labour Party as a force that can annihilate the Tories, and prepare it and our class for the slog of a long spell of government. We approach Brexit then from the point of view of preparations for power. In the first instance then, this prospectus is enhanced by Labour winning the popular vote and most seats in the European elections. It changes the balance in the European parliament and shows the rest of the left across the continent that the left can win while standing as the left. And from the UK's perspective, it sends a very clear message that the reactionary right - which is what the Brexit Party is - can be defeated, and their ascendency isn't some natural, inevitable force. Something as simple as that, of getting a win over Farage transforms the political narrative of this country. It shows Labour can be successful under adverse circumstances, and that the hope for something better does not have to be a pipe dream. A Labour victory can dispel paralysing cynicism and melancholy, it can mobilise and inspire.
Galloway draws attention to Labour's candidates to justify his protest. They might not have been my first choice, but you can't have it both ways. You can't write off the wider politics of Labour's challenge because of who's standing while ignoring the people Farage has standing for the greater Brexity good. Their candidate list is yet to be finalised, but those announced so far deserve your contempt, not your vote. There is no hiding from the consequences of a good Brexit Party performance either - a ramping up of divisive and racist rhetoric, a multiplying of hate incidents and crimes, and a further coarsening of British politics. Are you happy for someone else - women, a disabled people, gay men and lesbians, East Europeans and anyone who isn't white - to pay the hate price of a burgeoning populist right? Additionally, apart from giving Farage and his lackeys the benefit of a MEP's salary for however long Brexit goes on for, what is the point? Politicians read polls and watch elections, and Farage coming out top isn't going to focus minds at Westminster any which way. If anything, it would embolden the ERG and perhaps encourage May to stick to their red lines in the hope of scooping this vote up in the future. And, of course, the Brexit Party - like UKIP before it - is a product of the crisis in the Tories, and in the context of our politics Farage's campaign is simultaneously a moment of political recomposition on the right. Galloway is fooling himself if he thinks the Brexit Party are a single issue outfit destined to evaporate when its task is complete. For Farage and his admirers in and outside the Tory party, this project is a stepping stone to replacing or refounding the Tories as a populist right formation.
The European election then is a battle, a political battle between the party of a new rising class, and a party of reaction. Brexit is the catalyst, but is largely immaterial to the movements stirring beneath the turbulence. A vote for Farage and the Brexit Party is not a "vote for Brexit", it is a vote for the populist right. For a backward project. For the forces arrayed against the Labour Party and labour movement. A vote for Labour, whether one self-identifies as a lexiteer, a remainer, or none of these labels is a vote for something much better. It's a vote for our coming victory.