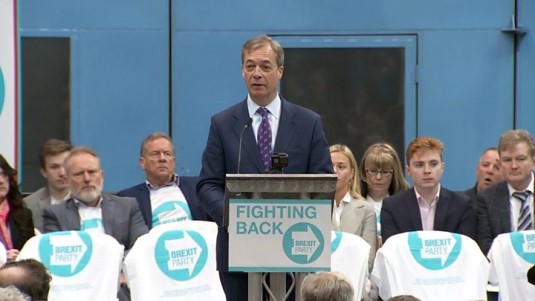 If you are a Tory supporter, this week's polls make for grim reading. Following Survation - the only pollster whose findings should be taken with more than a pitch of salt - all the rest are posting leads for Labour of between one and nine (nine!) points. Things look especially catastrophic in the latest offering for YouGov on voting intentions in the European elections. As noted in discussing the Newport by-election, second order elections (all elections that aren't a general election, basically) tend to a flatter results profile as different issues and, in some cases, different electoral systems are in play. The common outcome are more potent challenges from fringe parties that depresses the share of the two main parties. With that caveat in mind, YouGov puts Labour on 24%, which is the same achieved by the party back in 2014. The Tories are on 16%(!), with Nigel Farage's Brexit Party on 15%, and UKIP on 14%. The Liberal Democrats, Greens and CHUKa bring up the also-ran rear on eight, eight, and seven per cent respectively. Looking at the right-of-centre vote, you could get high snorting the fumes of decomposition.
Nevertheless, there will be Tories taking some comfort from this. Your Boris Johnsons, your Jacob Rees-Moggs and Mark "Killer" Francois are going to feel intensely relaxed about it all. The idea members are going to sit on their hands and, in the privacy of the polling booth, tick the box for Nigel Farage or UKIP won't perturb them. Indeed, for a mindset befuddled by stupid empiricism, YouGov's poll is going to have been received with some delight. It's simple. Add together the Tories' own 16%, Farage's 15%, and UKIP's 14% and you get 45% of the vote! To weld them all together into a formidable electoral juggernaut to see off Labour and all the others, the necessary thing to do is copy Jeremy Corbyn in reverse and take the Conservative Party to the right. And before you can mutter some meaningless Latin, electoral fortunes are renewed and another extended period of government is granted.
There is some precedence for this: the 2017 general election. May's programme was hard Brexit plus social authoritarianism plus anti-immigration, and some nice heart-warming words about one nation Toryism and bringing the country together. For her pains, and her campaign was painful, the Tories got their highest number of votes since 1992 and polled on a par with Margaret Thatcher in 1979 and 1987. And May was able to pull it off because she triangulated the Tory position to call back those UKIP voters, helped in no small part by a collapsing kipper organisation that stood down in seats where Tory MPs and candidates were deemed Brexity enough. Just imagine how much better they would have done if it wasn't for the dementia tax debacle, and the robotic strong-and-stable silliness - this is the vision for right wing Toryism. The bad European polling is just a hiccup before a new leader from the right can sort things out.
Thankfully, the solution to the Tories' woes aren't so straightforward. By tacking right, May ramped up the fear of a Conservative government which contributed to a soft polarisation of the political parties, a situation Corbyn's Labour was able to capitalise on because it spoke to the interests and concerns of those the Tories had locked out of politics. If a right wing successor tries the same trick, and they will be incentivised to do so because of its proven record of drawing a viable voter coalition together, then it's bound to firm up the Labour vote in England and Wales, and possibly the SNP in Scotland. The second problem a new right wing leader's going to face is the betrayal narrative. From nowhere, Farage's Brexit Party is outdoing UKIP in the polls, the large majority of whom are former Tory voters (how long are we going to have to wait before we hear Farage's vanity vehicle poses Labour a special and unique threat?). Some are going to be lured back to the Tories a la 2017, but having been fooled once by May are they going to trust the Tories again? A significant number are going to be very weary. And the same can be said for those who are about to punt for UKIP too. One cannot assume a Johnson, or a Gove, or a Mordaunt or whoever-led party can count on them again.
Want more problems? During the Brexit process the Tory MPs have lived up to their 'stupid party' moniker by chasing every phony pony that canters past. The truth of the matter is there are some UKIP/Brexit Party voters who are going to vote for other parties in a general election instead. Going from memory, about a fifth of kippers came back to Labour in 2017. They might care about Brexit, but they know who forms the government matters more. And worst of all, not all of that 16% projected to stick with the Tories are voters in the bag. Going hard right could cleave into BP/UKIP, but at the price of losing moderate-leaning votes. This is where the ludicrous CHUKa outfit could become a rallying point for a new centre right, socially liberal party. Then again, none of its participants are noted for their keen political sense, so they can't be relied upon to play their cards well.
What the Tories reaching to their right would accomplish is something somewhat less than 45% of the vote. It would produce a mass coalition comprised of millions of people, but with added toxicity is guaranteed to reproduce a declining bloc. In a turn out game they could muster enough to push themselves over the line, especially if the opposition is divided, but again a hard right Tory party would likely firm up the opposition. Job done, then? An ugly party with an ageing voter base that isn't reproducing itself, that's good news, right?
Yes. A permanently unelectable Tory party is a good thing. However, there is a price to be paid. By turning right, the Tories would reinforce mainstreamed far right ideas, put rocket boosters under the betrayal narrative, and give confidence to every two-bit racist and fash. If Labour gets into government, whether as a minority or not, this would go into overdrive. And who suffers? Those people who, now, are on the receiving end of abuse and violence - LGBT people, Muslims, the disabled. The slow passing of the Tory party is an agonising process, but the worst part is it will lash out, causing unnecessary suffering and damage in death as it has done in life.