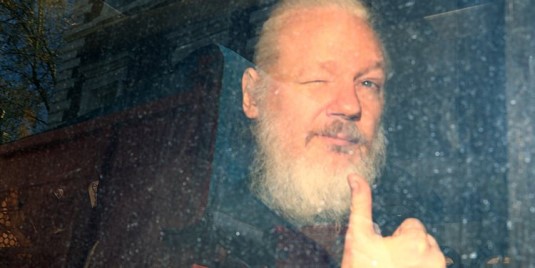 Let's be quite clear about Julian Assange: he's a pretty awful character. Few but the most blinkered would disagree with Judge Michael Snow's description of him in court this afternoon as "a narcissist who cannot get beyond his own selfish interest". And there are the politics too. Despite his status as a cause célèbre/poster boy for a section of the left, his views are anything but. Look how Assange has reciprocated their solidarity by hobnobbing with Nigel Farage and supporting Donald Trump. Not the kind of person the left would normally locate on their side of the barricades.
But ah, Wikileaks. Undoubtedly Assange and his associates did the world a favour by publishing secret documents and diplomatic cables, including graphic evidence of war crimes by the United States army in Iraq - earning him the undying enmity of the foreign policy establishments in the US and the West. So yes, it is a disgrace that the US are attempting to extradite him on spurious counts, and doubly so as the British government are likely to hand him over for something that isn't a crime in the UK. Assange is repugnant, but if solidarity actions depended on a personality test then our movement would never have got anywhere in the first place.
However, and it is truly depressing that this has to be said, just because the US are gunning for Assange that doesn't mean other things can be washed away. And by "other things", I am of course referring to certain rape and sexual assault charges that saw him wind up in Ecuador's embassy in the first place. At the time, sections of the left bent themselves over backward apologising for him. Let us remember we live in a world where sexual assault and rape goes under-reported, and conviction rates are pitifully low. When a woman comes forward to make allegations she faces the unpleasant prospect of having her sex life picked over in open court, as well as harassment from members of the public. Remember the Ched Evans case? Utterly disgusting. And such behaviour isn't confined to celebrity cases either. The minimum anyone making a serious allegation of this nature can expect is to be taken seriously and an investigation take place. A position I'm sure all people would agree with. But not in Assange's case.
Because Wikileaks had publicly embarrassed the US military, the rape and sexual assault allegations made by two Swedish women could only be false. Bits of the left transformed themselves into amateur sleuths as they raked over the statements, arguing that Swedish law had a very particular definition of rape that wouldn't stand up elsewhere, that the women were already "in the sex game" (© George Galloway), that it was a CIA "honey trap", or simply it was a straight up lie. And they say the left doesn't have a sexism problem.
These charges haven't gone away, by the way. In Swedish law charges are time limited, and in Assange's case they would be due to expire in August next year. They were temporarily parked while he was indisposed, but according to reports one of the alleged survivors has asked for the case to be reopened - which is in the gift of the prosecutor. And if they agree the extradition request can be renewed. Therefore anyone going round saying the charges have been dropped are full of it. And even if the Swedish prosecutor had the fact remains Assange skipped bail. Now, it is rare for someone to get banged up by an English court for this like Assange has, but in a case where there was a very public flouting of judicial authority an extended stay in HM hostelry was inevitable.
It is then fairly simple. Assange's extradition to the US should be opposed - that much is obvious. But it is equally self-evident there is an outstanding case to answer, and so his extradition to Sweden shouldn't be. Are Assange's supporters capable of thinking and chewing gum at the same time?