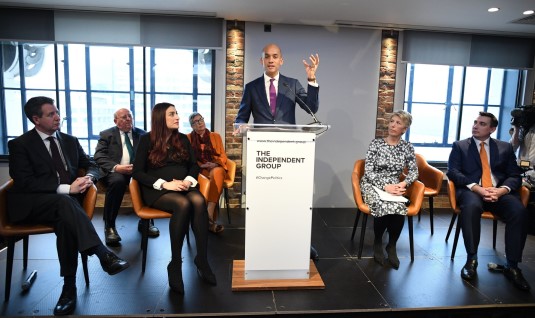 Is The Independent Group a wind up? We'll pass over Luciana Berger fluffing her lines and introducing herself as the Labour MP for Liverpool Wavertree at the launch. TIG is incorporated as a private company to get around donation reporting rules for political parties. This move, which is without precedent as far as the party affiliation of sitting parliamentarians is concerned, is about preventing scrutiny of their finances. And this is one eschewed even by Farage's new party, an outfit and a project that has serious questions to answer about past finances. Not the best way then to break the mould of the old politics.
Fancy another? TIG is owned (sorry, "supported") by a shell company going by the name of Gemini A (website registered in Panama [edit: see comments]). Looks suspect, yes? It gets better. Not only is the business address a Wetherspoon's in Altrincham, a curious choice for an explicitly anti-Brexit "party", said pub trades under The Unicorn. You couldn't make it up.
They also thought it would be a good idea to poach a Tory, and so approached Ruth Davidson to be their leader. Having a sense of self-preservation and half a brain, she turned down their kind offer. But still, Soubz is there waiting in the wings. She's already removed all mention of being a Tory MP from her Twitter bio in preparation for the jump.
And it would be remiss to forget Angela Smith's appearance on Politics Live where she did a racism. Lest we forget.
But you know what truly damns this clowns' car of an ego vehicle? It's the total lack of seriousness. They have learned nothing, nothing since 2015. Like the ill-fated Corbyn coup, no ground has been prepared in the wider party. This is a gaggle of minor-to-anonymous parliamentary personages with no backing apart from shy rich people and naff celebrities. They didn't try and win over other party members, let alone appeal to those who have left Labour. No work was done to reach out to the affiliated organisations or to try and get councillors on board. In other words, the most basic organising, the 101 of launching a new party, has been set aside. Why? Incompetence is part of the story, but it's in equal part the arrogance that comes with launching an elite political project. The truth is you, me, the little people don't matter. Politics is a plaything for MPs, Lords and Ladies, and the money bags who can buy their way in. Us? We're just voting fodder at best, and the people who politics is done to the rest of the time. We don't understand, we don't get it, and we definitely should have no role to play in a political party above the station of envelope stuffing and leafleting.
This is what their split is about. It's no accident this comes after three of them got no confidence votes by the constituency parties, that similar moves were being made by another, and that Chuka Umunna's local party voted to move away from delegate-based to all-member meetings. Democracy is only okay if it leaves them unchallenged and gifts them a job for life.
Let's be honest. The Labour Party is well rid.