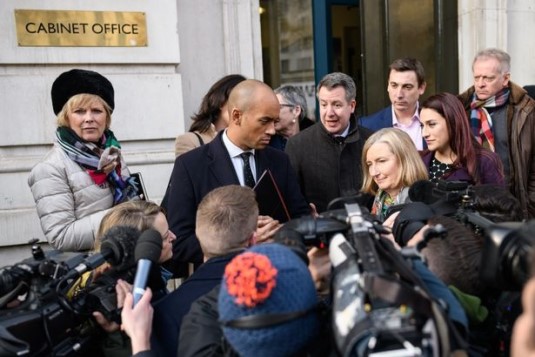 The tide flows in and out, the sun rises in the east and sets in the west, and discontented Labour MPs keep promising they're going to split off and launch a new party "soon". According to Toby Helm, one of The Observer's's biggest cheerleaders for this miserable Blairist project, discontent over Brexit and Jeremy Corbyn's foreign policy positioning are bringing them close to quitting. But hold on a moment, thanks to the benefit of having a memory aren't these always the reasons? So why now, what's new, how have things changed?
Continuing the fine tradition of the diminishing number of MPs said to be champing at the bit for a new party, Toby's exclusive puts the latest tally at six, which is down six on the proto-party talks alleged to have taken place last summer, and the 30-40, and 80-100 before then. Who are our dramatis personae on this occasion? There's Angela Smith, the MP who has curiously chosen the private ownership of water has her hill to die on. We have our mate Chris Leslie, or as I prefer him, vacuity in a suit. And, on this occasion, Luciana Berger's name is roped in. Hers has proven a career noteworthy in two respects - she's more famous for quitting the shadow role for mental health than anything she did with it, and her murky selection in 2010 thanks to knowing the right people over and above any discernible talent. Who could be the "three others" on the verge of quitting? Mike Gapes has recently been straining to get in the news, so one shouldn't rule him out. With gravitas like this on their side, how could they not succeed?
Well, they are going to fail and hard if they ever have the guts to follow through their tiresome threats. When these stories started circulating in the summer after the last general election, the conditions against a new party then still apply. There is zero name recognition for the people involved except perhaps, ho ho, Tony Blair. Apart from money, they have no leader, no activists, no profile with the wider public, and not even a pool of voters - despite their best efforts at trying to win one. Though, to be honest, whatever this gaggle of has beens and never weres decide to do they're doomed anyway. There's more of a chance of Donald Trump showing some humility than any of these getting adopted again by their constituency party as Labour candidates.
Why go through this tedious, rinse-and-repeat ritual of announcing their intentions? Just as matters have come to a head for Theresa May, so Brexit is forcing the petty scheming of the Blairists to a conclusion. This last week has shown there is no way to get their beloved (and undesirable) second referendum through the Commons. For all their disingenuous arguments like "how can more democracy be undemocratic?" (an point, we'll note, they never accept when it applies to the left's efforts at democratising the Labour Party), and the huge amount of money spent and unrivalled media access, they've succeeded in persuading absolutely none of their colleagues that a rerun is a good 'un. They've finally hit the brick wall of reality, and they think a new party - or at least the talk of one - will help scrape them off.
The other consideration is the infighting within continuity remain itself. From before the referendum until now it's been a top down, elite affair with the interests of British capital front and centre. Only someone who is a member of these exalted circles and moves exclusively within them could think putting forward Alastair Campbell as one of its main spox is a good idea. However, as Buzzfeed reported last month the campaign is falling prey to the centrifugal pressures rending at it. One faction want it to continue as an umbrella organisation determined to avoid Brexit, and they're at odds with the others for whom anti-Corbynism is the chief consideration. And in turn both are variously ill-disposed to the prima donna moving and shaking by Chuka Umunna who has long harboured his own vanity project. In other words, without really doing anything they've knackered themselves out.
What's left for them to do? Continuity remain was a hiding to nothing, and there is zero chance of them making a comeback in Labour. They had the opportunity to re-examine their politics and think about what they mean in the context of Labour offering a genuinely transformative programme, but for them to put the party first was asking too much. Besides, that's something to be expected of the little people but not mighty Westminster titans like themselves. They've mouthed off so many times without putting on the trousers, and because they have zero name recognition and no experience of organising bar ordering what to have for lunch, any new party would be a miserable, half-hearted and dismal effort. A fitting finis to their careers, don't you think?