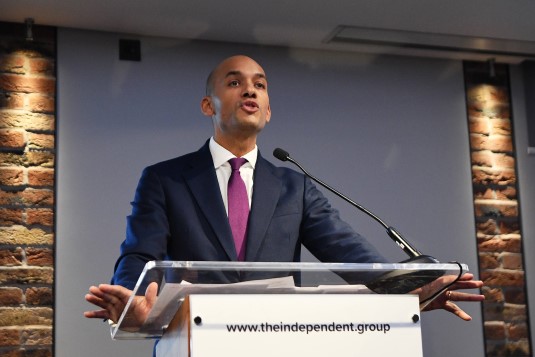 How well can we expect a new centrist party opposed to Brexit do? Survation are out of the starting blocks with something of an answer. In their standard poll published on 18th February, the Tories are on 40% (up two since 30th January), Labour 36% (down three) and the Liberal Democrats 10% (up one). However, given acres of talk about a new centrist party, in advance of the flounce they asked punters if, well, they'd give a new party a punt. The result puts the Tories on 39%, Labour 34% and LibDems on 6%. Centrism can boast of 8%, which isn't bad for a new party.
How to explain these figures politically? Contrary to what you might read on Twitter, polling isn't a Tory conspiracy. Not even YouGov. The bread and butter of polling companies is the selling of market research because, well, companies need accurate information about the habits of the customers they hope to sell to. If a polling company consistently gets elections wrong, say, by greater than the margin of error then clients are going to start looking elsewhere. Hence the panic that greeted the 2015 and 2017 general election results. And I'm sure readers will recall it was Survation who called the last election right, which is why we should take their findings seriously.
We have to remember is what a poll is. It's not a prediction. It's a snapshot of opinion at a point in time. How then are the Tories, who are falling apart and making the most incredible hash of Brexit, motoring ahead? You can put some of it down to the polarisation of British politics, which I've written about too many times to link to. But there is a chunk of personal support for Theresa May. Believe it or not, a significant proportion of the electorate advance her a great deal of sympathy – and this includes Labour voters. As far as they see it, she's been left a right mess and has battled her way through the crafty moves of Brussels' bureaucrats and the childish behaviour of her backbenchers. Whether she's played her dud hand well or poorly, the fact she's stuck it out and not thrown in the towel at the merest sign of adversity – unlike some – commends her to many people. Secondly, some are quite prepared to accept she's arguing the UK's corner so it's our patriotic duty to get behind her. See, for example, how backing "our boys" won out over anti-war sentiment once the tanks started rolling in to Iraq. A similar sentiment applies. This, of course, poses the Tories some unique problems after Brexit – whether we leave on 29th March a some point afterwards. She is their best asset and there isn't a single Tory who can fill her boots. Not Johnson, nor Javid, nor Rudd, and certainly not Gove, Leadsom and Williamson.
On the centrist anti-Brexit party, there's no reason for undue concern. Repeat polling of voters find most like to locate themselves in the political centre, irrespective of their political views and party preferences. Those so disposed to novelty will look closely at The Independent Group or its eventual successor in the context of an election to find out more, and I doubt a platform of privatising public services and moar markets is going to set their worlds alight. But what about that pesky eight per cent? Well, here's where the snapshot comes in. We don't know when the next general election is going to be, but it's unlikely to happen while May remains Tory leader. What's even less likely is a snap contest getting called prior to Brexit day. Which means the point is moot. The next election will be the first after the UK has left the European Union, and so the dynamic of Brexit changes from should/shouldn't to what shape it's going to take over the medium to long-term. TIG or the LibDems are, of course, free to campaign on re-entry to the EU, but an electorate heartily sick of it aren't going to bite in large numbers. In all likelihood the big question concerning the EU is going to be what the relationship should be. The Tories want the kind of arrangement granting them their holy grails of economically useless but politically useful trade deals, of Britain rising once again as a great commercial power. Pathetic stuff. Labour, as per its customs deal approach to Brexit, would see the party negotiate a much closer relationship to Europe to mitigate the damage already being done. Like the last election, pro-Europeans will have a choice: they can vote for a prospectus enabling more detachment and increasing irrelevance, or a close, friendly relationship with the world's largest trading bloc seeking to preserve as much continuity as possible. Who knows, perhaps in a decade or two it might lead to the UK's re-admittance. If your synapses aren't totally burned out by FBPE memes, the choice is obvious.
This is why no one should get in too much of a lather about TIG or the electoral impact of a centrist party. You can't forge a new politics on the basis of the old, discredited politics. You can't stop Brexit if it has already happened. And you can't offer anything if you're not in a position to do anything. Like I said, Survation's poll is a snapshot in time. And it's a window in time just about to close.