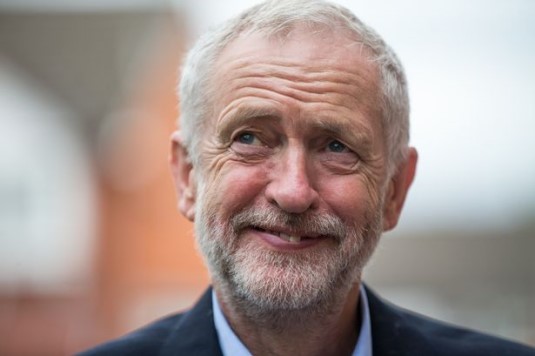 "This story is not true. The figures are completely made up." A wise rule of thumb for every story to feature in The Mail, but today's splash that Labour are haemorrhaging members come amid media assurances that the party is hopelessly split and faces untold damage unless Jeremy Corbyn "gets off the fence". When you've heard the same line from multiple pundits and papers supposedly at ideological odds with one another, you might be forgiven for thinking there's a machine somewhere mindlessly churning out the same talking points with a minimum of human supervision.
At any one time, there are multiple shenanigans and struggles configuring British politics. And one persistent strand is anti-Corbynism. There are sections of the bourgeois mainstream whose overriding concern is the derailing, discrediting, and the destruction of this most inconvenient of insurgencies. They encompass all the parties, bits of the state, business, a range of campaigns, celebrity, the media, academia, and will use whatever comes to hand. This is not a conspiracy, though these networks will necessarily collaborate, plan, swap notes. Most of their bile is generated spontaneously from whatever motivates their hostility to the Corbyn project. Whether the secret state, or indeed states, have a hand in these machinations, it cannot be reduced to spooks. Anti-Corbynism is inseparable from the class relations of establishment privilege and power, arises organically from them, and therefore will always possess something of a loose, decentralised and undisciplined character.
Over the course of the last 12 months, the hostiles have learned that potentially the most effective way of stuffing Corbynism into the backrooms and sparsely-attended fringe meetings is by trying to drive a wedge between the leader and his support. They have realised banging on about anti-semitism is good for bad headlines, but the overriding consequence is a demobilisation of the right's own base in the party (though it doesn't stop some from carrying on). Ditto for Corbyn's litany of sins against the establishment common sense in foreign affairs. They do think they have struck a rich seam after years of casting around: Britain's relation to the European Union. The sociological basis of the bulk of Labour's 2017 vote, not least its new activist base is a rising class who've suffered political marginalisation for decades. However, this class of immaterial labourers, whose ranks range from the low paid to the handsomely remunerated tend to be conscious of the economic dislocation Brexit means and broadly identify with the social liberal/liberal internationalist cloak the EU wraps itself in. And so, as it's largely the old New Labour establishment leading continuity remain, Brexit and the issue of a second referendum is being employed to drive a wedge between the Corbyn faithful and, well, Corbyn.
This report for The Graun typifies the tendency. Young people out in city centres on a Saturday getting signatures petitioning Corbyn to call for a second referendum. Being something of a veteran when it comes to running petitions, surely they'd be better off collecting signatures against someone who can actually do something about it like, I don't know, the Prime Minister? Nevertheless, it's catnip for anti-Corbynism. "I'm going to vote for the Greens!" comes the refrain. And it's the same hard remain talking points as well. "Get off the fence!" and "Corbyn wants an election, but it'll be one where we have the choice between a Tory Brexit deal and some magical unicorn Brexit deal promised by Labour." And the usual "the majority of Labour members want a referendum!". Would that be those same Labour members who are content to give Corbyn and Keir Starmer the space to carry on as they have been doing?
I'm sure it's accidental how the article neglected to mention these were campaigns run by Our Future Our Choice, an organisation with some interesting friends and who have a record of running pointed anti-Labour anti-Brexit campaigns. But while this is a relatively gentle addition to the mood music, The Mail's spread about imminent meltdown is its amplification. Anonymous briefings from "insiders" who suggesting membership is plummeting like a stone, and that this has blown a £6m hole in party coffers - this is the fearless kind of journalism we enjoy. "It's because of Jeremy's stance on Brexit" warbles our unnamed and probably non-existent source. We can afford to take this with a pinch of salt because unlike the Tories, Labour membership isn't a trade secret. If there was a big drop social media and the party's gossip circuits would be alive with chatter from secretaries and CLP habitués about mass resignations or, at the very least, mass non-renewal. And yet ... tumbleweed. The Sun decided to have a go as well, but the only one that could find willing to go on the record was noted champion of the grass roots, Chris Leslie. This would be the same Chris Leslie whose own constituency party passed a no confidence motion in him, noting his "disloyalty and deceit". It's interesting, the right wing tabloids are decrying Labour as an incompetent shit show who are simultaneously inept and useless, but will nevertheless expropriate the expropriators with lethal Bolshevist efficiency.
To muddy matters even further, ramping up the perception Labour is in a whirlwind of crisis, we learn (again, from The Graun) that apparently Labour would lose votes if it backed another referendum. Apparently, this poll found that Labour would gain nine per cent of Tory voters but lose 11% of existing Labour voters, virtually guaranteeing the party would lose. Apparently over a third of LibDems voters and Green voters would switch, but given how squeezed they are in the polls it's reasonable to assume not many more can transfer from the absolute cores they were driven down to in 2017. Also, one point the article misses is what it might do to the Tory vote. May's gamble was her belief that being the party of Brexit would carry the majority of the kippers, which it did, as well as swathes of Labour leavers in the north. She didn't partly thanks to Labour's adroit positioning on Brexit. Should we get another election, and chatter about one is increasing despite the no confidence vote falling, thanks to differential turn out the Tories will position themselves as the custodians of Brexit and if this ground is ceded, as opposed to Labour adopting a soft Brexit position again, May will get her desired result. If you think Tory "centrists" are somehow going to prevent this by launching a new party or whatever, prepare yourself for disappointment.
There's the state of play this weekend. Labour is in crisis, Labour's members are deserting, Corbyn is a massive millstone, etc. Meanwhile, calm heads will note support for a second referendum among the wider electorate is pathetically low, there is no route through Parliament for one, and Labour have posted modest leads in all the polls bar YouGov's outliers. Far from Labour being caught between a rock and a hard place, it's Theresa May who is stuck but refusing to abandon her Brexit position. There's the home of the real crisis, the black hole in which all sense is crushed to an infinitesimally dense point. And the one threatening to drag us all down with it.