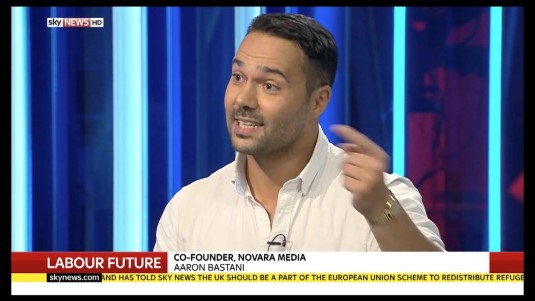 Full solidarity to Novara Media's Aaron Bastani. In the last fortnight he was piled on by the last people you'd want to turn your back to. Jolyon QC did some digging into Novara's funding, because the concept of a small media operation funded by donations and powered by volunteers is alien to him. Others, whose concern with anti-semitism coincided with it becoming something to attack the left with, tried smearing Aaron as a racist because of a jokey tweet sent years ago. Most egregiously Jeremy Duns (who?) wrote a clueless and tedious blog post questioning the validity of Aaron's PhD. Apparently, it was a "farce" that his thesis - on the dynamics of political communication in social movements - brings academia into disrepute because Aaron was a participant in the movement studied and, um, he didn't cite a New Statesman article from 2011 by Laurie Penny. Affecting authority on a topic one doesn't know about is chancy because the incontinent spraying of your opinions across the internet can make you look like an idiot. Except if you're plugged into the feeds of liberal Twitter, who will make you feel important and wrap you in the embrace of a centrist smug-in.
There is so much going on here I don't know where to begin. The attitude of these pitiful people and - I use this term generously - their political praxis cannot be separated out from the morbidity of liberalism. And this is not just a British thing. Here, centrism in its liberal and managerial/technocratic variants were rejected by mainstream voters of the left and right in 2017. In the United States Hillary Clinton was handily seen off by the tangerine Antichrist, and in France the God King of centrist politics is beset by a coalition of suburban citizens, just to give two examples. But let's not forget what liberalism is. It's much more than ideas in a short book, or a smattering of politicians and journalists. It is a movement.
We've talked about this before. Liberalism is a bourgeois social movement, a semi-coherent body of big business actors, the aforementioned politicians and journalists, bits and pieces of the UK state, and a mass base comprised mainly of the 'educated' middle class and small business people. It has a political party, our friends the Liberal Democrats, but the movement also has among its ranks MPs, Lords, representatives on devolved bodies, and councillors and members across the two main parties, plus odds and sods in the SNP and Plaid Cymru. Philosophically, it believes ideas drive action, and this action is the prerogative of our elected representatives. Collective action is possible, but through lobbying, petitioning and, as a less resort, peaceful demonstration. Liberal democracy is both the best and only system for reconciling the different competing pressures of any given society and, of course, the primary political unit is the individual. There should be no unfair or undue institutional or attitudinal impairments to the free exercise of their will, their desires, and their right to political participation. From our point of view, liberalism is fundamentally bourgeois because of its stress on the individual and suspicion of collectives, its privileging of representative democracy and the push-me-pull-you of parliamentary politicking, defence of the market and fundamental blindness to structural inequality and social conflict coincides with and apologises for the operation of capital.
Liberalism/centrism as a ruling class movement is in crisis. In Britain and the US, for the first time in a long time it is completely excluded from government. Trump surrounds himself with hard right ideologues and sycophants, and despite the permanent display of Tory weakness Theresa May is bulldozing ahead with her Brexit plan. Its crisis, however, cannot be reduced to this alone as there have been plenty of occasions previously where liberalism was locked out of government. What's different is a collapse in its mass purchase. In the US, it fought the Sanders insurgency in the Democrats with dirty tricks, and then moved on to Trump by, basically, ceding him political ground by fighting an almost entirely negative, narcissistic and technocratic campaign. Liberalism/centrism tried doing the same in the Labour Party against the rise of Jeremy Corbyn, and has continued on this basis in its opposition to the left ever since. But few, if any, are biting. Out of sorts in the Tories and Labour, and with the LibDems a pathetic shadow of what it once was they can feel an ill wind, and it's blowing in the direction of marginalisation and irrelevance.
This is the necessary context for understanding its political bankruptcy. Every significant political event of the last few years confounds their world view. Why the likes of Trump or Bolsonaro were victorious, or why Brexit was affirmed in a referendum the liberal establishment lined up against could not possibly have anything to do with them and their record. No, it had to be the Russians, or illegal spending, or the groupthink effects of social media. After all, their ideas are the most modern, most obvious. And this certitude has only got stronger the more reality flies in the face of their expectations. It used to be that liberals defined themselves on a left-right spectrum equidistant from each. Now it's a triangle - left and right are the slopes and the centre is the pinnacle from which they look down on both. In fact, the reverse is the case. The slopes are upwards and they're stuck in a hole. Their put downs to a resurgent left are really attempts to climb out of their pit by dragging the left down, and the more they flail helplessly the more vicious and shrill their attacks become.
And so back to the attempted monstering of Aaron Bastani. He and the comrades variously associated with Novara - Ash Sarkar, James Butler, Michael Walker, Eleanor Penny - and other outriders for Corbynism, like Grace Blakeley and Alex Nunns, not only frequently get into the media but are proven adept and articulate performers. For established liberals, it's more than a matter of simply disagreeing with them, they are competitors. Writing essays and appearing on Novara's own shows is one thing, but taking up seats on Politics Live, This Week, Newsnight and Question Time as advocates for the new left means fewer gigs for them and their like-minded mates. How to put them back in the box? Challenging their politics only gives them legitimacy as commentators, as equals with wrong ideas. But in the world of the attention economy, where commentator bankability depends on media appearances, Corbynism presents as much as an existential threat to them as it does their liberal allies and friends in the Labour Party. And so the skulduggery, the insinuation and snarking, the smears and slanders, and the borderline doxxing is about refusing legitimacy, of an attempt to discredit by exposing Aaron as someone completely beyond the pale. And if they're successful, what is the consequence? They have acted as gatekeeper, determining what is and isn't acceptable to be broadcast and discussed in mainstream outlets and made the media world that little bit more secure for themselves.