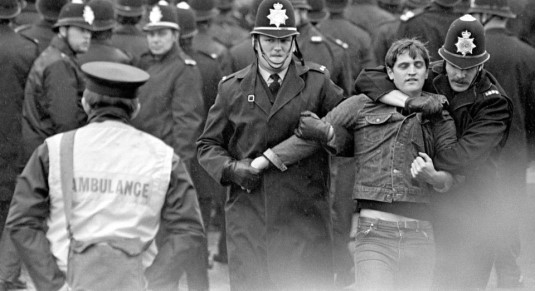 Conservative values is an oxymoronic phrase for many readers, but there are millions of people who adhere to them. After all, the Tories cannot be the most successful electoral party in the world if all they offered was fear and thin gruel. Faith, family, flag are the favourite nostrums, to which we can add conservation, self-reliance, individual liberty, loyalty, unionism and community. Yes, yes, we know there is a disjuncture between Tory theory and Tory practice, as recently exemplified by one of its more liberal and sensible rising stars, but a mass purchase they still have.
Nevertheless, when you do one thing and say another you're going to get found out, and that is as true of political parties as it is people. When this happens a re-evaluation by some is inevitable. This is why I find Matthew D'Ancona's cry of despair in The Graun so interesting. The cause of his anguish? Theresa May's Tories, of course!
Casting an eye over the ugly scene, he confesses repulsion at Mark Francois's crude Germanophobia, the party's small-minded obsession with car crashing Brexit for the sake of tighter immigration controls, and the feeble and pathetic efforts of backbenchers at striking a waxwork Churchill. And what worries him more is the party's lurch into populism. While true that cancelling Brexit could have consequences, Brexiteers are talking up "treachery" and, as we know, insinuating a no deal martial law. What grotesqueries.
To this Matthew opposes a true blue conservatism. Whereas our Brexiteers are guilty of putting ideology before all else, proper Toryism is the dispensing of ideology, of approaching the world pragmatically and meeting it where it is. This is what Thatcher did, what Portillo called for when his Prime Ministerial destiny was snuffed out by 1997 general election, and was the basis of Dave's socially liberal modernisation project. Instead the Tories are now at the brink of a historic disaster precisely because this centrepiece of conservative thought has been abandoned. As he concludes, "the Conservative party is morphing into something I find alien and repellent. Like a listing galleon, holed below the waterline, it sails away stubbornly; dragging the nation towards a storm of unknown adversity, peril and pain."
A tempting response is diddums, but this kind of thinking typifies the attitude of a large number of what you might describe, with some inaccuracy, moderate Tory voters. As per centrism being out of sorts in the Labour Party since 2015, their sense of loss and estrangement is replicated on the other side among a layer of (sociologically similar) people mourning the loss of the Tory party they thought had become theirs. Yes, Dave oversaw unpleasant things like the bedroom tax and clamped down on welfare spending but everyone had to do their bit. And besides, at least he got gay marriage through, had a strong friendship with Barack Obama and totally looked the part on the world stage. You know, he was the sort of Tory that didn't make one queasy about voting Tory.
Dave was their Mr Sheen, flying about his dusty old party and shining umpteen things clean. It dazzled everyone who wanted to be taken in, and the glare was enough so none too many looked closely at the polished turd. With his presentational flare, people with short memories and a shallow feel for politics could be allowed to forget this was the party of class war, of crushing the working class movement, subverting democracy, and imposing an economic model that blew up in 2008. Hugging huskies and being all socially liberal helped ensure the vile bigotry, xenophobia and racism of the most malignant force in British politics was deftly swept under the rug. Then Dave fucked up, and in came Theresa May. Okay, she was a bit harsh on immigrants but she said nice words about tackling poverty and a social conscience. And then she went and defined Brexit in unacceptably hard terms, pulled up the rug and wafted about all the poison Dave stowed there. The Tories reveal themselves as backward, mean-spirited, small, and so unforgivably yesterday.
In truth the Tories in the early part of this decade were as backward and sectional as they proved under May. It's just that Dave was a better salesman, and they had a semblance of unity. They were not pragmatic, and definitely never eschewed ideology. They were the traditional party of the ruling class, and their primary objective - which the Liberal Democrats went along with - was to make working people and the poor pay for their economic crisis, and remorselessly grind labour beneath the heel of capital until there was little left other than motes of dust. This is what the Tory values Matthew and his ilk cry about mean in practice - a comfortable existence for people like him, an element (or illusion) of privileged access, and misery and struggle for those no one cares about.
Ultimately, happily, the problem the Tories have are much more serious than its social liberal veneer fluttering down the street with so many other discards. Brexit runs through the party like a gangrenous sore and it is totally split to the point of utter dysfunction. The support in the country, while substantial, literally diminishes by the day and there's no new constituency that can pick up the Tory standard and remake the party. To be sure the traditional party of the British ruling class is looking down the barrel of a gun. It has no answers, offers no leadership, and barely comes together as a coherent political force. Is it the Tories' distance from Tory values that bothers Matthew and friends, their exposure as a scam, or do they know in their bones that their party is in its death throes and they're getting their mourning in early?