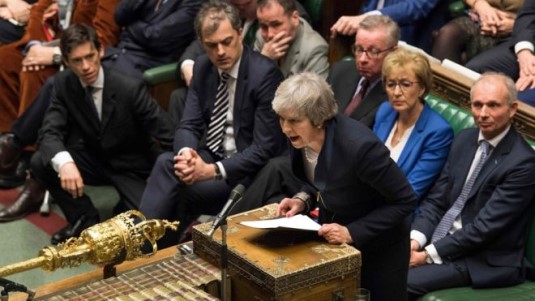 "The risk of a disorderly Brexit has increased" mused Jean-Claude Juncker. A fair assessment after Theresa May suffered the biggest Commons defeat by a government in, well, ever. Certainly something to keep the constitution nerds and Trivial Pursuit fans happy for centuries, and useful fodder for Labour's next general election campaign. Of course, there is zero sympathy for the Prime Minister round these parts. She has consistently misread the politics, has subordinated the needs of what bourgeois politicians call the 'national interest' to those of managing the Conservative Party, and from the outset brushed aside the concerns of others. Well, until some provided a fig leaf.
May's thumping 432/202 defeat is nothing less than catastrophic for her premiership and the capacity of the Tory party to govern. She might muddle through the vote of no confidence, in fact it is quite likely, but the margin of failure was much greater than any backbench Tory feared, or Labour bencher dared. Its consequences are scouring deep scars in the Conservative psyche and for some sections of the so-called natural party of government, there is little but numb shock. It couldn't happen to a nicer bunch ... Nevertheless, while May is batting away the resignation demands it's difficult to see how she can go on. As we've noted plenty of times, May has been in a historically unique situation in which her weakness affords her a strange sort of strength vis a vis the other factions and petty leadership contenders in her party. As they cancel each other out, she had autonomy and wriggle room. But tonight her opponents came together and collectively thwarted the raison d'etre of her premiership. Largely because she forgot that getting the deal through parliament meant getting it through parliament, not just her backbenchers.
Now what? In her brief speech following the defeat, May said the government would reach out and was now "listening". An approach, wiser heads suggested, that she should have adopted since she gave away the Tory majority. This, it seems, is the only sensible approach left assuming there isn't a general election. It would mean turning a tin ear to the hard Brexiteers of Jacob Rees-Mogg's ERG and your Boris Johnsons, and staking out where the majority of the Commons is at. And that would be in the direction more congenial to Labour's position, with its six tests, including the maintenance of a customs union, or the Norway-style option getting traction on the Tory benches. However, it's difficult to see how May could possibly facilitate such a process considering her obsession with immigration and her maniacal interpretation of Brexit in its light. The second difficulty concerns the electoral interests of the Tory party more generally. If we interpret the national interest in terms of getting a deal, how can this party be trusted to deliver a Brexit at odds with the membership, and its coalition of voters? In short, it can't.
Want more problems, because Brexit's got them! Assuming somehow the Tory party is able to overcome these insurmountable difficulties and act as a clearing house of ideas and amendments, these have to be packaged up and negotiated with Brussels. True, more reasoned heads than May and her awful coterie are surely going to be in the driving seat but the EU can say no, or maybe, or whatever. And then there's getting it all through in time for exit day, which is looking shakier by the hour. Revoking Article 50 is the sensible option with a view to starting the clock again, but that is not without consequences. And so, the mess reigns, but May's defeat has opened up new possibilities for something else, which was absolutely closed before her historic loss.