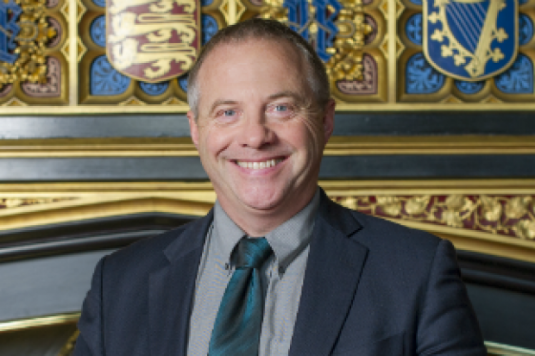 "Desperate Theresa May caves in on workers' rights to save Brexit deal". Well done The Mirror for getting the scoop, but what does it mean? Since losing her majority, May's approach to Brexit has proceeded more with an eye to Tory party management than actually getting her deal through the Commons. Then, during last Autumn's party conference season the penny belatedly dropped and the PM realised that intransigent opposition from the government benches meant she needed Labour MPs onside. Since then, nothing. And now at the 11th hour, we learn she's been having chats with John Mann, Caroline Flint and others about accepting an amendment on the protection of workers' rights.
The amendment seeks to fix existing EU workers' protections in British law, and would also give MPs a future vote should the EU decide to enhance employee rights in the future. Justifying his amendment, Mann argues that it makes May's deal more attractive to Labour MPs by improving on the vague sentiments expressed in the original deal text. Flint went on to say that she hoped the amendment would be backed by the front bench. Unfortunately for the "20 MPs" who are prepared to back the Mann/Flint amendment the likelihood of that support forthcoming is up there with a Simon Danczuk comeback.
John McDonnell and Angela Rayner have piled in, branding its acceptance by the Prime Minister as a cynical act of self-interest, adding that the Tories can't be trusted on workers' rights. This is more than the usual argy-bargy of parliamentary rhetoric. We should not forget that May has proven more underhanded and happy to lie than even her predecessor, her ruling out of a general election before calling one and pulling the meaningful vote on her deal the day before it was originally due to take place should set the alarm bells screaming "she's not to be trusted!". Likewise as Tim Roache of the GMB observes, if she really cared about workers' rights then there were ample opportunities to get trade unions around the table. Also, it's pretty meaningless. EU workers' protections have meant little as the Tories and, disgracefully, New Labour took Britain to the bottom of the league for employee rights in Western Europe. Workers in Germany and France still enjoy greater rights at work, despite us all (for the moment) being part of the EU. And for her part, while May is hardly the workers' friend she has not pledged to scrap protections or anything like that - this being a hobby horse of the hard right of her party - so accepting the Mann/Flint amendment comes at zero political cost to her.
What John Mann and co. are doing then is providing red wash for May's deal. Assuming she loses the vote next week, when she returns to the Commons with her Plan B it will, in all likelihood, be in the form of a cross-party appeal for further amendments. Clearly this is what both Mann and Flint expect as both have framed their intervention around workers' rights as the beginning of a process that incorporates more of Labour's red lines. And from May's point of view, the more new amendments are bolted to her deal, the more the clock ticks down to exit day, the more likely sundry Labour MPs are going to back it to prevent the disaster of no deal.
No Labour MP should have anything to do with getting May's deal through. While all Brexit options aren't good, some are less harmful than others. Contrary to efforts aimed at muddying the waters, Labour's position is clear and straightforward: a deal based on a customs union with single market access. This softest of soft Brexits guarantees continuity for EU residents as well as established trading relationships, and delivers on the 2017 manifesto. A position, you'll remember, that was able to bridge the gap between Labour remain and Labour leave constituencies when everyone else was predicting electoral catastrophe. By going along with May's deal, Mann and friends are advocating a harder Brexit than what could be achieved. They have forgotten, whether purposely or not, that the biggest danger to our people - their constituents - is the continuation of the Tories in power, and are on a course that would keep May and the rest of them in government. Such a position for a Labour MP is unforgivable, and makes their future as Labour MPs untenable.