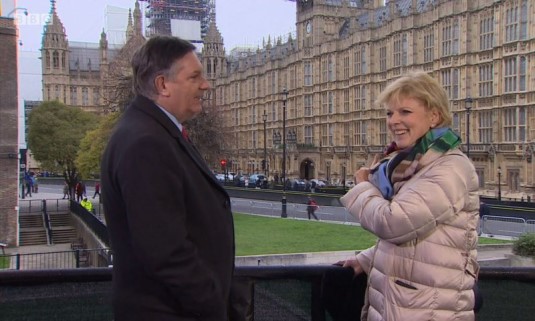 Actual fascists and Nazis calling Anna Soubry a fascist and a Nazi. You've got to admire the chutzpah of some people, even when they're the bottom feeders of British political life. Of course, letting fascists hang around the gates of Parliament intimidating all and sundry is unacceptable. Other noted targets have been Owen Jones and Dawn Foster. I don't know, it's almost as if these self-appointed knuckle-dragging guardians of Brexit have a problem with women and gay men in public life. And lest we forget, these goons do have deadly form. As was heavily trailed in the media earlier, John Bercow has written to the Met commissioner to ask that policing outside Westminster be a bit more robust and, for their part, the fuzz are looking into the footage to see if any charges can be brought.
Nevertheless, the discussion on this lunch time's Politics Live was revealing as far as mainstream responses were concerned. The ever-execrable Isabel Oakeshott likened the activity of fascists outside Parliament as the same as the protests that occasionally greeted Nigel Farage at his public appearances. Jo Coburn went on to quote John McDonnell when, years ago, he called for direct action against coalition ministers wherever they went. Forgive me Jo, but there is a world of difference between protesting cuts with placards and the like and screaming in the face of women, all the while recorded for narcissistic posterity.
And we know who's to blame for this, right? It's that there social media, of course! The place where criticisms of politicians and journalist are always 'attacks' and 'abuse'. It never has anything to do with the kinds of rhetoric these self-same standards of probity indulge. Think about the last 20 years. Who has done more to incubate racist tensions and scrounger discourse than politicians and journalists? The divide-and-rule politics both sets of elite actors cultivated did more than win elections or boost circulation, it poisoned the well. All the division and spite Brexit unleashed did not drop from the sky, it has built up over years. Emboldened fascists are just one toxic shock of our contemporary malaise.
We know what the end goal is. Legislation aimed at social media in some way, for instance the banning of anonymous accounts and/or the attachment of a real identity to each so complaints can be made and users face "accountability". And our fascist friends are useful idiots for the desire, of some, to curb protest. After all it would be a shame to let a crisis, even a small one like this, go to waste.