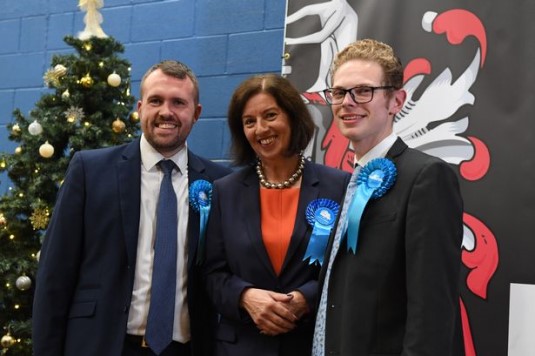 As the Tory tide proved unstoppable in dozens of so-called heartland seats, the blue wave rolled over Labour's three North Staffordshire seats and erased our party's parliamentary representation. In Newcastle-under-Lyme the thin majority of 30 became a safe 7,500 margin for the Tories. 2,349 in Stoke North was turned into its opposite and almost tripled. Stoke Central, the residence of yours truly, saw +4,000 become +670 for the Tories, and Stoke South, where I spent the election went from a marginal with a thin 663 Tory majority to a safe seat with 11,300 votes between the two main parties. What lessons can we learn from this rout, apart from never letting me be part of your campaign team?
Well, why not listen to what the victors have to say? In a series of tweets accompanying her appearance on Politics Live West Midlands last Sunday, Tory council leader and master mind of the party's resurgence in Stoke, Abi Brown, argued it came down to campaigning and canvassing, and Labour being entitled and complacent. The first is self-serving nonsense because while they campaign they are outgunned by the numbers even Stoke and N Staffs's CLPs can count on. No, the truth of the matter is the Tories always benefit from the structural bias in what passes for our national conversation. Her second point however cannot be dismissed, because her diagnosis is on the money.
It's not the case Labour has enjoyed unrivalled dominance in Stoke politics in the 21st century, but it is absolutely true the party has failed to adequately respond to it. During the 00s Labour fractured over the mayoralty, which ran the city from 2003 to its abolition by referendum in 2009, all the while losing ground to the so-called City Independents and the BNP. Dumped out of office Labour unexpectedly did much better at the 2010 local elections, held on the same day as the year's general election, and the boosted turn out put us back into office in coalition again. In 2011 Labour did even better winning the local elections and having an absolute majority in the chamber. And from there things went into sharp decline, losing two by-elections in Springfields and Trent Vale (a campaign I ran, so loss was inevitable) and another in Baddeley, Milton, and Norton. Come the 2015 general election we did not see a repeat of 2010 as the Labour council's perceived poor performance saw us lose council seats, and Labour's Westminster votes took a battering. The fun of the Stoke Central by-election, the performance at the 2017 general election, which saw the Tories net Stoke South, and Labour's duff showing in this year's locals all marked the slippage of Labour's control. Of a party, if you like, in long-term decline.
The structural issues and wider political issues of Brexit and Jeremy Corbyn's leadership were background factors here as they were in similar seats across the Midlands and Northern England. But what's going on above our heads and behind our backs does not mechanically grind out predetermined outcomes, there is always agency and there were plenty of opportunities Labour could have taken in the Potteries to avoid outright disaster on 12th December.
The first is undoubtedly Labour's ill-fated stint running the council between 2010 to 2015. Like all urban local authorities, George Osborne imposed stringent cuts to the local government grant with a view to forcing Labour councils to attack their own people, which some did reluctantly while others went about it with alacrity. Owing to a thin spread of acumen among Stoke Labour's councillors and, sad to say, in some cases a complete absence of Labour values and a political understanding, too many fancied themselves as petty managers and approached the cuts as an administrative challenge as opposed to a political problem. Partly, some were bewitched by the flashy, overpaid chief executive and red carpet for business talk. Others were flummoxed by the senior officers they were tied to and were, effectively, led by them. And in one particularly egregious case there was a hush hush affair between a councillor and a officer that was so secret everyone knew about it. And throughout Labour Group were utterly impervious to even a little bit of politics. I remember suggesting that perhaps the council should think about local sourcing, as per the Preston model a lot of folks coo about today, but the ridiculous answer came back that EU rules prevented it. Of course they did. So bad was the lack of a handle on the council was that just as the Springfields by-election was scheduled in summer 2012, without any political oversight the council announced it would be splashing out £55m to build a new HQ in Hanley (the city centre, for non-Stoke readers) straight after two years of tough cuts. A sound proposition if you're a regen manager, an absolutely catastrophic blooper if you're a politician.
After this point, the council was seen as uncaring and uninterested in listening to residents, and this mishandling was compounded by not one, but two entries to the Chelsea Flower Show. Sure, the local press always had it in for Labour, whether it was pushing fair or unfair criticisms and, incredibly, talking up the BNP in the 00s, but as a general rule one should not go into battle after painting a target on your back. And so Labour lost office to a coalition of Tories, City Independents, and a couple of UKIP supporters - one of whom later turned out to be too right wing and unhinged for the purple party, so the indies had him. And since then, Labour's efforts on the council have proven much less than the sum of its parts. Except for the coverage Stoke's Labour MPs attracted, and my friend and comrade Cllr Candi Chetwynd who was/is arguably in The Sentinel more than the (ex) MPs and the rest of the Labour Group combined, the party is almost entirely invisible. Instead of being allowed to make the running with shadow briefs, those with positions are held back and not allowed to say boo to a goose, and everything has to be done through the person of the group leader, Mohammed Pervez. It's almost like the party is in lockdown.
Unfortunately, in more recent years the MPs haven't done a great deal to make up for this deficit. Rob Flello, who was recently selected for the LibDems and then humiliatingly had his nomination rescinded by the national party, is close to one of the worst Labour MPs I've had the misfortune to meet. Stupid, lazy, spiteful, but with the entitled arrogance you come to expect from such people elevated to lofty heights, I know any Labour MP is better than any Tory MP but he certainly tested the adage to destruction. Paul Farrelly over in Newcastle-under-Lyme also vied with Flello for the worst MP title, arrogantly doing the whole EU stan thing in a decidedly leave constituency and rivalling him in petty vendettas and general uselessness. Gareth Snell, recently ex-of Stoke Central, was very good on local issues and knew the constituency well but, unfortunately, tried placating the Labour leavers while turning off a layer of Labour's core EU-friendly voters, just as I feared might happen. And Ruth Smeeth, who was also diligent on local issues and an active campaigner like Gareth, cratered her own foot, and therefore her chances, by spending the last four years telling every Corbyn sceptic punter on the doorstep that she couldn't stand Labour's leader either. Hardly the stuff of which vote catching is made, but I'm sure the Jess Phillips campaign can make good use of her tactical genius.
All the MPs contributed to this problem by virtually hiding from the public. The first constituency office I ever went into belonged to Mark Fisher, who retired in 2010. It was also the most absurd. If you went into a white goods store down a back street in Stoke Town, right at the back of the shop behind the counter was a door with his parliamentary plaque on it. And remember, this was supposedly a man of the left concealing his operation from constituents. When the blessed Tristram Hunt came to Stoke, he at least elected to have a shop front, albeit on the same out-of-the-way street. For his part Rob Flello's was tucked away at the bottom of a block of flats, which you wouldn't have known were there unless you were one of Labour's cognoscenti. Ruth also hid her super secure office down a back street in Tunstall, while Gareth elected to have his in Hanley's GMB building, once home to Stoke's home grown potters' union. And what did Jack Brereton do when he deposed Flello in Stoke South in 2017? He set up his constituency office in the busiest concourse in Longton.
And this is the problem. While Labour have played amateur hour for the best part of two decades, every step of the way the local Tories have proven much more politically astute and savvy. Abi Brown, who has run the council for nearly five years, knows she's a politician not a manager, and acts like one. She has fronted up all the positive publicity stuff, such as Stoke's city of culture bid and this last week has combined the City Council's announcement of the latest round of cuts with its capital investment plans. That means job losses and selling off local authority assets has been buried by news of their ambitious council house building programme, and the further development of the site Labour built the new council HQ on. Tories are gonna Tory, of course, and there have been cuts to the vulnerable, the scandal of the council's inadequate children's services, the proposal - quickly dropped - to tackle homelessness by fining rough sleepers £1,000, and dozens of other examples. Yet, as politicians the Tories understand that most people aren't bothered about local politics, that cuts can, effectively, be socially contained and targeted at those who largely don't vote anyway, and if Stoke is seen to be changing for the better, what with building sites cropping up everywhere and amenities like the city's many parks spruced up and returned to their Victorian-era glory days, people will notice. If you're a life long Labour voter untouched by cuts to local services, seeing how the Tories affect competent management and are appearing to turn Stoke's fortunes around, it makes breaking voting habits of a life time that little bit easier. And thousands did on 12th December.
Can Labour come back? Yes, of course it can. The national heavy weather will turn against Boris Johnson sooner or later, but if we're to win again in places like Stoke, local parties have to think about how the local and the national intersect, and how MPs and councillors are dependent on one another. It has to think about visibility, policy, and campaigning like politicians, and not as third rate managers and technocrats. The party must consider communications and properly building an alternative media infrastructure of its own complementing the traditional dependence on the local press and radio, and also the kinds of figures who are going to front all this up. None of this is rocket science, and each Labour member in Stoke and places like Stoke have a responsibility to contribute to rebuilding. It's time for Labour to be a serious outfit. Because if we let things carry on as they are, not only will the Tories keep hold of Stoke in 2024, MPs wearing blue rosettes will get returned in dozens of former Labour seats elsewhere too.
Image Credit