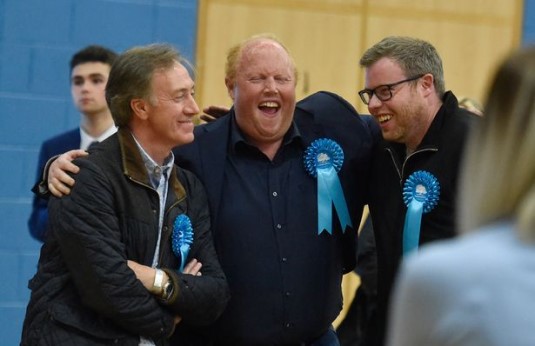 Everywhere you look there's carnage. Petty ambitions and broken careers lie scattered across England's shires as the Tory party suffered its worst set of local results since 1995. Yet there were a few outliers. You know, bits of the electoral map seemingly sealed off from events elsewhere. In those places different rules, different political physics were in play and the Tories didn't suffer at all. In fact, they did rather well. And one of these peculiar places just had to be sunny old Stoke-on-Trent.
As predicted the Tories made progress, and certainly much better than either they or I forecast. Representation more than doubled from seven councillors to 15, making gains at the expense of their City Independent allies and Labour, who fell to 12 and 16 seats respectively. And the popular vote made for some grim and sobering reading for anyone who wants to paint Stoke red again. Counting only the top vote in multi-seat wards, in the Stoke South constituency the Tories ran away with 9,372 votes vs a mere 5,369 for Labour and 4,058 for the permutation of CIndies and independent Independents. In Stoke North Labour topped the vote with 5,986, vs 5,337 for C/Indies and 4,744 for the Tories. And lastly, Stoke Central saw Labour come in with 6,540, and 4,798 and 2,663 votes going to City Independent and Tory candidates respectively.
Central was also the only constituency where there were no Labour losses and came out with a net gain, albeit of one in former fash stronghold, Abbey Hulton. The successful CIndie down there was ex-BNP'er Melanie Baddeley, proving some voting habits die hard. Nevertheless, Labour's Jo Woolner did the city a favour by taking out the ridiculous Richard Broughan. Elected in 2015 as a UKIP councillor, he has since passed through the CIndies before settling in the openly fash For Britain. Potteries politics watchers will remember him for making light of the death of 71 refugees in Germany, as well as his unfortunate habit of "accidentally" sharing details of his sex life on Facebook. Getting hauled before standards more times than the rest of the council combined also counts among his achievements.
There were further Labour consolations in the north of the city. Dave Conway, the former (nominal) council leader was forced into retirement by David Williams. Ever the modest man, I understand Conway had an English Heritage blue plaque fixed to his property marking his personage, which I think speaks for itself. It was also a delight to see the back end of "Friend of the Stars" Alan Dutton in Burslem Central. Elected twice previously as Labour, he defected to the CIndies in 2015 because he "didn't want to sit on the sidelines". That didn't stop him from periodically asking if he could rejoin Labour. Still, running this time on a policy platform of "I'm a Stokie, and Labour's candidate is from Nottingham" (Jane Ashworth is actually from Rochdale), no tears will be shed for the political passing of this small-minded runt.
Surveying the new intake, one name does stand out - Shaun Bennett for the CIndies. Once upon a time a ubiquitous internet presence on matters pertaining to Stoke and politics, Shaun was a Tory activist who got deselected for opposing the Labour-led grand coalition that ran the council between 2010 and 2011, and a long time ago took it upon himself to defend a Tory MEP's homophobic comments. He's sure to provide a little colour around these parts over the next few years, and prove difficult for a renewed Tory/CIndie coalition to manage. Apart from Shaun, the same old dim bulbs make up the dozen CIndie councillors. Who, in case you need reminding, includes a woman who stood on a manifesto calling for the banning of cervical smears, another who thinks the NHS should be abolished and, of course, a registered child sex offender. Even that is no barrier to political advance in Stoke-on-Trent.
What of the Tories? As far as they're concerned, if it isn't broke why fix it? The same group of activists have taken the Tories from also rans to the leader's office in less than a decade, scooping up the Stoke South parliamentary seat along the way. Consistent campaigning, which is tough for a party who could hold its association meetings in a matchbox, consistent messaging, disciplined organisation, fronting up all the good news stories in the local press and leaving the bad to their coalition partners, they have proved to be the canniest operators in town hall. Yes, sure, when the editor of the local rag is a Brexit-frothing right winger more concerned with grabbing a selfie with Tory group leader Abi Brown than holding her or her party accountable, your passage to success is smoothed down somewhat. Also helping is their breaking into local Muslim community politics, recruiting mainly in the south of the city. Whether this is a case of ideological commitment, or a cohort of young(ish) men wanting a slice of the council pie hitherto blocked by older, Labour-affiliated community leaders is only something they can answer. But it is possible this could become a future source of tension, especially when they set about dismantling what is left of council-administered social security infrastructure.
How then to explain Stoke's anomalous results? How have the Tories bucked the national trend? As argued many times before here, the Stoke electorate is more sophisticated than the Brexit Central and BNP land-style headlines we've seen over the years would lead you to believe. In 2015 plenty of voters showed a willingness and an understanding of split ticketing depending on the election. There will be people who on Thursday voted for the CIndies, will support Farage's Brexit Party later this month, and go for Labour at the next general election - and would argue their seemingly inconsistent choices are entirely consistent. The second point is there has always been a substantial, if at times latent, right wing vote. As late as the mid 90s there was a Tory association bar in Stoke town centre. The rise of the BNP during the 00s was only partly thanks to Labour's breakdown under Blair and Brown. Of relevance was the collapse of Tory party organisation. Effectively, where the established right wing party was absent right wing voters preferred to plump for the far right as opposed to Labour. I'm sure these developments and the local party then being chaired by one Gavin Williamson is but a coincidence.
Local elections also favour the Tories because of the profile of the people who vote in them. Older voters are more likely to vote generally speaking, and doubly so in elections where the outcomes are perceived not to matter as much - something Stoke's Tories have cynically but astutely capitalised on. Older voters disproportionately vote for the right all across the developed world because the acquisition of property over time has conservatising effects, and even where that is absent the experience of retirement is analogous to an atomised, petit bourgeois location. This helps explain why as British politics is in flux, we see a turn to the right in a number of old industrial towns and cities. The institutions that helped glue these communities together and kept elements of class consciousness alive have collapsed. The pub, the post office, community centres, bus routes, their closures and withdrawal has exacerbated these tendencies. Without what Chuka Umunna, in a rare helpful moment, called the "foundational economy", a politics based on symbolism, values and belonging "beyond" the specificities of every day life - nation and nationalism, nostalgia, and in Stoke's case, an idealised (and backward looking) city/community identity - is more likely to catch on than either the managerialism of the centre or the bold politics offered by the Corbynist left.
Set against these seismic shifts, what could Labour have done differently to effect a different outcome? There are some operational criticisms to be made. For example:
* In the north a no hope seat - which should have been obvious from canvass returns - was prioritised when diverted resources might have avoided Labour's narrow loss in Burslem Park.
* Patter matters. When faced with an anti-Corbyn punter on the doorstep, there is an ingrained habit of some to nod along and say they think he's a load of rubbish too. If you think that's going to get Labour any votes, you don't know the first thing about party politics.
* Labour's local manifesto was fine, but its main points could have done with unveiling long ago and been hammered at every opportunity for a year and a half as opposed to the last few months.
I'm sure there are others those closer to the campaign would have as well. However, most crucially Labour's campaign, with one or two exceptions, did not leverage its huge advantage: the membership. Over the course of the campaign, apart from some assistance organised by the MPs' offices most candidates have had to rely on themselves and a couple of friends and family members. The invitations to campaigning sessions have gone out, but the membership were largely absent. Instead of blaming them for "laziness", Labour has to ask why. It's partly cultural: deliberately choosing small and uncomfortable rooms for meetings, having chairs berate members for not turning up regularly, continuing on with a boring, unwelcoming culture of ever-so-important business, the fact of not involving members suits some thank you very much, and public bellyaching by people who should know better all conspire to keep the membership immobile. This is counterproductive.
A more welcoming party, a more participatory party can help bring through new activists and good candidates, but not all members are ever going to be involved. But if they feel part of it, feel inspired enough to identify with it, they will do the party's work where they are - encouraging colleagues to vote Labour, encouraging family members to vote Labour, encouraging friends and acquaintances to vote Labour, of bedding the party into the fabric of everyday life. The antidote then to dissolution, of the pressures that, for the moment, work to the Tories' advantage in post-industrial towns is to not chase and pander to the phantoms filling the social void but instead seek to fill it with a community, a politicised community of our own. It can be done, and it must be done. Otherwise the Tories will reap the advantages of this shift, and come the next general election take not just more councils, but more parliamentary seats in places like Stoke.