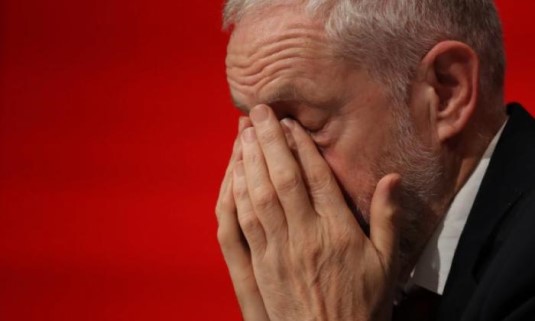 The Labour Party is in crisis. People are shaking their heads at the state of the anti-semitism wars, with some greeting it as the harbinger of the party's doom. It's a crisis, as Tom Watson put it, of the party's very soul. Well, he's right. And he's wrong. There are in fact two parallel and intertwined crises working their way through the party: a crisis of recomposition for one of its wings, and a crisis of decomposition for the other. Each have different roots, involve different forces, networks and patterns of class forces and fractions in Labour. In this post we look at the first of these crises - the problems of recomposition.
We've talked about the character of Corbynism before, but not for a while so it's good to have a recap. There have been three waves of Corbynism. The first broke over the Labour Party with the 2015 leadership election. The mere glimmer of something different to the received wisdom, married to the permissive voting regime saw new members and supporters flood in to the party to back the Corbyn candidacy. Then in 2016 in the aftermath of Dave, the Cameroons and the continuity Blairists blowing the remain campaign, Corbyn's critics and enemies in the parliamentary party made their move ... and failed utterly. What it did ensure, despite attempts at pricing supporters out of the contest and finding spurious excuses to suspend people from party membership, more people joined the party and ensured Corbyn's leadership was affirmed by an even stronger vote. These two waves of members, who now by far constitute the largest bloc of dues-payers, come in a couple of types. The first, as described in Alex Nunns's excellent book, The Candidate, were networks of activists who were around the labour movement and other campaigns and causes. The second, equally important group were those interested in but otherwise new to politics, or had previously supported Labour but felt driven away by the Blair/Brown years. These tended to be atomised socially but linked up digitally, and effectively entered the party as a mass of individuals. This was both connected to a wider process of political recomposition where a number of constituencies were effectively finding their feet again through political parties, and the growing dominance of network, socialised, affective and immaterial labour among the working class. Labour, via Corbynism, was speaking to this class fraction because Corbynism was, effectively, their eruption into politics. I argued that if this was correct, then to reverse the (then) sliding electoral fortunes of Labour using the latent, but networked strength of this section of our class was the only way forward.
The third wave of Corbynism then was the occasion of the 2017 general election. While Labour didn't win, partly thanks to the best efforts of whingers and wreckers of the previous 18 months, the party came from a low base precisely because it had a programme that spoke to affective and immaterial labour, and it was able to mobilise its mass strength through the digital networks and the social weight of the party itself. Having a party member in practically every social circle, every friendship group, every workplace in England and Wales is the most effective way of countering the same old fear-mongering and divide-and-rule. The third wave then is the 13 million voters - the highest number of votes Labour polled, save in 1997, since 1966. And despite the setbacks since the bulk of this vote has remained loyal, and is likely to do so regardless of what the polls might say.
However, the influx of such a large number of people brought with it its own challenges. The structure of the party is unwelcoming and bewildering to the uninitiated, and too many of its meetings are politics-free zones. As I often tell folks, if you want to avoid politics then go to a Labour Party meeting. This is before you touch on the pains various MPs and local government cliques went to to block and hinder the participation of new members in the party, and the straight up fact that meetings are, on the whole, incredibly boring. Secondly, most Corbyn supporters remain passive - at least from the point of view of voluntary participation. In Stoke Central, despite having more than 500 members on the books, as per pre-membership surge only a small fraction attend constituency meetings, branch meetings and get involved in campaigning. Nowhere near half turned up to the selection meeting for the February 2017 by-election - had more new members done so, it could have changed the outcome. Similarly in the campaigning itself the local party totally relied on outside activists travelling in. Nevertheless, while some new activists have filtered through, in Stoke at least the numbers aren't massive, but where the new members do matter is, obviously, as advocates for Labour outside formalised activism and, much to the chagrin of the Labour right, as members who can be relied on to vote for Corbyn-supporting candidates in internal elections.
We need to think more about integrating these supporters into the wider movement. Momentum proved useful to get people to targeted campaign sessions, and was an absolutely crucial factor in steamrollering the feeble forces of the Tory associations in 2017. But the promise of Momentum as a campaigning vehicle involved in a different kind of politics, be it what the political scientists patronisingly term 'unconventional politics', or in the community politics of re-engagement is yet to be fulfilled - at least as far as I'm aware. Quick wins here would be Momentum getting involved in (but not taking over) existing campaigns, and using their reach to mobilise people who find ordinary party activism intimidating and unrewarding. Also, if we want to move more members away from the 'atomised-but-networked' category, we need to think more seriously about trade unions. One of the paradoxes of Corbynism is its reassertion of class politics has taken place without much of a movement in and through the trade unions. Indeed, while there is no data for this I suspect most Corbyn supporters are not members of unions, despite it being a condition of party membership (there's nothing unique about this - I've interviewed would-be council candidates who weren't either). There is no reason why the party can't do more to promote trade union membership, nor of linking Momentum into initiatives around this. For instance, over the years my local trades council has moved from hidebound bureaucracy to campaigning organisation. Though, crucially, trade union power remains concentrated in the workplace and while getting isolated ones and twos to take out membership is good for the recruitment figures, they still remain atomised despite the connections forged through keyboard and touchscreen. Recruiting and supporting isolated workers has been the focus of many a long-term project and one we're yet to crack, but a more joined-up approach would certainly help integrate some who would otherwise not be.
Party education has always been appalling for a number of historic reasons. And the consequences of this neglect is costing the party dear with the anti-semitic and conspiranoid idiocies circulating about too many self-identified Corbyn supporters online. If you live on Twitter, like the majority of Westminster pundits do, it can easily appear as if the party is infested with troofers, troglodytes, and Israel obsessives. Instead of becoming familiar with socialist analysis, the boosterism and poor content of the likes of The Canary reinforces a black and white view of the world. Politics is not a struggle of interests pitted against one another, but a question of the machinations of bad people determined to get Corbyn/Labour. It has now reached peak absurdity with people like Jon Lansman and Owen Jones cast as pro-Israel plotters against the left. This adjunct of Corbynism is the gift that keeps on giving as far as the Tories and Labour right are concerned, always ready to offer up material that can discredit the left project. Could this be solved by a better and more systematic approach to party education? It could certainly help, but the leadership could do with taking a more active role. While attention has been focused on the so-called alt-left outlets, less has been said about other resources that do push socialist analysis, like New Socialist, Novara Media, the rebooted Tribune and the burgeoning network of good leftist podcasts - and not forgetting the old stuff either, like New Left Review. Of course, these are not for everyone but those with large social media followings, as well as key leadership figures should do more to promote their output. It would also help if there were more party-branded regional educational events as well, along the lines of last year's Derby Transformed and the upcoming Bristol Transformed.
These are difficult challenges to be sure, and each in their own way present issues that, unless addressed, could sink the left in the long-term. We cannot be content with a situation where the majority of Corbyn supporters are spectators who will chuck in a fiver here, and share a social media post there. We cannot leave political participation down to chance without concerted efforts of encouragement, and we cannot let utter bullshit and conspiracy thinking rule the roost. All these are consequences of Labour ballooning in size, of the left defeating and repeatedly defeating the right in the party through the weight of numbers. The left's crisis is one of coping with a mass following that more or less appeared over night, whereas that suffered by the Labour right is thanks to its disintegration and long-term tendency to decomposition. Something we'll deal with in part two.