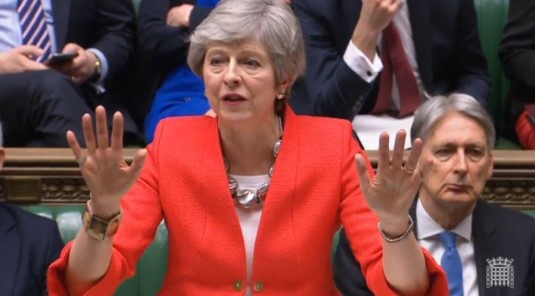 Congratulations to Theresa May for setting another record. Losing by 391 votes to 242, her Brexit deal enters the hall of dubious fame which, before she crashed and burned earlier this year, was exclusively occupied by Labour governments. With the fourth worst defeat for a government in British political history under the Tories' belt, was tonight an exercise in futility or were there any politics teaching moments contained therein?
The first, which is worth reiterating, is May continues to subordinate the national interest - which for convenience sake we'll define as what's best for British capitalism from the standpoint of jobs, inward investment, growth etc. - to the problematic of party management. Since her catastrophic failure back in January, she has pantomimed a negotiation process, making promises to hither and thither, found a concern for workers' rights, more (moar!) money for towns and cities ravaged by her government's cuts to local authorities, and all the rest of it. But her idea of Brexit is too hard for, well, anyone with an ounce of political sense and feel for economic realities, and too soft for those who would profit from a chaotic departure from the European Union.
The only Brexit that could potentially command a majority in the Commons is the customs union-based version long pushed by the Labour Party. If May was properly serious about "delivering on the referendum vote" then she would have compromised her red lines and gone with what was achievable when it became clear her preference was not a go-er. Politics is the art of the possible, a dastardly communist once said. But she hasn't because Brexit never really meant Brexit. For May, Brexit meant keeping the Tory party together as a going concern. With Labour lost to Corbynism, the Liberal Democrats down and out and centrist politics out of sorts, the only reliably bourgeois vehicle left are the Tories. Yes, the very same dysfunctional mob responsible for the mess in the first place. As far as May is concerned, she is serving the national interest by pursuing the class interest of keeping their shit together. Any other Brexit, especially Labour's Brexit, brings the possibility of a split into the equation. And we're talking a proper split, not a TInG-style farce.
This is her game, but how do we account for her ineptitude - as Richard Seymour asks? Well, we don't really need an explanation for it. May's personality traits are well known. She's particularly dogmatic and will stick with something. This may have made her appear strong-minded and someone not to be tested during her Home Office years in the mercurial coalition government, but when it required a deftness of touch, like the project of forging a new period of hegemonic dominance, which was within reach once, or an election campaign going off the rails, or managing the Brexit process her one-dimensional character and, yes, incompetence soon manifested. It's hard to comprehend how she thought her playing for time would be perceived as anything other than playing for time. Or that her tough talking at home for the benefit of the right wing press and the thinning party faithful wouldn't be picked up by Brussels negotiators, and likewise her emollient tones with the EU wouldn't set alarm bells ringing back at home. But then again, I guess neither you nor I are criminally incompetent. May's instinct is to protect her party and preserve it, but married to an inflexible politics and rigid approach to getting anything done she has proved the author of her agonies and humiliations. And, if anything, exacerbated the difficulties the Tory party faces.
Now what? Presuming no deal falls in the Commons this Wednesday, and the vote to extend Article 50 is carried, unless the EU intervene and insist the UK government comes back with something else May will trot off to Brussels with the same deal. She will claim it has undergone significant changes invisible to all save her, and here we will be in a month or two's time. The Prime Minister's deal definitively reached the end of the road in January, where it careened into the nearest brick wall. All she's done tonight is backed up her busted old banger and driven it pell-mell back into that very same wall. Unless someone takes the keys away and escorts her from the vehicle, she will try reversing again to give it another go. Please someone, do it. And render a kindness.