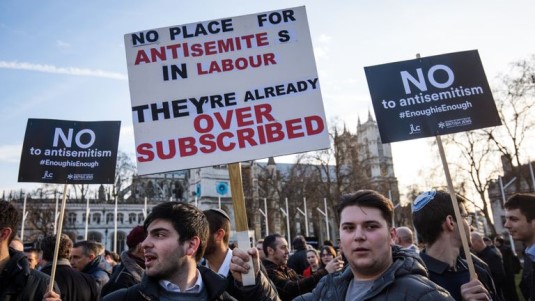 In recent days, the charge Labour is institutionally anti-semitic has surfaced again. The evidence marshalled are the interventions of Chris Williamson - long a bane for Labour MPs for other reasons. Then there are the idiots posting in Corbyn-aligned Facebook groups, the abuse received by sundry MPs, the odd activist hanging about with David Icke and, of course, the very fact Jeremy Corbyn has long-aligned himself with pro-Palestinian groups and causes. Then again, the charge isn't new. It aired last Summer too. You may recall Pete Willsman - he of "Jewish Trump fanatics" fame - was re-elected to the NEC after a secret recording of these comments were publicised. Because this didn't sink his chances and stopped trendy lefty and centrist hero Eddie Izzard from retaining his seat, ipso facto the party is anti-semitic from top to tail. That the polls opened and most of the voting was done before the comments gained wide currency is a trivial detail we need not bother with.
What then does it mean to say an organisation is institutionally racist? Presumably, it is stating that racism or a particular type of racism is endemic and constitutive of its structure and operation. Here then we can outline three different approaches to the issue. The first is that because capitalism itself is intrinsically racist. When you have exploitation, and seeing exploitation is dependent on managing populations, the stirring up of racist and xenophobic sentiments is a useful means of dividing and conquering, of blocking subaltern classes from ever becoming a threat to the social order. Therefore because racism exists in wider society it is bound to penetrate and permeate its institutions, all institutions. The Labour Party then, with its 540,000 members, is going to reflect the prejudices of its context. This includes anti-semitism, reported incidents of which last year were at an all-time high.
Necessary context then, but also a bit of a cop out. While all institutions are only as good as the society that hosts it, undeniably some are less racist than others. Labour has and continues to have a strong anti-racist record, and of the main parties is much stronger at actively rooting out all forms of racism, including anti-semitism. You then have to take institutional intent into consideration. If any member makes anti-semitic remarks, there is a reporting and complaints process, an investigation, and the application of sanctions with varying degrees of severity if one is found to have a case to answer. It is interesting that attacks on the disciplinary process itself have intensified since Jennie Formby took over, while her predecessor escaped all vitriol over the backlog that built up under his watch. But let's put that to one side. Formally speaking, thanks to the measures put in place over the last few years Labour is an anti-anti-semitic organisation and now has more elaborate definitions and procedures for dealing with this than, arguably, other kinds of racism as well as sexism and homophobia.
Nevertheless, the formal is not the same as the substantive, which brings us on to the third understanding of institutional racism. That is at best the blindness to and at worst the encouragement of racist practices. This is more or less the understanding the Stephen Lawrence Inquiry came to regards the Metropolitan Police, defining it as the "... collective failure of an organisation to provide an appropriate and professional service to people because of their colour, culture, or ethnic origin. It can be seen or detected in processes, attitudes and behaviour which amount to discrimination through unwitting prejudice, ignorance, thoughtlessness and racist stereotyping which disadvantage minority ethnic people." Does this fit the Labour Party? Yes. And no.
As I've argued before, there is an historic culture of carelessness in parts of the left vis anti-semitism. A strand of this certainly comes from a more troubling source. The problem, however, is because this is overlaid by factional struggle there is now a blockage, an over-defensiveness and lack of willingness to countenance the very existence of a problem on the part of those who share and push anti-semitic tropes, or promote the work of anti-semites. This, of course, is compounded by the over-amplifying of anti-semitism by the media and the alacrity with which it has been taken up by Corbyn opponents, including hypocrites who floated "rootless cosmopolitan" criticisms of Ed Miliband when it suited just a few years ago. Here's the thing. Just because your opponents take up an issue, some times cynically and in bad faith. and use it to inflict as much damage as they can does not mean the problem is fictitious. Precisely because they can point to Facebook groups full of useful fools, and Twitter accounts with Corbyn-supporting hashtags acting as if the Israel lobby and "Zionists" are the only active force in British politics, this is the stuff that makes the attacks effective and trashes the standing of the party in the eyes of many Jews and the community's allies and friends.
The institutional anti-semitism in the Labour Party is, therefore, somewhat different to the kind you find in other institutions. It is sustained by the battle for the party, a grim battlefront in a zero sum game of entrenched position vs entrenched position. As such, whatever the leadership do, whatever new processes the General Secretary introduces for one side it will never be enough because, as far as many of them concerned, the leadership are politically illegitimate; and for the other it's a sop and capitulation. The resolution of the anti-semitism crisis then is not a matter of compromise - for each side the issue will only go away with the complete crushing and driving out of the party of the other. A situation that can only poison the well further, and guarantee anti-semitism won't honestly and comprehensively be confronted.