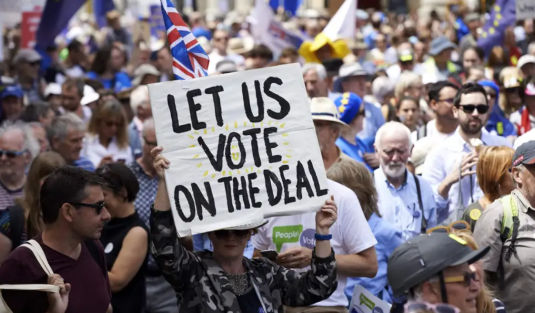 There was a time when a good part of my political work was organised around petitions. For calling attention to an issue and, of course, selling the ubiquitous newspapers, we found them a handy tool. As a form of activism or expression of solidarity, signing a petition is the least time consuming and cost-free type of political participation there is - bar sharing a Facebook post or retweeting something. This is why people need to calm down about the Revoke Article 50 and remain in the EU petition currently ongoing and be clear about what it can achieve.
It clearly has tapped into something. After last night's disgraceful address of the nation by Theresa May, millions are incensed and exasperated at her pathetic attempt to annex the public to her project. The petition then is an outlet, of remain supporters forcing their way into the parliamentary process by the only means constitutionally afforded them inbetween elections. Speaking earlier in the Commons, Andrea Leadsom summed up the government's attitude by saying they will take a serious look at it once it has topped 17.4m signatures. At just over two million at the time of writing, there's a way to go.
Nevertheless, the petition is good organising and publicity fodder. It has dominated Twitter all day, which guarantees prime billing across all the new sites, and is good for raising awareness about this weekend's second referendum march - a demonstration likely to have a larger official(ish) Labour contingent on it than last October's. No doubt the demonstration will be very large - but is it going to make a difference?
It depends on what your objectives are and why you're on the march. While previously there were plenty of speakers and so-called notable personalities who used their remain creds to attack the Labour Party, a repeat might not be on the cards. Labour's signalled willingness to go for a second referendum over and above accepting May's deal, and Corbyn's careful refusal to rule out revoking Article 50 (who says he can't do the clever-clever?) is good position-taking from the standpoint of shoring up the party's voter coalition. We know there are (and still are) people active in the People's Vote movement whose dedication to the cause has a thing or two to do with driving a wedge between Labour's leadership and the mostly pro-remain base of Corbynism, especially among younger activists and voters. Not only has Labour's referendum and Article 50 pirouettes helped draw the sting from the issue, the decamping of Corbynism's worst critics to the absurd Independent Group has exposed their long-term intentions, put paid to their wrecking scheme and damaged their standing among their peers in the upper echelons of Remain. These people were only useful in so far as they were levers on Labour's position of "constructive ambiguity", and their use now is, well, not much.
In wider terms however, it won't make any difference to Theresa May. There could be three, four million people marching down the Embankment and surrounding Westminster and she wouldn't budge. Not because of her ruinous obstinance or "leadership", but because she knows those taking to the streets aren't her people. The march against the Iraq war, for example, was neither sufficiently aggro - as per the anti-poll tax campaign - nor composed of people who would make much of a difference in general election terms. Ever the cynic, Tony Blair knew that with the Tories four square behind his plans, the LibDems much, much smaller, and the threat from the far left derisory he calculated he could go for it and safely assume the 2005 general election wouldn't cause Labour much bother. And so it proved. May knows a demonstration of remainers, no matter how big it is, is never going to cause her party trouble - and is one reason why she's far more invested in pandering to her right flank than the liberally-Cameroony Tories of the Justine Greening/Dominic Grieve type.
Therefore, from the standpoint of putting pressure on May it won't. And with news coming through that the EU are prepared to grant an unconditional extension to 12th April, she can go about playing for time again. But in so doing, she's accelerating the welcome doom of the Tories. May is ensuring her party cops the lion share of the blame for the Brexit fiasco, and events like this Saturday's march are an episode, a moment, in consolidating a solid bloc of growing anti-Tory voters that could keep them out of government for a very long time indeed.