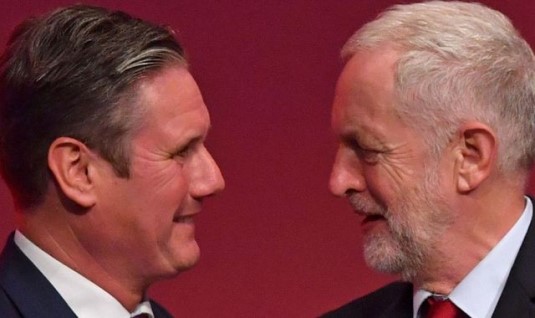 We started this year with a YouGov poll suggesting Keir Starmer leads the race to be Labour's next leader. Then yesterday, Survation's own weighted poll of LabourList readers but Rebecca Long-Bailey narrowly ahead. In either case, this suggests substantial numbers of Corbyn-supporting members are favouring Keir, so those on the RLB-supporting left have to ask why. Not because it's an interesting exercise in and of itself, but so we can persuade these comrades - because they are comrades - that RLB is the better bet. Here are some thoughts then as to why some find his pitch compelling.
1. Paul Mason notes Starmer carries a professional air about him thanks to his background as Director of Public Prosecutions. He therefore knows the state and its bureaucracy, and has the lawyerly skills of mastering a brief and thinking on his feet. He is, in short, a serious figure. And no doubt he is. Whatever one thinks of the role he played in steering Labour in the direction of a second EU referendum, he did a good job at the despatch box scrutinising the government and having a better understanding of the Brexit deals bought before the Commons by Theresa May and Boris Johnson than his Tory opposite number. While Jeremy Corbyn's performance at PMQs varied greatly over his time, there is the belief Keir would consistently better the Prime Minister which, in turn, would provide the sort of theatre designed to play well on the evening news bulletins.
2. This however would be done from the left. As he was quick to establish, economically speaking, his offering is Corbynism with Keir and not junking the 2017 and 2019 manifestos - a different approach to Lisa Nandy, Emily Thornberry, and Jess Phillips who have either singled out individual instances or some of the policy menu for criticism. And to burnish his stance with a tinge of authenticity, we had that campaign video which saw Keir sticking up for working people and fighting the good fight. Just don't talk about the time he stood with the Tories and the LibDems in putting the screws on some of the poorest and most vulnerable people. Nevertheless, he is left enough for enough and some are prepared to see him account for this before even considering changing their vote.
3. If that can be overlooked, so can his participation in the 2016 coup. After all, he has served loyally in the shadow cabinet and has since hovered above the factions - reports of his favouring Labour First supporters in Holborn and St Pancras CLP elections notwithstanding. Naturally, hiring Matt Pound from the self-same faction doesn't give off non-factional vibes but, as plenty have pointed out, he has experience of campaigning against Momentum during Labour's last round of reselections. Though to credit LF with more than a dozen votes against the triggers is to overstate their reach and influence. Nevertheless, most of Keir's left support are again happy to either ignore the hire or put it down to campaigning practicalities.
4. The assumption of non-factional positioning obviously appeals to leftists worn down by four years of internal warfare, and they want to believe Starmer can heal the ceaseless conflict. Whether he has the appetite for shaping the party in his image and the struggle it brings remains to be seen. Nevertheless, in trying to read the runes and despite Labour First's backing they are not senior to his campaign. LF's backing stems from their anyone-but-Corbyn positioning and, therefore, anyone but RLB. They might fantasise about taking back the party and obviously see a Starmer leadership as a springboard for doing so, but Starmer also knows his best chance at victory in 2024 is peace within the party between now and then. If you stand as the unifying figure, turning against the most substantial section of the party is hardly clever clever politics. And with a PLP also weary of infighting, apart from the scorched earth ultras who've hitched their wagon to the sinking Jess Phillips campaign, the hope a Starmer leadership might see tensions simmer down are not entirely groundless.
5. Ultimately, taking all these into consideration, there is enough ambiguity for some of the left to project their own hopes onto him and see them confirmed by Keir's actions and interventions. So far, and it is early days, there is little suggesting to comrades that the party isn't safe with him, that the policy platform Corbyn stood on will be sacrificed, and that he stands a worse chance of winning an election.
This poses a number of challenges to RLB supporters. We know Becky's not about to junk Corbynism, considering she was central to it and is responsible for its green industrial strategy. But she's up against the competent image, the perception a rapid recovery and election win is more likely under Starmer, and that his leadership would be an antidote to the poison coursing through Labourist politics. This is where the campaign has to be most persuasive because these are the grounds on which the leadership will be won or lost.
Image Credit