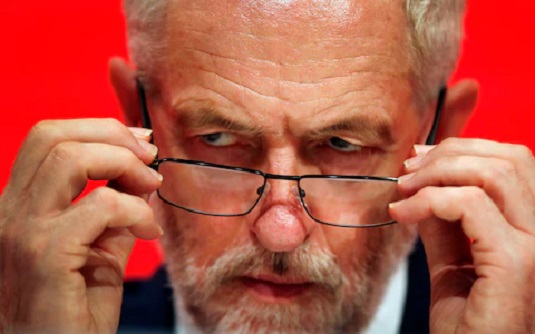 "What happened to Jeremy Corbyn wasn't a character assassination, it was a character exposure. The press didn't destroy Corbyn, he destroyed himself years before he took the leader's job. The Tory press couldn't have handpicked a more ideal rival candidate if they tried." So writes Oz Katerji, Mail hack for all of five minutes. Yet what he writes is true, up to a point. As far as the establishment goes, Corbyn was and is not acceptable. They buried him under a mountain of shit, and a load of it stuck. But how do we understand that demonology, a monstering so total that it cut through to millions of people to the point where you could ask why punters didn't like Jeremy Corbyn and they couldn't answer why. And more importantly, how can it be countered when the next leader faces the same? And what should Labour learn from the mistakes Corbyn made?
Jeremy Corbyn would not have been my first choice for Labour leader and, indeed, was not. But let's be clear, Jeremy Corbyn was the only left wing MP who could have got through the parliamentary party's gatekeeping and on to the leadership ballot, and precisely because he was an unknown quantity to large numbers of the left-leaning public he was able to draw hundreds of thousands into the party and transform it from an eviscerated husk into something much greater. Yes, Corbyn came with much baggage. It was one reason why I was sceptical and wrote about it at the time. The other, which powered my initial Corbyn-scepticism was the credibility factor. i.e. Steady-as-she-goes centre leftism is the only thing palatable to the electorate, and so following the New Labour play book we have to tail the electorate instead of persuading and offering leadership.
This was it then: too left wing and too compromised by past associations. All throughout the Labour leadership election, you expect plenty of mud to be flung and flung it was. Rather than confront the programme Corbyn put to the selectorate he was criticised and belittled using all the old smears and stratagems. Only Yvette Cooper had a go at critiquing Corbyn directly, but didn't lay a glove because she interpreted nationalisation as a straight up Croslandite swap of private managers for Whitehall staff, and not the wider democratic vision at the heart of a reconceptualised public ownership. And as it became clear he was going to win, the rhetoric ramped up and swamped straight forward political criticisms. Labour MPs quickly went to Tory papers and fed them all the attack lines later regurgitated in op-ed after front page after comment column. And so when the wider public started paying attention, the spin put on his record meant Corbyn came before them as a renegade who would do Britain in. From September 2015 through the second leadership contest to the outset of the 2017 general election, the perception stuck for millions of people not because they had made their mind up, but because the initial framing was reinforced daily by a collective press exercise in demonology, backed by the broadcast media and fed incessantly by Labour's scab tendency of MPs. And following the election in which Labour exceeded expectations, it wasn't long before it started all over again. These last two years were an exercise in de-legitimation for which many of those self-same MPs who put the boot in paid the price - a fitting fate if our people weren't going to suffer because of their petty blacklegging vendetta.
Yet this experience did show something. The powers that be threw the kitchen sink at Corbyn before the 2017 general election and it largely bounced off. Media power isn't total power. Nevertheless, I say largely because there is reason to believe that if the Tory party's generous little helpers in Labour's ranks hadn't tried undermining the left and were much more disciplined we could have won in 2017. Alas, they ensured it didn't happen and it will now forever inspire a cornucopia of what if fantasies. The lesson then, which really shouldn't bear repeating, is the media are going to come for whoever leads the party. They will demonise and scandalise, terrify and vilify whoever takes the top job. And while the next leader is unlikely to suffer the same degree of abuse Corbyn endured, they need to be ready for it and have an aggressive press operation in place to rebut, ridicule, and stamp on whatever nonsense comes their way.
In the hands of the Murdochs, the Mails, and the Melts Corbyn became a monster who wanted to nationalise everything, compromise the country's security, stick undesirables in the gulag, and run the country into the ground. And the job worked a treat, especially with those layers of the population whose situation is ontologically angsty. People will not countenance voting for someone who frightens them, and that is as true of Tory voters who trembled at the thought of Corbyn in Number 10 as it was Labour supporters fearful of what five more years of Johnson means for them.
Still, while Corbyn was subject to the worst press and broadcast coverage ever received by a leading politician, there are mistakes he and his team made that helped his opponents. The first was the perception of indecision on Corbyn's part. This was rooted in a desire to be seen as someone whose authority grew from consensus rather than control. The thing is with a parliamentary party in open revolt and letting the scab tendency run riot with their attacks, this not only sapped the will of thousands of activists but fatally damaged his standing with the public. For the punters at home hearing constantly about problems in the Labour Party, the failure to do anything about the complainers undermined faith in his capacity to deliver Labour's ambitious programme. The people around Corbyn were often accused of being Stalinist, and yet perhaps we should have seen a little more Stalinism and a little less tolerance of the intolerable. After the 2017 election there was a window of opportunity to give MPs who consistently undermined the party the heave ho, and it was an opportunity missed.
The second refers to anti-semitism. Corbyn obviously isn't anti-semitic, but should have anticipated the likelihood of attacks coming from that direction. After all, as an active promoter of the Palestinian solidarity movement he would be familiar with the false equivalences made between anti-semitism and criticisms of Israel. Yes, Corbyn was hamstrung to a degree by a party apparat who sat on cases because it was factionally convenient, by utter idiots who prized their right to be "provocative" above party discipline and the damage to the wider movement and, his own past associations and blind spots and, sadly, cases of allies looking the other way, but from the off there should have been zero tolerance and expulsions. Instead we had a situation where it's become a running sore, and where the previously moribund Jewish Labour Movement falsely claimed the party is infested and riddled with anti-Jewish racism. This was obviously damaging as far as the party's relationship with the Jewish community was concerned, and a number of good Jewish comrades were alienated from Labour as a result. It didn't have to be this way.
And there was the campaign itself. It's always difficult to impossible to raise criticisms during an election because, well, a political party is not a debating society. But the party did make some elementary mistakes. As idiotic as Johnson's Get Brexit Done mantra was, fixating on that plus his two other main proposals - recruit 20k extra coppers, and throw more money at the NHS - meant that on the trip from doormat to pedal bin those three simple messages easily translated. Labour on the other hand offered a smorgasbord of goodness. Yes, the manifesto had to be ambitious thanks to the scale of the challenges facing us. But it could have been sold better by returning to three key pledges and hammering away at them. The Tories don't overcomplicate things, and neither should we.
The second big campaign issue was timing. Shortly before the election some honourable members and Labour activists, me included, argued that we should not give Johnson his general election. The polls didn't look great, and Johnson was forced to backtrack on his foolhardy promise to get Brexit done by Hallowe'en. Instead of letting him stew, we helped extract him from the mire. Johnson went from being the prisoner of parliament to, now with his majority, its jailer. Where the left went wrong, and this is not entirely on Corbyn, was the belief in the transformative power of Labour's activist army. And yes, it was transformative in the sense of tens of thousands of people finding comradeship and forging tighter bonds in the face of struggle. A process, if you like, of cadreisation in politically testing circumstances. This has deepened the left's handle on the party, but wasn't enough to carry the election. The 2019 general election is a case study in the limits of voluntarism.
And lastly, Brexit. There was no easy answer here and Labour was caught in a perfect trap. Nevertheless, this could have been handled better. It is one thing to offer a second referendum, but quite another for a large chunk of the shadow cabinet to say they would campaign to remain come what may. This was completely unnecessary from the standpoint of stymieing the bleed of pro-EU voters to the LibDems and the Greens, but would have overly antagonised a layer of leave voters who subsequently "lent" the Tories their vote to get Brexit over the line. Johnson, sadly, was right to point out the absurdity of a Labour Brexit deal that no one who negotiated it wanted to support.
As the dust settles and we draw lessons from this election for what comes next, we have to be prepared to criticise our performance. Yes, the media did a number on the labour movement and were helped at every turn by a faction of wreckers who want to turn the clock back to the bad old days of crapping on workers and undermining our base. And yet, while Jeremy Corbyn was neither the messiah nor a very naughty boy. We have to take what was good, learn from the mistakes, and forge our path anew.