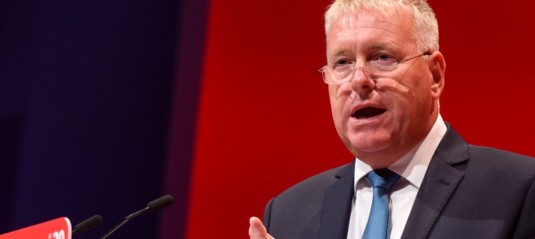 There's a petition doing the rounds asking Ian Lavery, chair of the Labour Party, to put his name forward to succeed Jeremy Corbyn. Politically speaking, you might ask, why not? Unlike some would-be contenders, Ian stood by Corbyn when the parliamentary party came for him and, crucially, he rebelled against the whip imposed by Harriet Harman to abstain on Tory welfare cuts back in 2015. Adding to his appeal, for some, is his sounding of the warning against the party adopting the second referendum as its Brexit position. Though, as we have seen, sticking with the 2017 position would likely have proven equally as disastrous at the election, with the added bonus of severe damage over the medium to long-term. Nevertheless, it's a position that has been variously advanced and deserves debating out.
The problem Ian Lavery presents is not his current positioning nor his record since entering parliament. Rather, it's because of what he did before taking his seat. I am, of course, talking about the miners' pension controversy. The charges are nothing new and have been in the public domain for quite some time. This refers to two payments made to Ian by the National Union of Mineworkers while he was working for them and winning millions for the miners' compensation fund. In 1994 he received a £75k below market rate loan from the NUM to help pay off his mortgage, which was written off when he left the union's employ. And in 2010 after resigning his position to become a MP Ian received £90k in redundancy costs. You don't have to be an expert in workplace law to understand that redundancy payments are made only when one's position becomes, um, redundant.
Matters aren't helped by the overly technical responses Ian has advanced when confronted by these payments. It was all within the rules, a cry oft-heard during at height of the MPs' expenses crisis, as readers will recall. There is no suggestion any laws were broken, but still, there are two important political issues here. The first should be obvious. Given the number just done on Jeremy Corbyn and the Labour Party, it is both foolish and naive to push a potential contender with an albatross like this flapping about his neck. Do you think the Tories aren't going to run amok with this, with lurid headline after lurid headline raking over Ian's finances, and how do you suppose it would go down in the sorts of constituencies Ian is supposedly uniquely placed to win back? I can't imagine many, especially among retired miners, finding much encouragement to vote for a Lavery-led Labour Party when they learn how their union funds were disposed.
And the second more serious problem is how a Ian Lavery candidacy would shine an unwelcome light on finances in the labour movement. You might remember how Arthur Scargill took the NUM to court because it refused to meet the costs of his flat in The Barbican. Again, entirely within the rules (or not, in this case) but utterly repugnant. And this is one of thousands of such stories. The far left group known for its workers' representatives on a workers' wage shtick turning a blind eye to its own senior union cadre pulling down huge salaries. The regional committee who covered local officials' drink driving fines. The golden goodbyes shelled out to officials a couple of years off retirement when one union merged with another. The spamming of union expense accounts by a Trotskyist darling. All the properties, grace and favour amenities, large salaries commanded by union big wigs, the not entirely gainful employment of facilities time, and money wasted on inter-union competition. A broom does need taking to our movement, but that should be wielded by us, not the Tories. Should Ian be a candidate, let alone the leader, the likelihood is there for financial malpractice to be used as a stick for attacking trade unions. And that, while we face four or five more years of screwing over workers, is the last thing we need.
Therefore, in the spirit of not handing our enemies ammunition to fire at us and standing against money grubbing in our movement, Ian Lavery should not stand.