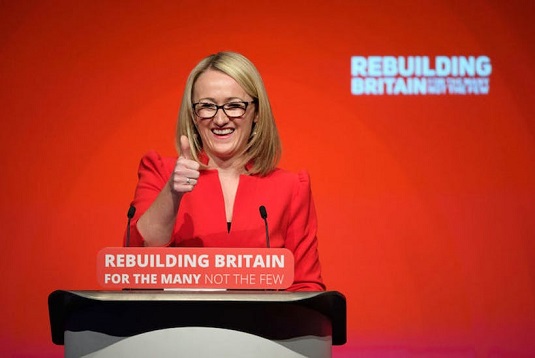 There's enough in Rebecca Long-Bailey's kite-flying pitch to recommend her candidacy to would-be Becky Bros and Salford Mafiosi. There is no going back to soggy centrism as she draws the fundamental lesson that Labour's prospectus didn't lose the election. And RLB doubles down on the necessity for building the movement and democratising it, support party members and unions resisting Tory cuts and, by extension, Boris Johnson's efforts to demonise powerless minorities, and foster a revived progressive patriotism to begin the process of uniting our communities.
Excuse me, progressive patriotism? Understandably, this has caused a ripple among some comrades who remember well how previous attempts at forging a Labourist patriotism went down in the past. Comrades will recall how Ed Miliband's One Nation pitch ineluctably led to controls on immigration mugs. More seriously, Tony Blair's 'progressive consensus' culminated in the peak liberal 2012 Olympics opening ceremony and the grotesqueries of Yarl's Wood. And variously a bit of flag waving from Labour politicians has been used to justify everything from colonial adventurism to the willingness to incinerate millions of people. Indeed, given the character of the seats just lost, the Blue Labour temptation is to wave the flag as ostentatiously as possible and assume the punters will come flocking.
Then again, too much can be read into one element of this piece. RLB is clear about what progressive patriotism means to her. She's talking about a synthesis between labour movement traditions, the legacy of more recent struggles and a sense of community and place. It's taking the best of contemporary multiculturalism and contrasting its solidarism against the division and scapegoating characterising the Tory deployment of the national card. It doesn't read like a preface for a lurch into nationalism.
Nevertheless, you can understand why some would be very sceptical. Patriotism is the last refuge of the scoundrel after all, but if Labour is to truly win the battle of ideas we have to do the groundwork for a transformative programme in advance. Which is a much more difficult task than that undertaken prior to 1997 because New Labour were explicitly committed to retaining the Thatcherite settlement, and therefore swam with rather than against the common sense of the moment. It therefore makes sense to go with the ideological resources to hand, build on them and transform them into something else. If you like, RLB's patriotism is underground, unofficial, and draws deep from the well of rebellious Britain, a precursor to a necessary popular culture of resistance that can glue together a more powerful coalition of activists, members, and voters to take the Tories on. And such an approach might just defeat them.
Among Keir Starmer's "I'm left honest guv", Emily Thornberry's 'everything was shit', Clive Lewis's Maoist-level enthusiasm, the unhelpful mutterings from Ian Lavery, and Lisa Nandy's small town blue Labourism, RLB's positioning is so far the most attractive and, surveying the parliamentary party, is likely to remain so.