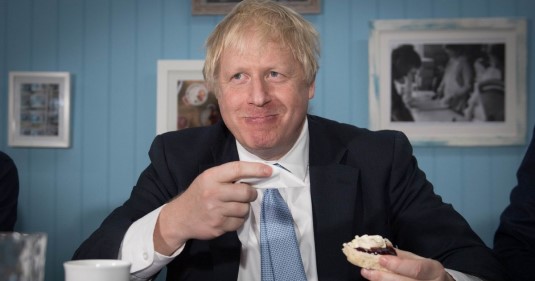 Last night was a disaster. The exit poll was a pit that swallowed all our hopes, and it didn't get any better as the night wore on. Collectively, we're numb. And angry, very angry. It's tempting to point fingers at the media, at the scabs in our own party, the person of Jeremy Corbyn, and the character of the campaign itself. Each had their own part to play and will get the analytical treatment here, in due course. However, possessing more efficacy than everything else, it was Brexit that did the heavy lifting for the Tories. Despite our best efforts and, at times, its crowding from the airwaves by other issues this was the Brexit election - as anyone who did the most cursory door knocking will tell you - and Johnson used it as a wedge to bust open so-called heartland seats. Yet saying Brexit did for Labour and leaving it at that is just not good enough. There was no easy route for the party to take.
When Labour shifted its position from constructive ambiguity to having a second referendum with an option for remain, it was bound to cause the party pain. Circulating memes suggesting Labour was more successful in 2017 than yesterday because of its referendum positioning are just not credible. Quite apart from the thorough monstering Corbyn and the party got throughout 2018 and this year, readers might recall the summer's EU election results. You remember, the one where both parties of government were utterly routed because the Tories couldn't get their deal through, and the alleged "confusion" about Labour's position. The Brexit Party and the LibDems cleaned up because they offered coherence. Suppose then Labour spent the time since resisting calls for a second public vote. Johnson would have got his deal and contrasted his full fat Brexit with Labour's "remainer's Brexit" and bang, a very similar result with the added catastrophe of major inroads from the LibDems and Greens out and about on their People's Vote nonsense. As it stood, even with the the second referendum party policy Labour still lost four remain votes for every Labour leaver gone elsewhere. How do we begin to explain this?
There is a very complex dynamic of decomposition and recomposition in play here. Basically, what landed on Labour yesterday was the culmination of the disintegration of the labour movement's community base. The wiping out of Labour in Scotland (reconfirmed again at this election) was decades in the making, as was Johnson's successful offensive in England and Wales. You know the story off by heart by now. The Thatcher government accelerated deindustrialisation by loosening capital controls and letting businesses export jobs, itself enabled by her smashing of the labour movement. The consequences for many communities, especially in the Midlands, Northern England, parts of Wales and Scotland, was not just closures and economic depression as deep as the 1930s but the slow break up of these communities. The identity anchor of place is pretty empty if that's the single unifying characteristic of a particular locality. As families moved out and strangers moved in, as landlords bought up property and increased the turnover of residents, as people in any district were subdivided among hundreds of employers instead of two or three big local industries and their associated supply chains, as private life became, well, increasingly privatised community bonds frayed to the point of irrelevance. Most communities are communities in name only, a collection of houses clustered around an arrangement of roads. They are dormitories with inner city, suburban, and estate place names attached.
The Tories in the 1980s very deliberately cultivated the breaking up of working class communities to undermine the labour movement, but never did they dream the consequences of doing so would see the likes of Stoke, Wrexham, Bolsover, and Darlington fall to them in a general election. I plan on writing more on this very soon, but there are three key factors in play on top of community fragmentation: the specific issues with old people and their voting behaviour, the stoking of ontological anxiety, and the disproportionate exclusion/absence of younger workers from the political process. As such, the symbolism that is potent and does command collective fealty originates outside of them, such as sporting loyalties and, above all, the nation. It's why you can look at the same kinds of people living in the same kinds of places in England and Wales on the one hand, and Scotland on the other and find one set of seats voting Tory and the other SNP. One right, one left, both, for a lot of these voters, embodiments of a permanent and potent sense of belonging in the absence of other collective symbolic resources. And so comrades who are puzzled by people who cling to Brexit, despite the disruption and the damage that goes along with it, need to understand its deep emotional resonance with the everyday consciousness and unconsciousness of millions of people.
The insight of the Blue Labour people, that this is a problem, is true. Their prescription that we can win back these people by putting the Union Jack on our leaflets and being a little bit racist would be disastrous. But of course this section of the Labour right are going to think that: it's their fast diminishing base. In truth, this part of the working class itself is in decline. The retirees, who comprise the bulk of the new Tory support, did jobs in their working lives that either do not exist any more, are in sharp decline, or have been transformed utterly. You go after this declining demographic if you want. Many Labour MPs did on a ad hoc basis over the last few years, and now their political careers repose in freshly dug graves.
As I've argued before, Corbynism is the first mass expression in English and Welsh politics of a new working class. Its features are the immaterial character of its labour, that is it produces knowledge, services, care, relationships, and subjectivities/identities, and it depends on our social capacities and competencies as social beings - skills that can only be parasited off but not directly possessed by capital (more here and here). Acknowledging immaterial labour is not the same as the old embourgeoisement thesis, nor is it about glamourising this kind of work. The typical socialised worker is your care home worker or call centre employee, not relatively privileged programmers or university lecturers. In fact, you are very likely to find millions of the former distributed right across the working class constituencies the Tories won but, for a number of reasons, are not as politically engaged as the huge concentrations you can find in the big cities. By virtue of their work they are much more likely to be socially liberal than older workers, which lends itself to a spontaneous liberal internationalism (and therefore greater receptivity about the EU) and, thanks to how the Tories have barred millions from the housing ladder and frustrate attempts at building stable lives, are largely anti-Conservative. Yes, anti-Tory but not spontaneously pro-Labour. As a new working class in historical terms, their relationship to politics is different and their allegiance has to be earned. The younger you are, the greater the chances you are part of this growing if not already numerically dominant section of wage and salary earners.
At this election, because of the way Brexit had played out and the shifting class dynamics underpinning leave and remain Labour had to make a very painful choice. Labour could have gone down the second referendum route, which it did, and managed to shore up its support among the rising constituency of workers. Or contested the ownership of Brexit directly with the Tories and lose not only where it did lose, but also fail elsewhere with more votes going to the LibDems and Greens - benefiting the Tories in tight fights. The agony is real, the consequences are real, but as bizarre as it may seem fresh from defeat, Labour had no other choice. And it made the right decision.
Image Credit