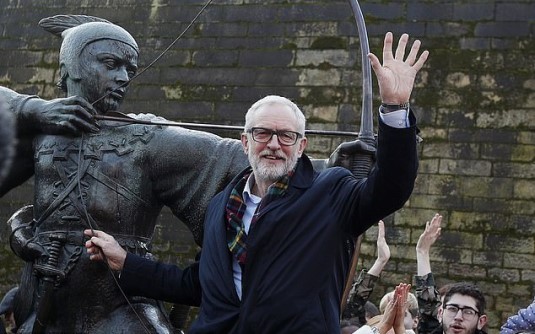 One of the benefits of holding centrist journalism in contempt is the hacks can never disappoint you. And so it came to pass the New Statesman editorial carried the line according to Jason Cowley: that faced with Boris Johnson's Tory party and all it entails, from hard Brexit to hard misery for millions of people, versus Labour with its transformative programme for the better, we get some mealy-mouthed whingeing about Jeremy Corbyn being bad mmmkay, so bad in fact he's indistinguishable from the Prime Minister.
In the grand scheme of things it shouldn't matter. NS is a relatively low circulation magazine for people who prefer reading about over doing politics, but is a cornerstone of opinion formation for liberal establishment punditry. What it features does matter to a degree because it can catalyse talking points and headlines. And what do you know, 15 seconds with the search engine of your choice reveals how the right wing press have gleefully picked up on the story. The likes of the Express and Mail are all splashing on how this "left wing magazine" thinks Corbyn is unfit for office. And so, unfortunately, for as long as the dying networks of centrist hacks have reach, their rubbish must be rebutted.
What then is the substance of the editorial's charges against Labour? The first is our old friend, anti-semitism. Like the rest of the bourgeois press, the New Statesman has proven itself curiously incurious when it comes to the depths of its so-called institutionalism in the Labour Party. Have there been failings in dealing with it? Certainly. Has it been blown out of all proportion? Absolutely. From day one of Jeremy Corbyn's leadership his opponents have hunted for angles from which to attack Corbyn and, by extension, the left's dominance in the party. Alleged sexism had its trial run. Corbynism as a middle class phenomenon enjoyed some time in the spotlight. And we've had the nonsense of Corbyn as an agent of the Czechoslovak intelligence services. The only thing that has stuck is, because of his anti-imperialist take on foreign policy matters and efforts at promoting dialogue and peace, are past associations with sundry terrorist outfits and especially those wishing to see the destruction of Israel. This is enough to damn Corbyn as an anti-semite, despite possessing a record of solidarity with Jewish people long before the issue became a political football.
The accusations against Corbyn on this score are nonsensical and motivated by concerns other than racism. If the latter was the case, why do we not see our champions for political hygiene going after the Tories with equal vigour? Why do rightwingers get a pass when it comes to anti-semitism? For instance did we not see a word of criticism let alone condemnation of those party workers who purposely sat on anti-semitism complaints for factional reasons. Why? And if the party is guilty of institutional failure when it comes to dealing with anti-Jewish racism, then why has it only become an issue of process and procedure since Jennie Formby took over as general secretary, and when she made moves to expedite the expulsion of Jackie Walker this too was condemned as anti-semitism. The likes of Jason Cowley and his ilk do not peer closely into these matters because smearing Corbyn and the Labour Party is a collective effort. They are not interested in combatting racism, let alone anti-semitism. All that matters is enough muck is flung in the hope it sticks, the wellbeing of British Jews be damned.
The second gripe the New Statesman has concerns Brexit and Labour's positioning on the second referendum. The idea Jeremy Corbyn might go to Brussels to negotiate a new deal, and then sit out on a public vote between it and remaining in the EU is not to the magazine's liking. Now, I don't have the NS archive in front of me but if they didn't criticise Harold Wilson for his "reluctance" to take a position on the 1975 European referendum then one might accuse them of editorial inconsistency. Unfortunately, because of the way politics has moved these last two years it was unsustainable for Labour to ignore calls for a second referendum. Itself partly thanks to the works of Labour's opponents, the way Brexit has turned out and its grand reveal as an unmistakable project of the hard right, the party had no choice but to reposition itself or lose millions of voters to the Liberal Democrats. As managing a political project is more difficult than running a specialist interest magazine, Labour has nevertheless had to calibrate its Brexit position just enough so it can appeal to Labour leavers as well. As we know, Johnson's banking on Labour leavers leaving Labour, and so you can't criticise Corbyn for refusing to make his job easier by coming out for hard remain. After all, as some people need constantly reminding, there was a vote. Apart from that, is anyone really bothered about which way Corbyn would lean in a putative referendum? You'll remember he was lambasted by centrists and the right for not saving remain's bacon in 2016. And is simultaneously attacked for not having any leadership pull whatsoever. So which is it? Whether Corbyn matters or not depends on the dishonest exigency of whatever copy a melt columnist has to turn in, and that applies here. If Cowley was interested in mounting an honest criticism of Corbyn's positioning, it's not too much to ask for a consideration of the strategic dilemmas facing the party.
What truly damns this miserable screed is its bad faith. The New Statesman had no problem endorsing Tony Blair after Iraq, after detention without trial, and the stoking up of Islamophobia. Crimes, yes, crimes that led to the suffering and deaths of hundreds of thousands of people. One cannot simply compare the records of Blair and Corbyn and come to the conclusion the former is infinitely preferable to the latter. Unless your priority is upholding the status quo. And so when we see their anti-endorsement caveated with warm words for Labour's "transformative" programme, and the resurgence of the party under Corbyn's leadership, they're exercises in obfuscation. From the outset the editorial line has been opposed to what is happening in the Labour Party, and now it's crunch election time its antipathy to the left and loyalty to their media mates and our rotten state of affairs trump the climate emergency, the housing emergency, the cost of living emergency. I would at least have a modicum of respect for Cowley if he was up front about his not-giving-a-shittery, but like all hypocrites he has to hide behind principles that show up when they're convenient. Pathetic.