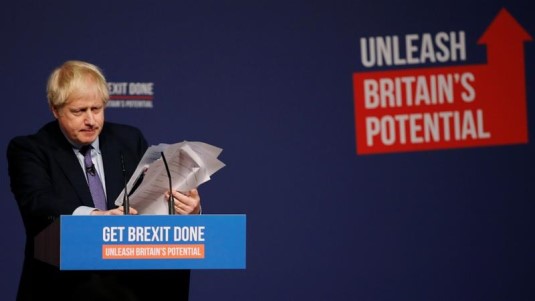 Missing. The Conservative Party's 2019 General Election Manifesto. Entirely typical of Boris Johnson's performance so far, there was a muzzing of the hair and oh so funny quips, but a great void where policy is concerned, beyond the tedious "oven ready Brexit" and "get Brexit done" sound bites. Snore. Nevertheless, a lazy manifesto is something the Tories have consciously contrived. The received wisdom in party circles is that Theresa May's document was a disaster and, to be fair, it was. And so the lesson drawn is not to promise anything at all. An exercise in how a 64 page manifesto can be tissue thin.
As per the Liberal Democrat manifesto, I've read the Tory party's offering to save you time. And, what do you know, it is an absence. Sure, there's plenty of asides attacking "Corbyn" as if he's the devil incarnate, Brexit fancies on every page, and a bit of EU bashing that sees the sclerosis of Brussels bureaucracy compared unfavourably to the swift and nifty pen pushers of Whitehall. One supposes the author, a former Gove lackey and fracking lobbyist had never dealt with the DWP or the Home Office during her time at Education.
That said, because there is very little here apart from Brexit and the delusions the manifesto repeatedly indulges (save the £350m/week for the NHS, which is conspicuously absent), this is probably the most innocuous Tory manifesto I've seen. Minus the usual hobby horses, it's, well, a bit wonkish and a few side steps to the left of Labour's 2005 manifesto. It's true, read it for yourself. Lots of stuff on wellbeing, mental health, try hards on the NHS, and all topped off with photos of who they deem the more acceptable Tory candidates out there. And so the chapter on schools is illustrated with their Stoke North candidate, who happens to be a teacher. The NHS bit has a couple of nurses who are standing for the Tories. Crime with some ex-coppers, and above the policy section setting out the points-based immigration system we have a chummy photo of Priti Patel and Sajid Javid. Cheap, sick bucket-hugging stuff.
And while this is probably the most innocuous of Tory manifestos, it was preceded in its lineage by a statement of authoritarianism from May and plans to chop down public services and marketise the rest from Dave. Everything is relative, and so this is not without its signature unpleasantries. On top of the points-based stuff, which will mollify the puce-faced bigots in the shires, we have a singling out of Travellers as the numero uno group of undesirables ripe for scapegoating. The manifesto writes, "we will tackle unauthorised traveller camps. We will give the police new powers to arrest and seize the property and vehicles of trespassers who set up unauthorised encampments, in order to protect our communities. We will make intentional trespass a criminal offence, and we will also give councils greater powers within the planning system" (p.19). Can't ever see this measure used to demonise and traduce a powerless minority being turned against others. In-keeping with this theme, while protections of free speech are mentioned more than once we have this:
We will ban public bodies from imposing their own direct or indirect boycotts, disinvestment or sanctions campaigns against foreign countries. These undermine community cohesion. (p.20)
And taking aim at Johnson's old adversary, the RMT, the Tories will be requiring "that a minimum service operates during transport strikes. Rail workers deserve a fair deal, but it is not fair to let the trade unions undermine the livelihoods of others" (p.27).
To avoid accusations this document is a billionaires' manifesto (they bought it, you'll pay for it, as Jeremy Corbyn tweeted earlier), the Tories promise to get tough on tax evasion (p.35), pledging to beef up HMRC and introducing tough new penalties for the most "egregious cases". But don't let this fool you, this is but window dressing and will do nothing to address the yawning chasm of wealth and power. The Tories also plan to preside over this state of affairs well beyond this election. On p.48 we find commitments to scrap the Fixed Terms Parliaments Act, bring back the constituency boundary review to rob Labour of seats, introduce photo ID for voters, and give ex-pats the permanent right to vote in UK elections. Measures that will hold the old long-term decline in temporary check.
There are a couple more issues with the manifesto. First, there is a glaring numbers mistake. Second, on the flagship policy to reduce National Insurance and take the lowest paid out of it altogether, there is no detail at all on how this will impact state pension entitlements and eligibility for contributions-based Job Seekers' Allowance. This is a very serious issue, as those who are lowest paid are more likely to face unemployment than well-remunerated ex-spads and rubbish journalists who've climbed the greasy pole. What happens? Of this there is no answer.
Nevertheless, I think this is an interesting document. It's interesting because, as far as the collective thinking of the Tories are concerned, it shows they know thin gruel cannot be handed out forever. The emergence of Corbynism, its transformation of the British political landscape, and the mass support it commands portends a future the Tories would rather not have to deal with. And so they don't. All the big problems of the day are met with weak promises and non-committal position taking, but it does recognise the ruin of austerity, which did a great deal to activate Corbynism to start with, is no longer a viable means for ensuring the hoi polloi remain disciplined and pacified. At present, not least thanks to the contradictions of the Tory coalition they can't offer anything else. Plenty of Tories genuinely believe Brexit to be a magic bullet that will expand the economy, raise wages, and somehow make Britain a happier, healthier, wealthier place. But it won't. Brexit is nothing but a pathetic talisman.
And so this begs the question. The Tory manifesto contains very little, while Boris Johnson gurns his way about the country demanding we get Brexit done so we can "move on" and concentrate on the people's priorities. Yet those priorities are not reflected in this plan for government, which raises another question. If Johnson gets his wish and we're afflicted with him for another four or five years, what is he actually going to do?