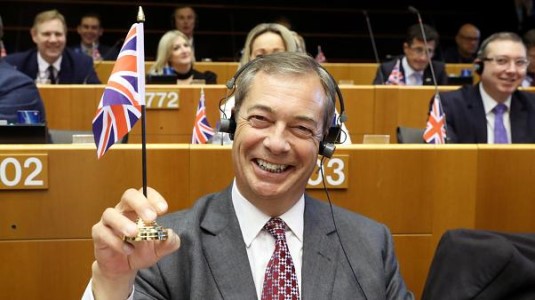 After rumours and rumours of rumours that Nigel Farage was planning a targeted campaign in this general election, he (sort of) launched the Brexit Party's campaign Friday morning with the intent to stand everywhere. This was trailed by an intervention from none other than The Donald himself, who just so happened to have a positive message for Farage's LBC show on the eve of his launch. Now, while it is true the more conservative-minded quite like Trump, his urgings for Johnson to come to an arrangement with Farage, repeated again this morning with the demand for a no deal Brexit, meant the Tory leader had no choice but to put distance between them.
What then is Farage's game? We saw time after time how the European Research Group, the self-described and self-flattering Spartans of Brexit set themselves against Theresa May's deal despite Johnson's deal being worse in every regard. Most importantly concerning the relative bargaining strength of the UK vis a vis the EU post deal but pre-trade agreement. Negotiating oneself into an even worse position is no mean feat, so well done him. Anyway, assuming there isn't more to the ERG's change of heart and theirs was a pragmatic adaptation to the new Johnson regime in order to get Brexit over the line, why hasn't Farage, as more or less their external faction, followed suit? Well, for the same reasons the ERG "capitulated" - self-interest.
The irony of the Brexit Party is their relevance demands the UK's continued membership of or close links to the European Union. Not just in the crude terms of the nice salaries its MEPs are now pocketing, but for their place in British political discourse. Imagine if we were living in the transition period now - the first and most fraught phrase of Brexit would be over, and only the hardest core of the EU-interested public would be contesting the deal on leave grounds. Not the stuff of a right wing populist pensioners' insurgency, nor capable of getting Farage on Question Time every other episode. If we keep this desire for relevance in mind, the impossible demands Farage has placed on Johnson for a de facto electoral alliance now make sense. Consider them for yourself: dumping the withdrawal agreement in favour of a no deal Brexit, and going for a Canada-style trade deal all to be sorted by the end of next year. Farage knows Johnson's not about to ditch a deal that stood a chance of getting through the Commons during this dying parliament, but for good measure he's let his satrap Richard Tice out the gates with proposals for constitutional reform. These concern the voting system, abolishing postal voting, and a number of other irrelevant and marginal fixes designed not to get the votes in, but to make the "offer" of an alliance with the Brexit Party a lot less acceptable. And for good measure Farage has promised no BXP candidacy against Tory candidates who renounce their support for Johnson's deal, which is also guaranteed to convince zero folks from doing so. Each PPC needs Central Office approval to become the actual candidate, after all.
At least 500 seats Farage is promising to contest unless Johnson caves within the fortnight, and given he won't, bar one or two nudge, nudge, wink, wink local arrangements we're going to see hundreds of Brexit Party candidates. This begs the question. Is Nigel Farage Labour's de facto best friend in this contest? Well, it is tempting to say yes. When Johnson's strategy is fixated on monopolising the leave vote, anyone contesting it from a credible position (I use that term advisedly) has to give him something of a headache, surely? You would think. However, there is a counter-intuitive warning from recent history to consider.
Remember the 2015 general election? It was set up to be the perfect storm for the Tories. The LibDems were scraping the barrel and UKIP were insurgent, having bagged two MPs from two by-elections and a storming performance in the 2014 EU elections. And? The Tories romped home with a majority government and Labour went backwards, chiefly because of the Scottish bloodbath`. At the time no one reckoned the Tories would be able to squeeze the LibDems so effectively, when in fact it was left opposition to the LibDems that grabbed the coverage ever since the tuition fees debacle. And UKIP? Its four million votes returned just the one MP, but its distribution was uneven. While it did take away more Tory voters than Labour, it tended to scoop up more ex-Labour votes where it mattered: in the key marginals. And so the legend of reactionary working class voters took wing, and led to Paul Nuttall's misdirected northern strategy. Come 2017, UKIP stood down to give Brexity Tories a free run and inadvertently helped harm their chances - Tory and Labour voters came flooding back, but the skew that helped the Tories two years earlier came back to bite them. Sucked to be them.
Might a wide BXP challenge hurt Labour more than the Tories, then? It's possible, but less likely. 2017 was not 2015, and 2019 is further from it still. That election was the last fought under the old neoliberal/managerial consensus, and Labour was very much part of the wonky mainstream. When you had to temper your criticisms of wealthy tax dodgers with even-handed denunciations of cash-in-hand window cleaners, your pitch was never going to cut it. Labour's policy platform, the fact of its vast party machine being an electoral factor in itself, and the toxicity of Johnson outside the South East gives people plenty of reasons to stick with Labour rather than dilly dally with Farage. High stakes favours polarisation, and 2017's conditions have, if anything, sharpened. The second issue is the stubborn Labour leavers aren't coming back, which makes pandering to them pointless and counter-productive. Nevertheless, a section of this milieu of voters who went Tory in 2017 after supporting UKIP in several elections might switch to BXP if a candidate rocks up in their patch. And as Johnson has played fast and loose with his pledge to die in a ditch than accept and Article 50 extension, he might prove very vulnerable on the trust issue.
What also matters is how Brexit is pitched. For Johnson, (and Jo Swinson, as well as Farage), Brexit might be their strongest suit but no matter how hard they try the election will be dragged onto other issues. Nevertheless, if Johnson gets bogged down into a bidding war over who's the most Brexity of them all, such a debate is corrosive of his own coalition. When most voters are fed up and want it sorted one way or the other, Corbyn holds a strong hand versus any of these.
In sum, I would tentatively suggest Farage is doing Labour a favour. Our party's problem is one of squeezing the LibDems and knocking their share down. The Brexit Party can pose the Tories the same challenge, making this election more interesting and wildly unpredictable. And one in which Labour can come out on top.
Image Credit