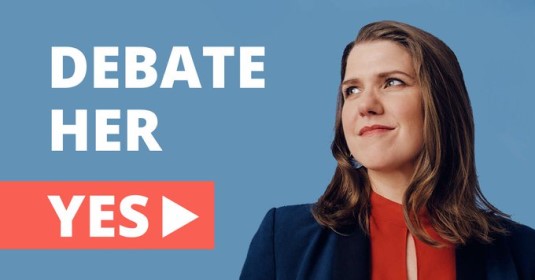 Look at the photo. Just look at the absolute state of the photo. Greeting news that ITV will be hosting the first head-to-head debate of this election campaign between Boris Johnson and Jeremy Corbyn, Jo Swinson went with cringe Hillary Clinton-style branding and the usual dishonesty for which the Liberal Democrats are known. Yes, her exclusion from the debate had nothing to do with the Tories or Labour being the two parties who will either form the next government by themselves or comprise the largest component of an ensuing coalition, and everything to do with sexism. Utter piffle. And then we have the curious case of Best for Britain, the "cross party" tactical voting site dispensing advice for the remain-minded voter. When it started churning out bogus recommendations, such as advising voting for the LibDems in Hendon - a place they got four per cent in 2017 versus Labour's 46% - some comrades smelled a rat. And what do you know, it turned out to be run by a LibDem and assorted grifting dilettantes with a past record of, you guessed it, not being hot on Labour.
Rather than dissociating herself from this transparently fake enterprise, Swinson has defended Best for Britain's poll-mangling shenanigans. In an awful outing on Sunday morning's Sophy Ridge, she argued the recommendations made by BfB reflected current political realities. The LibDems beat Labour and the Tories in this year's EU elections don't you know, so it's entirely right it should recommend a LibDem vote in Jacob Rees-Mogg's seat, despite coming a distant third in 2017. Very well, if Swinson wants to acquaint herself with the real world she might want to look at the weekend's polls. Already there is movement away from her party and should these trends continue we could see a polarised election result just like last time.
What's the point in complaining about LibDem behaviour? Snakes are gonna slither, after all. Her dishonesty has a fine pedigree, following the records of Vince Cable, Tim Farron, and Nick Clegg, and our dearly departed Saints Charlie and Paddy. And from these Swinson has inherited the tic to instinctively, impulsively punch to the left. They criticise the Tories because it's good for form, and her few exchanges with Johnson in the Commons have the quality of dialling it in. The glint in her eye only shines when she has the Labour bit between her teeth. That's fine, we all have passions and on the left we too like to indulge centrist baiting now and again. Yet for Swinson to give in to her pash during the general election campaign is a pretty stupid move from the narrow horizon of LibDem party building. While there are plenty of problems with going hard remain, a right turn is sensible seeing how Boris Johnson has completely abandoned liberal capital, his more EU-oriented MPs, and the Cameroony/Remainy layer of centre right Tory voters. By trying to make this the Brexit election and going all about leave, these are up for grabs. So, at best, banging on about Corbyn is wasting time when the road is open for a wholesale annexation of elite opinion and a relatively sizeable slice of voters to the LibDems, and with it the possibility of a few dozen seats.
Making sense of LibDem behaviour means understanding their place in the world. And this comes down to a question of class. Despite their lurches to the left in the Tony Blair years, and their diminutive size the LibDems are fundamentally s bourgeois party no different in kind to the Tories. Liberalism as a dominated/dominant movement has, since the party's eclipse in the early 20th century, been sprinkled variously across its continuity party, Labour, and to a lesser extent the Tories. To cut a long story short, the left's capture of the Labour leadership and its advance through the party since has routed them. Likewise the double whammy of Theresa May and Boris Johnson have done the same to the softer Tory wing, if that's how you can describe people like Jo Johnson and Nicky Morgan, and newly minted centrist heroes such as Ken Clarke and Michael Heseltine. Much diminished in the two main parties, all liberalism has is its over-representation in the media, and ... the Liberal Democrats.
This means Jo Swinson is less the consolidation of liberalism and more the next cycle of its long decay. On the face of it, things look good. Very respectable by-election showings, a parade of (relatively) high profile defectors, loads of rich donors, and a large membership with plenty of activists to pound the pavements. Yet the LibDems look good because liberalism has withered elsewhere, and thanks to this crisis we see in its politics further symptoms of the movement's demise - their genetic Corbynphobia being one, and desperate embrace of hard remain being another. We see similar in the Tories too, but their analogues are obsessions with phantoms and the mercurial fantasy of Brexit. The key difference is liberalism's decomposition is much more advanced than that of conservatism.
This is the driver of LibDem twists and turns, of the naked opportunism, the lies, and those oh so pitiful bar charts. With a narrow base to start with and the movement's contraction during the last decade, they have to compensate by jumping on every passing bandwagon and stooping low to grab each and every vote. Still, things can be much worse than being on the receiving end of their braying Twitter following or a yellow stained local leaflet. You could be wallowing in the gutter as a LibDem yourself.