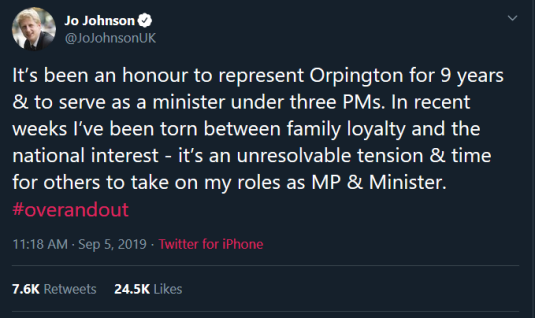 Boris Johnson's position is very bad. But last night, as the Prime Minister nursed his pounding head after four defeats and the collapse of his position perhaps there was a crumb of consolation reflecting on how it couldn't possibly get worse. Dear reader, it got worse.
Does anything say "you're finished" more than your own brother resigning from your government and announcing his retirement from politics when the next election arrives because he can't stomach your policies? We certainly have Johnson the younger to thank for giving Labour a handy slogan for the constituency campaign in Uxbridge and South Ruslip. But when you consider the manner of the resignation, it's got to sting. Yes, sure, there was no way it could be spun positively for the PM, but it could have been handled better. JJ might have hung on until the election and announced then he was leaving politics, but instead by immediately giving up on he has inflicted even more damage on him. It's almost as if he didn't wish the no deal Brexit project nonsense well.
Speaking personally, I should be grateful for JJ's tenure as Universities Minister. His enthusiastic championing of the market in Higher Education has ensured universities redirect resources from teaching and research to chase targets according to arbitrary and suspect metrics that supposedly measure institutional performance. His particular baby, the extension of the Teaching Excellence Framework on a subject-by-subject basis means more managers (hello!), more form filling and spread sheet scrying, and less time supporting students. When he first stepped down last year in protest against Theresa May's handling of Brexit, it seemed likely this scheme would fade away like a bad idea, only for it to come roaring back once re-appointed when big bro entered Downing Street. And now will it go again? If it is scrapped, it's too late for universities who, collectively, have squandered tens of millions responding to the pilot of this exercise.
Apart from my personal interest, will Johnson's resignation resonate out there in realworldland? Possibly. Between 2010 and 2015, it was not uncommon to come across people on the doorstep for whom the Miliband brothers' psychodrama had cut through. Perhaps these punters were never going to vote Labour, but among voters of the blue rinsed type it did seem to bother them unduly. Therefore some are bound to suffer discombobulation, which could matter in a close fought election likely to be more of a turnout game than even 2017.
Apart from losing a brother, the day didn't get much better for Johnson. His disastrous press conference and walkabout in Wakefield, a spectacle the normally supine Norman Smith described as "A very uncertain and rambling performance" was far from his finest hour. And the government have given up (some might say surrendered) their attempt to filibuster the Benn Bill in the Lords, with a view to having a second crack at getting an election through the Commons on Monday. As nothing has really changed since Johnson gambled on the opposition saving his bacon, they should continue to say no. No deal should be off the table and an extension of Article 50 secured before the vote to dissolve parliament goes through. And rather than letting it through via the Fixed Term Parliaments Act, it would be much better if the government are forced to go down the route of a motion that can be amended with all sorts of goodies attached. Like, perhaps, votes for 16 and 17 year olds.
The only real quiver Johnson has in his bow, and one we're already tired of hearing, is the claim his opponents want to prolong the Brexit process indefinitely. He knows from his focus groups that most of the public want Brexit done and dusted (news flash to the hoodwinked, it certainly won't be if we crash out without a deal), and that impression of movement, dynamism, coiffured optimism compared to the sclerosis of others will be an electoral draw for the Tory/Brexit Party/right-leaning Leave base.
This means Labour cannot be seen to be mucking about either. As per party policy, we head into the general election pledging to hold a second referendum as a means of ending Brexit uncertainty once and for all. And those options should be remain versus May's deal. Yes, her deal is bad. And yes, Labour would have negotiated a far better one, but it can at least be avoided by a comprehensive trade agreement seeking to preserve as much as we have now as possible versus the fever dream fantasies of the ERG, the disaster capitalists, and the tax dodging industry. And there you have it, a referendum of what could become a soft Brexit vs no Brexit. Yes, it would rumble on afterwards for years as the hard right will scream betrayal, but with the main issue finally sorted for most voters we can move onto political ground in which the big challenges start getting tackled, challenges and problems the Tories have prevented us from dealing with thanks to the crisis in their party.
The departure of Jo Johnson underlines how precarious the Johnson leadership is, how damaged it is by recent shenanigans, and how Labour now possesses a greater say over events than the Prime Minister. Patience and sensible strategy can utterly wreck the Tories and deliver us a left-led Labour government. We'd better not fuck it up.