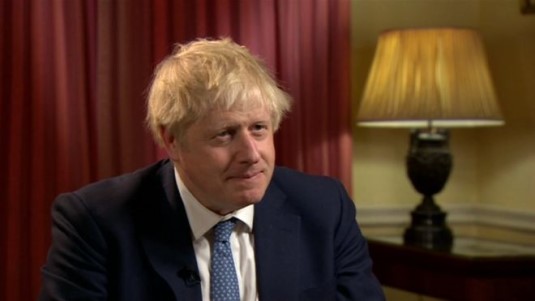 There has never been anything decent about the Conservative Party. Since their formation, they've done what they believe is necessary to push the interests of their corner of the ruling class. Consequences, in every instance, be damned. And they were damned, as long as someone else picked up the tab. Yet whatever the Tories have overseen or done, be it war abroad or class war at home a certain decorum was maintained. Thatcher was, more or less, a stickler for parliamentary conventions while the Met smashed their way into Yorkshire miners' homes. John Major and Dave rarely if ever deviated from polite modes of address, while their policies sundered community ties and plunged hundreds of thousands of families into destitution. It didn't matter how awful the decision, how many victims it created and, in the case of the Tory cuts programme, the number of bodies piled up, convention was observed. The clubbiness of the Commons was maintained, on the whole.
And then we have Boris Johnson. Dave may have proven intemperate and May an authoritarian, albeit an incompetent one, but the parliamentary illusio is truly punctured by Johnson's terrible and purposely inflammatory responses at the despatch box. His dismissal of Paula Sherriff's complaint against his contrived surrender-mongery and enlistment of Jo Cox for a flash of rubbish Commons oratory was crass and irresponsible. He knows full well peddling this pathetic rhetoric can rile up his base and put boosters under two-bit extremists, racists, and neo-Nazi fantasists, but he also knows that despite the murder of a MP there are no repercussions or consequences for those pushing it. After all, Leave won. And those who made the arguments, identified the scapegoats, and mobilised discontent and division for entirely miserable ends went on to bigger and better things. What does it matter that people's lives are being put at risk? It's not his neck, their necks, after all.
On the narrow point of parliamentary convention and its complete flouting, why now and how now? And, more interestingly, why does the defiance of convention not carry the costs they were assumed to have? It's not as if the country hasn't been up in arms before, and sharply polarised politics haven't stalked the land. Clearly, something has shifted. MPs used to resign from high office if they were literally caught with their pants down. Now resignations are nigh on impossible, and it's almost inconceivable Johnson would ever consider his position regardless of his wrongdoing. How?
In his 2008 collection, From Marxism to Post-Marxism?, Goran Therborn argues the cultural tendencies associated with the ascendency of capital (vis a vis labour) in the 1970s, 80s, and 90s were simultaneously corrosive of the authority structures that had fostered and incubated them. Widespread cultures of deference to politicians, monarchs, older people, clergy, celebrities, experts, bosses and union leaders, as a general rule were undermined. Mammon was the goal, and it came via a neoliberalisation of the soul. The atomised, self-activating, indebted and responsible individual is the ultimate source of authority about all things. Irreverence then was the chief legacy of the youth rebellions of the 1960s, but was quickly hitched to consumer cultures and conservative rhetoric as Thatcher and Reagan waged war on classes and institutions in the way of the unhampered freedom of capital.
The strategic nous of Thatcher and co. lay in appealing to this irreverence. After her, albeit on a lower level, Blair did the same. There was Dave's austerity populism, and Farage's Brexit populism. Each case, each type chipped away at the legitimacy and convention of the institutions keeping Britain's limited democracy ticking over, culminating in a Prime Minister and his shadowy sidekick seemingly bent on blowing the whole lot up. Their act works, because Johnson is the political instantiation of this irreverence. His cracked support don't care, because he epitomises their contempt, and his trampling of norms, threats to break the law, and kamikaze commitment to Brexit fits with how they like to think their relation to the world. They hate its tolerance, the growth of progressive social values, the binning of old backward norms, and most of all the decentering of the first self-centred generation. i.e. the notion the spotlight is no longer on them. Johnson's calculation, as long argued here, is by playing up to them he thinks he can keep his decomposing party in office, that it would be enough to win an election. It almost worked for Theresa May, so why not Johnson?
Therefore, the bull in a china shop performance is exposing the conventions of office and parliament as exactly that. What point is a gentlemen's agreement when neither party to it are gentlemen? The pitch of irreverence is such Johnson knows he's not likely to suffer too much politically for thumbing his nose at precedent, and might even curry favour among the massed ranks of Brexit. Nevertheless, as a strategy it has backfired terribly so far, almost (almost!) radicalising centrist Labour MPs in their outrage against him, raising the costs for Labour rebels and "ex" Tories to back any repainted May deal he comes back to the Commons with. And now he's suffered his seventh Commons defeat in a row over a recess for Tory party conference. And yet he sticks to it, because Johnson reasons it plays well to the dead core of his support and reaches over to the Brexit Party. The people vs parliament is what he craves, and how he thinks the Tories can win the next election. And if that means the effective death of parliamentary custom and practice, so be it.
Image Credit