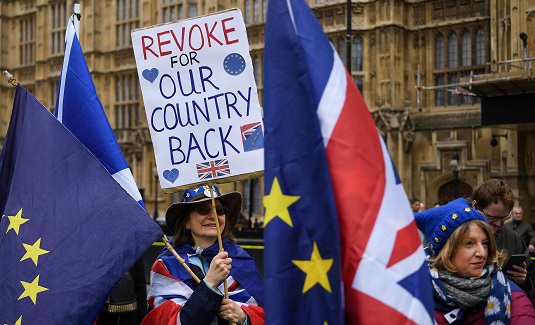 Owen Jones asks why are groups of hard remainers refusing to acknowledge the victory their marches, campaigning, and consistent pressure have won. If you go back to the so-called People's Vote demonstrations, many a speaker called on, nay demanded Labour ditch its ambiguous Brexit position. "Where's Jeremy Corbyn?" went the mischievous chants. Well, Jeremy Corbyn is where you wanted him: calling for a second EU referendum with an option to remain. But it's not enough, never enough. Some have moved the goal posts and now only revoking Article 50 will do. Others have vowed to never vote Labour with Corbyn as leader, even if the only discernible route to their political objective is through a Labour government. You can fantasise about the hard positioning of the Liberal Democrats winning a majority, and I can dream of winning the EuroMillions jackpot.
We've spoken about Corbynphobia plenty of times. The very prospect of Jeremy Corbyn entering Number 10, if only to oversee the calling of a general election, requesting a delay to Article 50, or piloting a second referendum through the Commons (which isn't straightforward), is far too much for the likes of Jo Swinson and the "ex" Tories. They know full well that Corbyn as Prime Minister crosses a Rubicon. The sky won't fall in, the top 100 monopolies won't be nationalised, and suddenly he becomes a much more credible statesman figure. Incumbency robs them of one of their most potent, scaremongering weapons.
This is not a post about them, but rather the ordinary rank-and-filers who attended the protests, shared the Jolyon Maugham tweets and have kept a shrine to Lord Pannick since last Thursday. And the rest. So where's this non-elite Corbynphobia "from below" coming from? Some of it can be written off as LibDems, but to put it all down to them is as stupid as those who trying explaining Corbynism by mass Trot entryism. Some can be put down to political disagreements with Corbynism. Not of the polite 'I think this policy has problems, old chap' variety, but visceral disagreement that cuts to the bone. On foreign policy specifically, Corbynism reminds some that transatlanticism is not necessarily a force for good in the world, and that you can usually find the British state in the corners of many an unsavoury regime - provided their interests and "ours" coincide. This disrupts the fiction of a rules-based international order that has never existed. If you take Clinton and Blair as paradigm centrists who respected the rule of law at home and abroad, Clinton was not averse to cruise missile diplomacy and bombing medicine factories to generate headlines. And Blair? The word 'Iraq' will suffice. Because Corbyn draws attention to the power relationships under the piffle of high diplomacy, and shows Britain and the US to be as self-interested and cynical as Russia, China, and the other bogeymen of the international order, it grates. This applies to the near abroad, and the EU specifically. Corbyn has long refused to respect the utopian fantasies of sundry centrists for whom the EU is the incarnation of the spirit of reason. Coupled with a long record of scepticism and solidarity with the EU's victims, especially those suffering unnecessarily in Greece, that is enough to cast him into the outer darkness, and especially so if the only two coordinates of your politics are leave and remain.
This uneasiness on sacred cow politics is compounded by the successive hit jobs undertaken on Corbyn. Because he doesn't share the same conservative goals as centrism, it follows he does not respect the same rules either. And so the fall out of the anti-semitism crisis, suggestions Jezza is a puppet of Stalinoid functionaries, and every single smear story from the last four years feeds this unease, this angst. It's not that media content brainwashes people, but exposed consistently over long periods of time it sediments into the consciousness. Their frames become your frames, their natural assumptions, without you noticing, become your assumptions. They can be resisted, but no one is totally free of how they condition our outlook. Least of all liberals and remainers and their emotional attachments to the BBC.
Therefore for a layer of people, Corbyn is an instantiation of the political instability we've seen since 2015. It does not matter how many hoops he jumps through - a second referendum, cancelling Brexit, shacking up with Guy Verhofstadt, changing his name to Remainy McRemainyface - nothing will ever suffice. Corbyn is a barrier against where they want to be, the past. A place they knew their place and could relax, leaving the business of ontological anxiety to others away from the public eye. Even if Britain under Corbyn ends up staying in the EU and properly funds the kinds of things they affect to care about, they are still out of joint, their heroes dethroned and the cognitive map of their social environs completely skewed, out of time and irrelevant.
This is why there are hundreds of thousands of "progressives" who can never countenance back Corbyn's Labour, despite the party accepting the second referendum position. It's more than a question of identity. It is a matter of being at ease in the world. And these people are very uneasy, to the point political realities have melted for them. They can't go back, but trapped in the past they can't move forward either. Stuck, their hard remain stubbornness symptomatic of a paralysing longing for a world doomed never to return. It means their politics are fundamentally reactionary and self-destructive, a mirror image of the Brexit zealotry they affect to despise. Such figures don't deserve your anger or your social media invective, they are piteous and beyond reasoning. Nevertheless understanding the roots of their extremism is useful for getting to grips with weaker forms of Corbyn-scepticism and left phobia, and how we can go about addressing them.
Image credit