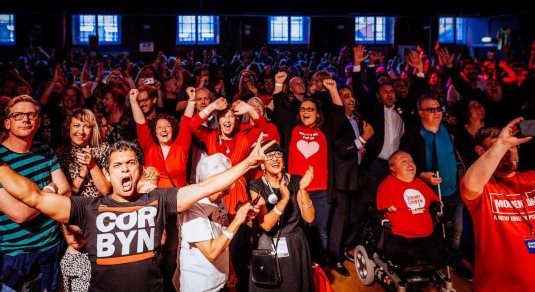 That moment when you're walking to work and remember a point you were supposed to make in last night's piece. And, perhaps, this is the most glaring error in Bolton and Pitts's Corbynism: A Critical Approach.
In their book, they answer previous criticism for their being unconcerned with providing an alternative politics or strategy to Corbynism with a shrug of the shoulders and a dismissive meh. All well and good if you're interested in merely writing things and building careers as soi-disant Marxists with a neat little niche. And yet, their book is explicitly located as an intervention in strategic debates about socialism today. Remember, their argument is two-fold: the left should be in the business of defending its gains and holding the centre against the brutish, populist hordes. It's almost as if their declaration is a rhetorical flourish to try and position their critique of Corbynism from within the left for, well, marketing purposes.
The second point flows from the first. If we were to hurl Bolton and Pitts into a Tardis and take in a whistle stop tour of important historical mobilisations from below, like the ragged wretched throngs of St Petersburg who begged the "Little Father" Tsar for bread and were shot down for their pains, the civil rights movement in the US who drew heavily on Christianity and American constitutionalism as the ideological inspiration for their campaign against segregation and Jim Crow, and any number of strike movements in the 1970s motivated by pay and and working hours, how would our worldly wise Marxists have approached them? One expects a screed of some length pointing out the faults in their politics and attacking their movements for insufficient Marxism. In other words, they would be treated as the finished product and not as movements in development with trajectories that could head in radical and, gasp, perhaps even Marxist directions.
This is how Bolton and Pitts approach Corbynism. If their failure to situate its emergence in the confluence and recomposition of class politics wasn't bad enough, their pen portrait of it as a fully-formed semi-conspiratorial movement is one of the worst takes on Corbynism I've come across. Perhaps they should reflect on their absurd claim Corbynism operates a substantialist theory of value. That is the treatment of money as magic containers of value instead of its mediator. Their criticism certainly missed the mark, but it is suggestive of a projection entirely of their approach to Corbynism. Instead of a mediator of class interests interacting and struggling with other political forces based on opposed interests, Corbynism is a container of essential qualities - two campism, technological determinism, technotopianism, populism - and can never change. A very strange position for Marxists to take. We saw this before in Matt Bolton's essay, widely circulated at the time of the second Labour leadership contest, that made the entirely stupid argument that Corbynism wasn't properly socialist because it didn't measure up to the tight discipline and (doctrinaire) Marxism of the Militant Tendency as was. Alas, the only thing that didn't measure up was Bolton's argument, based as it was on an incredibly crude and zero-nuanced application of Max Weber's ideal typical method.
Lenin isn't the most favoured Marxist round these parts, but he was on to something when he wrote ultra-leftism and opportunism are two sides of the same coin. Bolton and Pitts criticise Corbynism not to advance it, or develop the movement in a more consistently socialist direction, but to justify their own sniffy abstention. How very Marxist of them.
Image Credit