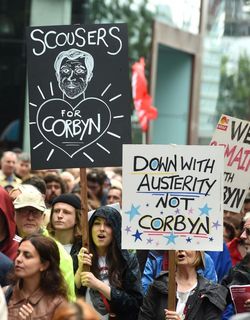 Matt Bolton's The Terrifying Hubris of Corbynism has had a lot of traction as a Marxist critique of our Jeremy and the movement gathered behind him. True to the weird times in which we live, it has been shared and talked up by sundry MPs associated with the ancien regime in the Labour Party. If they're having to rely on materialist dialectics to make a case for them, you know they're in trouble. But I'm not here to make light of Matt's piece. It's a weighty analysis that deserves serious consideration and, unlike some who are now embracing Citizen Smith after spending a political life time attacking the policies he's pushing, it is written entirely in good faith. Which is something of a rarity in this fevered fight for the party.
So, from the off, I know where Matt's critique is coming from. He offers a dread vision of a blighted polity in which the Tories and UKIP triumph over a fatally wounded Labour Party, and use the opportunity our paralysis affords to refashion Britain in their image. Forget the magnanimous beams Theresa May radiated from the steps of Number 10 three short weeks ago. This is Toryism red in tooth and claw, their best chance to transform these islands into the world's favourite offshore tax haven, of coming up with even more ways to shovel tax payer gold into the gaping maws of big Tory donors, and expecting the hoi polloi to get by on zero hour contracts with no social security safety net and certainly no NHS. This dog-eat-dog dystopia may not come to pass, but the point remains: they can, theoretically, do what they damn well like and there's nothing we can do about it. And as Matt points out, the current state of extra-parliamentary politics doesn't stack up too impressively against the resources the Tories can muster to force their programme through. It follows that in the state we're in, keeping the party together (somehow) and winning the next election is the best hope we have of stopping the Tories.
I have some sympathy with Matt's view because for much of the last five or six years, it's where I was myself. This appreciation of the balance of forces was the reason why I went for Yvette Cooper over Jeremy Corbyn last year. But, in retrospect, I think that was wrong. It was wrong because the situation Matt describes has come to an end. Politics as we've known it since the mid-late 1980s has

melted

and become fluid. The old truths are unreliable, and the new ones are slippery and likely to put us on our arses unless we get to grips with what is happening.
Last week, I made the case that politics is undergoing a realignment. The last time this happened was in the early part of the last century, when the Liberals (as was) were displaced by Labour as the second party of British politics. That, however, took decades. Now, everything is sped up. Consider the political scene just prior to the 2010 general election and see how alien it is now. The LibDems were big enough to be a junior partner in a government, Labour's hold on its Scottish heartlands looked unassailable, UKIP was a ginger group that performed well in European elections and annoyed with its "character" of a front man, and Labour's mainstream was about to elect a centrist soft left-leaning guy who, like his predecessors, were 100% made in Westminster. The upending of all this to the unfamiliar and uncertain politics we have now are interlinked and represent the long-coming political fall out of the Thatcherite settlement. The Tory programme of privatisation, deregulation, market fundamentalism, and attacks on social security, trade unions, and workers' protections - none of which were reversed and in some cases, were deepened during the Blair/Brown years - dispersed and atomised large swathes of the population. Not just the poor who are always hardest hit by the Tories, but the powerlessness, the feelings and fears of insecurity - even if one was "doing well", of being ignored and told there's no alternative, of seemingly unlistening and uncaring politicians, in any number of ways this was going to work its way into politics sooner or later. That and the profound changes to the nature of work around the emergence of the post-industrial/knowledge economy for growing numbers of people (Paul Mason, drawing on the work of Antonio Negri and the critique of political economy by Yann Moulier Boutang is especially good on thinking through this 'new' constituency and what it means as it starts flexing its collective muscles). Et voila ladies and gentleman, I give you the mess we're in.
It's with this in mind that we come to the most problematic part of Matt's piece, the 'hubris' of his title. This needs quoting in full:
It is merely to say that simply pointing to the numbers of new members says nothing about the existence or quality of a 'social movement'. For the vast majority of 'new members', joining the party was not a promise of future activity, but a gesture of general support — perhaps similar to signing a Change.org petition — for whatever they thought Corbyn as Labour leader symbolised.





In this sense, Corbynism has been (at least up to now) as much of a top-down mediated phenomenon as anything under Blair. It is rather a simulation of a social movement — a form of clicktivism, of gesture politics based on an identification with 'what Jeremy stands for'. It makes people feel like they are part of a 'social movement' without having to engage in the tricky, boring work of actually building one. This is why the figure of Corbyn himself is so vital, why his tenacity in holding onto the leadership trumps questions of whether he is actually able to wield it in parliament. Because if Corbynism actually was a social movement that had developed over time and culminated in, rather than started with, Corbyn's leadership victory — if Momentum really was the rebirth of Militant, with well-organised new members embedded within their local parties, taking up positions of power, standing for office — then the importance of Corbyn himself would be correspondingly reduced. The fact that everything rides on Corbyn staying in power testifies precisely to the lack, the weakness, of the 'social movement' of which he is the supposed avatar.
Permit me a round about way of answering this point. In sociology, the method of investigation known as the ideal type has and continues to be deeply influential. Associated with the work of early 20th century German social theorist Max Weber, it works like this. Suppose there is a particular phenomenon you wish to investigate, say bureaucracy, you make a hypothesis about what it looks like and how it operates, and then by way of investigation and analysis you discover whether it conforms to or departs from this model. You take it away, refine it, and apply it to other situations and circumstances, all the time refining your hypothesis - or ideal type - so it more accurately resembles the properties of bureaucracy in common. This method has its uses, but comes with two caveats. It tends to provide conceptual snapshots and isn't very good at thinking about dynamism and change. It can also lend itself to the minutiae of concept border wars in academia. And the second is to avoid mistaking the model for reality itself. It is only ever an approximation and one that exists in words and presentations. It is not the thing it is describing.
Unfortunately, I think Matt falls into both these errors. He argues that Corbynism is a simulacra of a social movement. It isn't a real one because the adherents Matt has encountered in his CLP and online do not match up to what activists in a proper movement looks like, such as the (relatively) politically sophisticated and hyper active supporters of Militant back in the day. In reality, how movements emerge are a process. Social movements are the purposeful, sustained mobilisation of large groups of people organising toward a series of political and/or social objectives. They never emerge fully formed and can in their early phases look like the remotest of primitive ancestors. Within days, St Petersburg peasants and workers went from clutching portraits of their beloved Tsar as they petitioned him to calling for his head as Russia almost tipped into revolution in 1905. The civil rights movement and its morphing into violent insurrection in parts of the northern US had its roots in the gospel, in pacifism, and a faith in American constitutionalism. How many activists have come into politics via beliefs in fairness, spirituality, conspiracy theory, and other ideas that at best partially reveal, and it worst obscure the realities of social life? The world over, millions have. And they always will. The movement of people coming into Labour are a work in progress, because we're all works in progress. The shouting on social media, the lack of sophistication with which some new comrades express themselves, the lapsing into semi-conspiratorial modes of thought, all are symptomatic of masses of new people getting drawn to politics. But among them there are future Labour ministers and perhaps even a Prime Minister who has got involved because of Jeremy Corbyn.
And this brings me onto the second problem with Matt's argument: his bewilderment at the role Corbyn's figure plays in all this. In short, he passes over the role of personalities in social processes. By standing, and particularly after the tax credit debacle, the very simple arguments Jeremy made stood out against a principle-lite background of managerialist waffle. Whether you support him or not, his was a seed that fell on ground ready to receive it. Matters were helped by being virtually unknown outside of Westminster and the established left. He was therefore a clean pair of hands and the subsequent attempts to vilify him only drove his support further. There is nothing particularly "culty" about this. As social animals that relate to other people, throughout human history individuals have acted as lightning rods for social forces. What Corbyn did by setting out his stall was nothing superhuman. He and his campaign attracted hundreds of thousands to the party. These were your ones and your twos existing, in the main, without any prior collective relationship between them except for shared frustrations, values, and trajectories. They all moved as one directly into Labour as either members or supporters, and this movement naturally invested Corbyn as its organising point. Again, to reiterate, this is entirely normal. Movements of varying coherence have latched onto figures like Nigel Farage, Nicola Sturgeon, and Tony Blair to cite three modern examples. Because some in these movements project onto the leading personality their hopes and aspirations, it's unsurprising people should feel personally affronted when they come under attack. Given the disingenuous criticisms and some of the most disgusting press a political leader in this country has ever received, should we be shocked that so many are prepared to uncritically defend Jeremy?
Presently, as a new movement for socialist politics it is dependent on Jeremy because it's the most obvious rallying point. If he were to disappear from the scene for whatever reason, because of its infancy it could be easily dispersed. But when he wins and the Labour Party shudders under another membership surge, it will cohere more in the party structures, in the Momentum and Red Labour meetings, it will carry on networking online and some of it into the unglamorous political work old hands wear like badges of pride. As it is exposed to more politics, and not a few shenanigans on the part of Jeremy's opponents, as a collective it will learn, become more sophisticated, more self-activating and, crucially, less dependent on the anchor of Corbyn's leadership.
I understand why some comrades like Matt are despairing. A huge party doesn't necessarily win elections, what's happening has far from lifted our standing in opinion polls, and there are plenty in Corbyn's camp who naively assume we don't need to persuade voters who previously went for the Tories. But I think this realignment of politics which is energising and in effect refounding the Labour Party opens up new possibilities for politics, which includes not necessarily losing the next general election. That argument, however, has to wait for a future post.