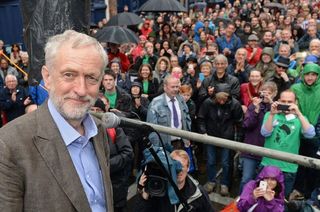 Provided I'm no

t

knocked down by a bus or get buried by work, I should be attending a Jeremy Corbyn event this Tuesday lunch time in Derby. When the photos showing the crowd start circulating, knowing wags will put down their pipes, shake their heads and lecture the children about the difference between the people turning up to a rally and the wider electorate. Our Jackanorys might pepper their yarn with a choice Uncle John Golding quote about 50,000

fans

thinking Michael Foot sounded wonderful on a speaker's platform, but at home there were millions who thought he was crackers.
The latest to spin a variation on the theme is Abby Tomlinson of Milifandom fame (remember that?). In her piece, Abby talks about her electrifying experience sharing a platform with Jez and Owen Jones in Manchester. Typifying Jeremy's political life, she argues this acts as a closed circuit. Jez says something at a rally, the crowd lap it up, and he comes away thinking he can win a general election. The problem, and one of the reasons why she's not supporting his leadership, is an apparent unwillingness to reach beyond the "safety" of the rallies where he preaches to the converted. As she acerbically observes, "do you know who have literally zero rallies? The Tories. Do you know who keep winning elections? Also the Tories ... there is no real correlation between rally attendance and being electable to the general public."
Abby is right. Then again, there is no evidence anyone but the rawest, freshest recruit believes Labour can win an election by having mass rallies here and there. But that isn't to say they don't have a place. They do.
Rallies are useful because the consolidate support and firm it up. When I was in the Socialist Party, Herculean efforts were made every year to turn out a few hundred members and guests for the annual Socialism rally at Friends Meeting House. This had the effect of sharing (drunken) experiences and the horrors of the youth hostel. All good bonding fodder. The Corbyn rallies have been and are necessary because the people his leadership has drawn into politics are mostly atomised and new. A rally is a way of sharing an experience that can be talked about with like-minded others in real life and on social media. They are also places where local party and Momentum activists speak to people, give them literature, let them know about meetings, and so on. They are moments that offer an opportunity to become familiar with the movement and, hopefully, get drawn further into it.
Secondly, to borrow a horrible phrase from spin-spaddery, it makes good optics. Traditionally, labour movements have mobilised large numbers and marched with the express purpose of demonstrating the strength of feeling about particular issues/policies, and pressuring Parliament into doing something about it. We've understood this for about 200 years and, as with any kind of extra-parliamentary activity, it has a mixed record. 250,000 in London followed by a riot brought Thatcher down in 1990. A dignified march of two million against the invasion of Iraq in 2003 wasn't able to dissuade Blair from the course that subsequently damned him.
A similar logic applies to rallies. You're walking about Liverpool city centre when, bugger, you bump into 5,000 people gathered to listen to the Labour leader. Impressive. You're at home despairing about the state of politics, and then a report comes up that sees Jeremy addressing huge crowds. Isn't he supposed to be really unpopular? Again, the optics appear to counter the established narrative, and it will have a modest but real impact on some voters.
More importantly, they can act as weapons of psychological warfare. As Abby notes, the Tories get by without rallies. That's because as a party of elites whose sole purpose is to win elections to defend entrenched interests, it doesn't need them. They don't even really need a mass membership, seeing as they are the party of the few and have the cash to make up the numbers. Whereas Labour, of course, is the party of the many and a mass membership is its lifeblood. So the sight of lots of people turning up can leave some people rattled. One of these is Jake Berry MP of Rossendale and Darwen. Writing last month, he frets that the massive, ravenous Labour beast could savage the Tory lambs, and that the Tories have to also pile up the members to counter this fiend. Wouldn't it be a shame if the Jeremy bandwagon was to roll into his constituency and add to his discombobulation and strengthen party organisation in that part of the world? If that was to happen in all of our target seats over the next couple of years, it would certainly make a number of their MPs sweaty.
Now, of course, Abby, John Golding, and the social media wiseheads are right up about rallies. They don't win elections in and of themselves, but they can make a useful contribution, and should be part of our electoral strategy. And while Jeremy needs to up his game when it comes to other aspects of his leadership, doing fewer rallies is something he shouldn't worry about.