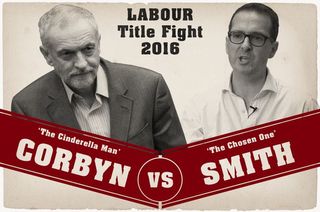 46 people turned up for tonight's nomination meeting which, thanks to the Appeal Court ruling earlier today, depressed the numbers we were otherwise expecting. Indeed, two people that hadn't heard about the upholding of the NEC's decision had to be turned away. I do hope that isn't the last we see of them.
Looking around the meeting before it properly started, apart from a few folks away on holiday (which, in case you were wondering, included our MP) nearly all the stalwarts who attended religiously during the quiet times turned out. But there were a good chunk of newer members who had joined before the cut-off date. It's a bit weird not knowing everyone in the room any more, but a good weird. Also, I'd decided before the meeting not to say anything and give people who don't normally speak more of a chance. It seemed most of the regulars had taken the same view.
Anyway, as per the meeting running order handed down from on high, assembled members had 10 minutes to read the statements supplied by Owen Smith and Jeremy Corbyn, as well as have a bit of a catch up. Once sorted the speakers were called. The format was to be one Jeremy, one Owen, and on until the end of the meeting. Unfortunately, there proved to be a bit of a problem - only one person was willing to speak for Owen.
After the introductory remarks from one of the newer comrades, who noted Jeremy was a rarity in that he cared about the problems disabled people faced, our Owen Smith speaker spoke about the despair she felt about the state of the party. Having voted Jeremy last time thinking he'd be a breath of fresh air, she believes he has taken the party to the edge of the abyss, and it's possible it might not even survive the next few months. On electability, she was convinced we cannot win with him and he is driving voters away from us. Owen isn't ideal, but he is an interim answer to the danger facing us. She also expressed doubts whether the broad church would continue.
Member A's response was a broad church is fine, but when you have a prominent member calling on the Tories to crush a rail union that founded Labour, there are limits to how far this should stretch. He spoke with some anger about the misrepresentation of Corbyn and his positions in the media, an observation now backed up by two academic studies. He also noted how Owen was running with policies previously regarded as "unelectable" just to try and get elected, concluding he was a weather vein and not a leader. Member B focused on Jeremy's character as honest and caring, but the main reason he was supporting Corbyn was because he understood that party members need a proper input, not just the MPs. He was also against the constant sniping of the leader by the PLP and didn't believe getting into power to behave like the Conservatives was something worth working towards.
Member C echoed these comments saying we should be more than a pale blue opposition, and Jeremy was the man taking us where we needed to go. Member D was a bit more sceptical of Jeremy and said she wanted to vote for Owen, but feels like he can't be trusted. She was disgusted with the behaviour of the shadow cabinet (as was), and only someone like Corbyn can get Labour back to the kind of politics it should be espousing. Member E added that the party's achievements of the last nine months were purposely underplayed, while sedition has undermined Jeremy's position and masses of Labour supporters vilified. He noted there were people in the PLP who would rather see the party split than a socialist Labour government come to power. It's time for a new politics. Member F challenged the notion that Corbyn supporters are uninterested in winning elections - he's supporting him because there is no one better. The danger with Owen Smith winning is he would demobilise the huge interest in the Labour Party and take it back to where it's come from. Member G, a union rep in his warehouse, was keen to emphasise that Corbynism can win over workers when it gets a fair hearing. To illustrate, his workplace alone has 20 party members. Member H attacked the PLP for betraying the membership and not allowing their choice have the chance he should expect and deserve. He also cast doubt on Owen's candidacy, asking whether he was the best or the only candidate they could find. He was allowed to run precisely because there was no chance of him winning. Lastly, Member I said she was neither a Trot nor a Corbynista, but just wanted someone she could trust and had the right politics.
With the half hour over and no signs of abuse or uncomradely behaviour, we totted up the votes taken by secret ballot. As one of the tellers, even before counting started it was clear Jeremy had won by a landslide. The final result was two spoiled ballot papers, four votes for Owen, and 40 votes for Jeremy, making our existing leader Stoke Central CLP's nominee.