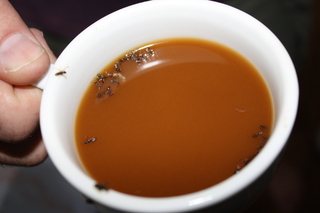 I'm working on what the trendies and hipsters call a 'long read'. It's about Neoliberalism - what it is and what's likely to come after. I'm about 2,000 words in and not sure if the mid-point has been reached. Yikes.
You're here looking for a bit of blogging red meat to play with, and so ...
I've been making cups of coffee since I was a little kid, mostly for myself and mum. And I followed the standard prep format. Coffee and sugar in first, followed by the milk and then topped up with boiling water. Seeing the half/semi-dissolved granules swimming about the surface was, in my book, the sign of a drink well made.
Then, over 20 years ago, I went to university. In the second year our house was in a street about two minutes walk from the main entrance to the ivory tower, so all the folks we knew would pile round inbetween lectures. Many hours of Neighbours and Home and Away were spent with cakes from Wright's Pies and beverages from, well, me. And I recall one of my housemates (hello, Liv!) moaning about my "ants in the coffee". Imagine my horror that, apparently, the trusty and tried Cartledge way of doing things was wrong. The water goes in first and the "ants", my beloved melting coffee sands, were unworthy. Sad to say, I capitulated and adopted the "proper" method and have added the milk last ever since.
The important questions then are:
a) How do you make your (instant) coffee?
b) Is it a region thing?
c) Is it a class thing?
This has puzzled me for the best part of 15 minutes, so can you shed some light on the situation?