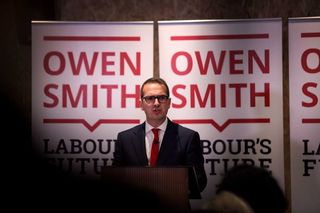 Long-term readers know one of my favourite games ever is Civilization III. As you busily set about conquering the world militarily or, depending on your play style, kindness, you get to sign treaties with computer-controlled opponents. It being a title from 2001, the options are a touch limited. You can put together a peace treaty if you're concluding a war, sign a right of passage agreement, or a mutual protection pact. Signing the latter has you declaring war on anyone who attacks your ally, so it's not something to enter into lightly. Should you break any of the treaties your civilisation will suffer a hit to its reputation, making future diplomacy more difficult and the odds of AI opponents attacking you more likely.
I mention this in light of the comments made about NATO by Jeremy Corbyn, and more pointedly his refusal to say whether a Jez-led Britain would come to the aid of an alliance member attacked by Russia. In real life, just like Ci

v

that would have dire repercussions for Britain's standing in the world, as well as

doubts over its commitments to other international treaties.

Now, it might be unfair he was asked this question. Can you recall Gordon Brown or Ed Miliband getting asked something similar? Well, tough. Politics isn't fair. Jeremy's equivocal answer probably didn't matter a great deal to his firm supporters. After all, we know that as a committed anti-war activist and critic of US foreign policy, he wouldn't be fussed about the abolition of NATO. But, as I've argued before, giving the impression of being blasé about defence and security (and therefore stoking insecurity) never sits well with the electorate, and it might reap Team Jeremy negative dividends when it comes to the leadership contest.
Oh really? Hasn't Jeremy got a commanding lead among the constituency parties? Yes, he has indeed. But as the Owen Smith camp (remember him?) have pointed out, taking together all the people to have indicated a preference so far the margin is much closer than you would expect. As Stephane notes, while Jez wracked up the CLP nominations the actual votes cast in the contest isn't as one-sided as they suggest. From the start, I've believed his challenge, as cobbled together and opportunist it is, Owen has stood an outside chance of winning, especially in the event of some Jez gaffe. And it's not the membership Jeremy would have to worry about as they remain likely to back him, it's the affiliated members in the trade unions.
Readers with long memories and/or an understanding of labour movement history will know well the balance of forces in the party in the 1970s and 80s. Despite being much stronger and a touch more militant, affiliated trade unions played a conservative role in the party. Uncle John Golding in his unmissable Hammer of the Left demonstrates how bureaucratic chicanery in the party allied to having the unions onside was the path to defeating and isolating the left in the 1980s – a lesson those who would follow in his footsteps failed to grasp because, well, they don't understand how the party works, let alone the wider labour movement.
In the current leadership battle, it appears to me neither side have paid much attention to the affiliated members in the trade unions, but this would be a mistake. Having most of the unions formally endorse Jeremy was always going to happen. Likewise, Community and USDAW backing Owen was as predictable as tomorrow's sun rise. The eyebrow raising came when the GMB's membership plebiscite delivered the union's support to our Owen. Sundry Corbynites cried foul. The general secretary's preamble was "biased". The wording on the ballot paper was tilted against Jez. And turnout was pitifully low. Oh dear. It appears the right of the PLP aren't the only ones who don't understand trade unions.
Despite the leftist reputation unions have acquired over the last decade-and-a-half, on the whole, they're not stuffed with right-on lefties. A trade union is an institution supported by a collective of dues-paying workers to represent their interests in the workplace. That is all a trade union is. They are not a gaggle of bolshevists pregnant with insurrection. It's an organisation that fights on issues of economic relevance to its members, and as such can only ever be as strong as the width and breadth of that membership. It's also why trade unions were won to founding the Labour Party. The separation of politics and economics exit only in the scholastic imagination; securing the economic interests of working people requires political struggle, up to and including winning parliamentary representation and forming governments. As such, while unions can mobilise large numbers of working people and see them engage in militant action, it doesn't necessarily mean they're equally militant in their politics. For instance, I remember a comrade telling me about how her then boyfriend came from a family of militant dockers. Yet above the family dining table was a portrait of the Queen.
In the seldom read but much maligned What is to be Done?, old Lenners talked about trade union consciousness, how the immediate realities of wages, speed ups, work load, managerial control, lay offs, and so on tends to focus the minds of workers around these issues. Winning wage rises or more autonomy in the work place does not put capitalism into question. The job of socialist politics is to bridge that gap, of linking the experience of working collectively to win concessions at work to the wider project of remaking society. And so, because trade union consciousness spontaneously coheres around economistic issues, there is a tendency for it to be expressed in sectional ways. For instance, workers who struck to to keep colour bars in place, the replacement of "indigenous" by migrant labour, or to keep in place the exclusion of women from workplaces are all examples where the immediate, sectional interest is at odds with the interests of labour in general.
Which brings us back to the situation we find ourselves in. As readers know, Jeremy has already copped criticism from Unite and the GMB for his opposition to Trident. From a trade union perspective, it's obvious: scrapping the replacement programme means no Trident jobs, and therefore an uncertain future in the shipyards and for the communities that depend on them. It doesn't matter that Jeremy supports the redeployment of these skills and reinvestment in socially useful industries of the future. There is a tangibility to Trident whereas the alternatives, at present, are a pipe dream. From this perspective, Jeremy represents a double whammy of insecurity: in terms of their livelihoods and in terms of making the country weak in the face of foreign foes. And for those groups of workers concerned about such things, yesterday's remarks about NATO is like topic off a toxic fudge cake with radioactive sprinkles.
This then is the only real possibility Owen has of winning, by banking on the less politically conscious component of the selectorate mix in the trade unions going for him because they feel Jeremy's leftyism isn't just a problem when it comes to elections, but that it appears to be against their interests. The question is whether there are enough to outweigh pro-Corbyn affiliated trade unionists, and the bulk of the membership and registered supporters. I would say no, but this is 2016, and stranger things have happened. It also presents a future problem for Jeremy if he does win. There is now a section of the trade union members that are opposed to his continued leadership, and this could prove useful to know for any future coup plotters unless his leadership ups its game. He and his team should regard the GMB vote as a warning and act accordingly.