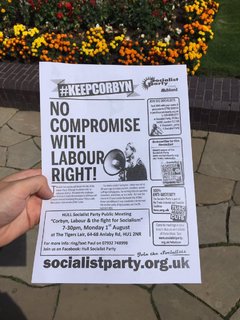 Haven't we already done this? The spectre of Trotty entryism is being raised again, this time by deputy leader Tom Watson. Writing to Jeremy Corbyn, his recent warnings that the Old Man's followers are pouring into the party to twist minds as well as arms now, apparently, has some evidence to back it up. In addition to a dossier comprising the pronouncements from the likes of the Socialist Party and Socialist Workers Party, Tom
exposes a nefarious document
allegedly passed between Momentum activists on how to take over Labour Party branches. As this recommends making meetings interminably boring, uncomfortable, and adversarial, long-term members could be forgiven for thinking the party has been infested with Trots for years. Alas, there is a problem with Tom's claims of leftist diabolism. Embarrassingly, and hat tip to
Dave Osland
, the lines are lifted from
a Progress book review
. Super ouch.
Tom's claims are ridiculous and overblown, but there is no denying the two principal organisations of the far left - our aforementioned SP and SWP friends - would dearly love a piece of the Corbynist action. I mean, to think of yourselves as the most far-sighted section of the proletariat and spending decades attacking and standing against the Labour Party, only for
a mass take over of the party
by the left to happen. And all without you, how embarrassing. I guess when you don't bother analysing anything afresh and stick with
creeking formulae
from 20-odd years ago, you're bound to come unstuck from time to time. Still, with so much new blood for the left around
they want in
. Here are some very good reasons why they should be kept out.
The first is their
modus operendi
. As each, even the smallest group, believe they are the future revolutionary party in embryo, it is the building of that organisation that matters first and foremost. And as there is no higher authority than the central committee, that inevitably leads to the subordination of all political activity to its self-interest. It's one reason why all the extra-Labour left unity initiatives of the last 20 years have failed. One would-be Lenin could never submit to the will of another, even if the political moment demanded it. And when it comes to campaigns, again, there are countless examples of left groups,
and the SWP in particular
moving into/trying to take over campaigns, and then running them down or smashing them to bits when they no longer serve their purposes - which is always party building. Truly an example of the goal being nothing, and the movement being everything. Though the "movement" in this case is a cranky cult with an unenviable record of covering up sexual assault allegations.
Ultimately, what all Leninist groups share is a parasitic approach to politics: find a host, attach, suck in as much fighting fund and recruits as possible, and then move onto something else. The SWP do it. The SP did when they were Militant, and subsequently worked toward a time when they could play their former role afresh in a new workers' party. Their shared political parasitism is at odds with the patient, methodical activity the building of a truly mass, deeply rooted party demands. Nor would it be helpful for Labour to have its name hijacked and traduced by people wedded to the fantasy of revolution when, in fact, they speak only for themselves.
The second issue is related to the first. While obviously a revolutionary as opposed to a constitutional reformist party with extra-parliamentary extensions, the Bolshevik party that led the October Revolution was criss crossed with platforms, open factional presses, and a democratic culture of debate and accountability.
Yes, really
. In form, Lenin's party bears more of a passing relationship to the freedom that exists within the Labour Party than the small groups claiming our Vladimir's mantle now. Our contemporary advocates of workers' democracy finds their parties groaning under a "managed democracy" in which that year's outgoing central committee is always the incoming central committee, that internal debate exists within tightly circumscribed lines and pays all due deference to an entitled and overblown full-time apparatus; and as an authoritarian culture breeds sycophancy and unaccountable power, both organisations have an ugly history of mistreating and, in some cases, abusing their members. Something you might expect from a religious cult, the last thing from collectives nominally committed to building a socialist society.
Thirdly, their authoritarian politics are absolutely not suited to the moment. Where and when it had a mass base, revolutionary politics in Western Europe were symptomatic of the workers' movement being largely outside of political systems. The reasons why Germany's SPD voted for war credits, attacked revolutionaries, and later dumped its formal adherence to Marxism wasn't solely because of its leadership. Much more importantly, their members were getting progressively integrated into parliamentary politics with all the opportunities and problems that brings. It has since proven to be true that wherever representative democratic systems are at the heart of constitutional politics, the tendency is for the majority to be brought "inside". Only those who, for whatever reason, are or feel excluded are likely to be drawn into revolutionary socialist politics. Hence why the far left here remains marginal - the natural constituency for them is vanishingly tiny.
As well as being obsolete, politics is now undergoing
profound change
. A key contradiction for contemporary capitalism is between the need to
maintain labour discipline
, and the active, creative forms of subjectivity (modes of living, self-identities) we all possess which it is
simultaneously dependent on
for aligning them with consumption and, more importantly, for generating the innovative, analytical, critical cognitive skills becoming more central to work (and therefore surplus value production) in the 21st century. These modes of life are embedded and and cannot easily, if at all, be disentangled from the social media networks that enable the sharing of interests, the swapping of knowledges, and the senses of mutual recognition these have brought. Left politics is still in the process of figuring out what this means, but it's clear that when widespread horizontal communication exists and is part of the everyday existence of masses of people, and that the numbers engaging in these practices continue to grow, the command-and-control politics espoused by our Leninist friends is, at best, ill-suited. At worst, it works against this progressive trend, severing its adherents off from it while wasting their time on political work that has next to no impact, or frustrates the work of others.
In short, the revolutionary left as represented by British Trotskyism is a dead end trend, albeit one that could cause damage and division if they were let into our rapidly changing, rapidly growing party. Best to keep the proscription on Militiant and its successor organisation, to tell both the SP and SWP their parasiting the Corbyn campaign is not needed, and communicate to them in no uncertain terms their "support" is as welcome as syphilis.