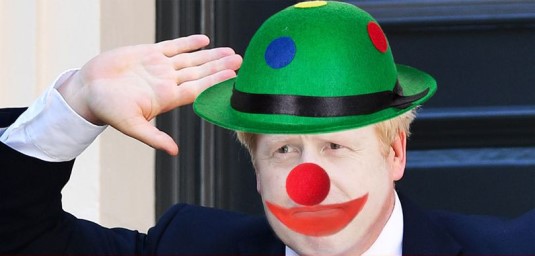 The wheels came off the clown car long before it reached the big top. I can only be talking about the Conservative Party campaign so far. As John O'Shea notes, "I've been worried for a while that we were relying on the Tories making the same mistakes they did in 2017. They very clearly aren't making the same mistakes. There's a whole new level of incompetence and deceit being mined this time round." Shall we have a refresher of the previous couple of days' worth of calamities?
Jacob Rees-Mogg strongly implies the victims of the Grenfell fire lacked common sense for abiding by the Fire Brigade's 'stay put' advice. Andrew Bridgen then wades into the ensuing row to say Rees-Mogg's comments were correct because he was clever, and we need clever people running the country. Both men were forced to make grovelling apologies.
Alun Cairns, the Welsh Secretary has resigned his position after it emerged he lied about knowing that his aide had collapsed a rape trial. Ross England, who doubles up as a Tory candidate for the Welsh Assembly at the 2021 elections, forced a mistrial by repeatedly referring to the survivor's sexual history despite being directed not to do so from the judge. England's friend, James Hackett, was later retried and found guilty.
The Tories were called out by the broadcast media (including BBC Breakfast!) for for doctoring footage from Tuesday's Keir Starmer interview on Good Morning Britain. Desperate to frame Labour's Brexit position as a hopeless fudge (it isn't), the Shadow Brexit Secretary was portrayed as hesitant and vague in the Tory ad while the actual segment saw him answer Piers Morgan's question straight away.
Speaking of interviews, Tory chair James Cleverly was empty chaired by Kay Burley. He says he wasn't booked, whereas Burley was adamant that he was. Who to believe?
And lastly, Boris Johnson officially launched his campaign in the Tory house comic, The Telegraph, with a wordy front page splash wittering about profits and Stalin. They talk of nothing else in the key marginals.
In 2017, I wrote about that being the worst Tory campaign ever. We're only a week in and Boris Johnson is determined to take the Tories to new lows. But does it really matter? Strong and stable became weak and wobbly for May, and yet she still polled 13 million votes and put her vote share right up there with Thatcher's best. What May faced which Thatcher didn't was an opposition largely united in a single party. Johnson's strategy is banking on opposition division, while hoping the Brexit Party don't revive to menace his right flank. However, the shambles we see now is characteristic of Johnson's leadership campaign and the early part of his premiership, where Number 10 careened from crisis to excruciating crisis.
What this is is not a manifestation of surreptitious genius, but is really the embarrassing mess it presents itself to be. At times, 'say what you see' does apply to politics. Why? Well, Johnson is a rubbish campaigner who has relied too long on his buffooning to advance his way up the greasy pole. He was carried into office as London Mayor off the back of his celebrity, an anti-Ken weariness and anti-Labour sensibility, and in 2019 the party handed the premiership to him - not because of his talents as an orator or an intellect, but more his Kardashian-esque quality of attracting the public eye. Yet to actually pull a team together around a common programme and take it to the country seems, at this stage, entirely beyond him.
Which is just as well he's not addressing the entire country. Johnson wants to style this the Brexit election, and by going hard on leaving the EU he's virtually given up trying to attract new voters beyond May's 2017 coalition. It was always going to be thus. Therefore the kulak nonsense, just like the other idiocies and allusions to Stalin-era Soviet history are less about persuading people and more about firming up the base. In this election, to try and counter the army Labour has out on the streets the Tories are hoping the relentless barrage of fear will, via the right wing press, mobilise enough quiet Conservatives and get them over the line.
It's a strategy that could work. However, Johnson had better be careful that his complacency doesn't consume his chances. In this election, the sloganeering of getting Brexit done is sure to be burnished with the usual Tory touchstones about competent management of the economy, dealing with crime, defending the realm yadda yadda. Yet if it persists in being this bad, if his ERG comrades keep gaffing and proning, and chaos and confusion reigns the Tory campaign will have consequences alright. Negative consequences. If you want to run the brewery, you've got to at least be seen capable of organising a piss up in it. If Johnson continues to look hopeless and the election is dogged by lying, lack of preparedness and clarity and all the rest, there is a very good chance chunks of his base won't bother turning out.
Surely it will get better than this, and indeed Johnson will have his opportunities. There will be events dear boy, like the resignation of Tom Watson from Labour's Deputy Leadership that can be exploited, and the even more egregious lying of the Liberal Democrats. But only if the campaign act sharpens up. Let us hope it doesn't, and long may the bumbling circus continue.
Image Credit