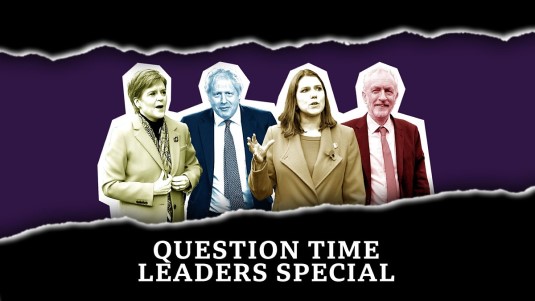 Is it really a scoop for Jeremy Corbyn to admit that he would remain neutral in the event of a second EU referendum? It has been bordering on the explicit in Labour's stance for some time, but ever keen for headlines I suppose breaking this "news" was something of a feather in the Question Time cap. More significant, most would agree, was how last night's episode was the best we've seen in years. At least since Corbyn last appeared with Theresa May shortly before the last election.
On the performance of the leaders themselves, of the four Nicola Sturgeon got the easiest ride of the night. She faced pointed questions, but not hostile ones. And her performance was as accomplished as you'd expect. Fluent and business-like certainly, but without the personnel management vibes that afflicted too many politicians during the New Labour era. Understandably a great deal of questioning revolved around Scottish independence, what kind of relationship the SNP would seek with a Corbyn-led Labour government, her price for cooperation (she refused to believe Corbyn wouldn't allow a second independence referendum in time), an independent Scotland's position in the EU, and how her government might deal with a deficit. An assured appearance.
As for Corbyn, I thought he initially came across as a bit flat but soon warmed up under a barrage of hostile questions about socialism, about nationalisation, and about Labour's rumbling anti-semitism crisis. But he rallied after supportive audience members intervened, and had the space to discuss Labour's Brexit position at length. Coming out as neutral in any forthcoming referendum will, hopefully, use ambiguity to nullify ambiguity about what Labour plans to do. From then on there was a mix of tough and friendly questions that played to his strength, allowing him to finish on a Labour's green industrial strategy. No nonsense about pressing the nuclear button on this occasion.
When it came to Jo Swinson, oh dear. It wasn't that her performance suffered in terms of fluffed lines and bad delivery, it was what she was selling that bombed with the audience. Having spent the campaign so far at a remove from the public, save her kind of people, she hasn't had to account for her record in power, nor the positions taken since under pain of persistent questioning. Take the move to hard remain, for example. Simply putting the votes of over 17 million people in the bin was always going to be a tough sell, especially for a party pretending to be the most democratic in British politics, and so it proved. One woman said the LibDems had lost her vote thanks to the cynicism of their ludicrous remain alliance lash-up with the Greens and Plaid Cymru. Another took Swinson to task precisely because she was prepared to dismiss leave voters. She didn't have much luck on other matters either, from her commitment to tackling climate change, her (continued) support for austerity policies, and her preparedness to launch a nuclear strike. The more the public see of the LibDem leader the less they like, and it's doubtful the party's cause won many new friends off the back of this.
And lastly there was Boris Johnson, whose questioning wasn't quite as hostile as Swinson's but was pretty rough. Following the formula we saw on Tuesday evening, Johnson kept trying to relate every question back to Brexit so he could comfortably reside in the soundbites of "oven ready deal" and "get Brexit done". On this occasion, Fiona Bruce was having none of it and intervened persistently to steer Johnson back to answering the question. No wonder the Tory commentariat were spitting feathers afterwards - they're used to deference from the BBC, not being held to account. Johnson was taken up on questions of honesty, on delivery, and on the influence of Russia in UK referenda and election campaigns. On this the PM looked shifty, saying there was nothing in the reports and that Russian influence was "Bermuda Triangle stuff". What definitely isn't are the Russian monies pouring into the Tories. He was also asked about racism and made out that in the millions of words he'd written during the last 20 years, a racism was bound to crop up here and there - almost as if bigotry is a slip of the pen. Johnson also refused to apologise. In all, it was an unusual Johnson performance because he wasn't allowed to bluff and bluster out of questions. As it should be.
Question Time gets a lot of stick - rightly - for dodgy guests and inconsistent chairing, but on this occasion it showed the format can work with balanced chairing and balanced audiences. In fact, this was much more enlightening than any head-to-head is likely to be and is more likely to go down better with punters watching from home. One thing those not plugged into detest is the perception of squabbling politicians. This Question Time avoided that, and should be the model for future leader-focused events.