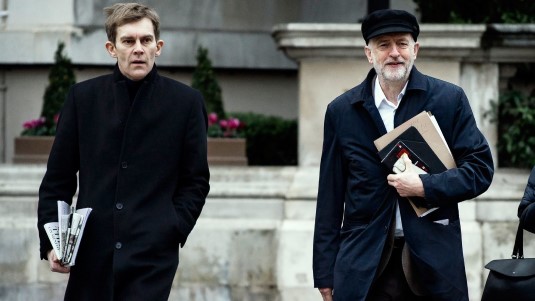 Panorama, the BBC's premier investigative journalism show comes in two flavours. You have considered pieces, usually but not always focusing on allegations of wrongdoing, that sifts through evidence and builds a case for or against that episode's object of scrutiny. And then you have the lazy hit job that sees testimony and documentation arranged without due space for the right of reply, nor the consideration of evidence that flies in the face of the case. Can you guess which way tonight's Panorama alleging leadership interference in anti-semitism complaints went?
This isn't the first time a political target has been roughed up this way. Indeed, not long after Jeremy Corbyn came to prominence the BBC used Panorama to suggest he was chillaxed with the Iraqi resistance attacking British soldiers, because in December 2003 Stop the War was present at a conference in Cairo that urged resistance to the US/British invasion, and the declaration of said meeting was published on StW's website. As we have seen since, a cottage industry has grown up around guilt-by-association gotchas as far as the Labour leader is concerned, and tonight's show was unafraid of flagging up these links.
What about the substance of tonight's Panorama then? If you can't stomach the full half hour, the BBC have presented their case in written form. And, as it was always going to be, it's pretty thin stuff. We have a complaint that Seumas Milne issued an email our whistle blowers interpreted as an instruction. The email, or at least the bits the BBC chose to quote, say "something's going wrong and we're muddling up political disputes with racism ... I think going forward we need to review where and how we're drawing the line." This seems pretty straightforward and non-controversial. Because anti-semitism simultaneously exists in the party and is a factional football, there are going to be real and vexatious complaints. And how do we know distinguishing between the two was the intent and nothing more sinister, as per Panorama's insinuation? Why, you can read the full, undoctored quote from Seumas's email for yourself.
We heard the old canard that staff from the leader's office interfered in the complaints process, suggesting it was improper for workers to be seconded to the department. This has been floated many occasions over the last couple of years, and has almost become a sub-genre of grumbles in and of itself. If this separation of personnel was to be strictly maintained at all times, why did our disgruntled Labour staffers regularly email Laura Murray, now head of complaints, then LOTO staff, asking for advice about cases? Indeed, Sam Matthews - one of the complainants in tonight's programme and the source of the above claim against Seumas Milne - was one of those who approached him for advice in the transition period between general secretaries. It's a measure of polemical rather than investigative intent that this went unsaid.
It goes on. One Kat Buckingham says she was stuck between an "angry and obstructive leader's office" and the disciplinary process itself. That may as well be, but what this "obstruction" was is unclear. This, like may other moments of pure conjecture, were left hanging. Which is exactly what you would expect from a hack piece. Establish the case early on, and let the narrative flow away from evidence to insinuation. A dishonest approach to journalism you would expect from the Sun or the Mail, not the supposedly world class BBC. These moves were repeated to pad out the programme too. At one point, in reference to the party investigation of goings ons in Liverpool Riverside CLP, quotations appeared on screen. "Every Zionist is a target" went one. "Every Jew is a Zio-fascist" said another. Very well, but we are not told what the source of these quotes were. Are Labour Party members responsible? In the context of the broadcast it was a device used to establish that an atmosphere of hostility and anti-semitism pervaded the CLP, of the sort of remarks we're led to expect were commonplace and were aired without challenge.
Similarly, the testimonies of Jewish members were left to float without context and response. I do not for one moment doubt their experiences, and it is appalling that anyone would feel unwelcome in the Labour Party because they're Jewish. Nevertheless, where our interviewees were not citing party meetings some remarks were left vague.Did they involve Labour Party members? Are we talking about real life or social media? And we do not know if those party members who did engage in such behaviour subsequently had action taken against them.
Another of the so-called smoking guns was Jennie Formby's "interference" in the case against Jackie Walker, who was slung out earlier this year for bringing the party into disrepute. According to Panorama, our General Secretary is damned by her emailing "The National Constitutional Committee cannot be allowed to continue in the way that they are at the moment and I will also be challenging the panel for the Jackie Walker case." Indeed, prior to Jennie's appointment the NCC - incidentally, not then under majority left control - had sat on the Walker case, leaving it to fester and give off the impression the party was not handling complaints. What her intervention amounted to was an expediting of the complaint, and a NCC panel that ... expelled Walker. The General Secretary got on with the job she was appointed to do, and finds herself on the receiving end of a bad faith attack for clearing up a running sore.
As Louis Althusser noted in an entirely different context, silences can be as significant as the spoken or written word. Sometimes more so. And what do we find missing from this piece of trash? Well, we don't hear tell of how the previous General Secretary, Iain McNichol, completely failed to grasp the anti-semitism problem - even though he was interviewed by Panorama and was in position for the first three year's of Corbyn's leadership. Why does he escape criticism when the backlog, who sundry MPs have dishonestly laid the leader's office, happened on his watch? If there is a perception the party is tardy when it comes to handling allegations, he is the one who allowed it to happen. And if this was a genuine investigation of anti-semitism in the Labour Party, perhaps some focus on the period prior to Jennie Formby's appointment is in order?
The strategic silences do not end there. How about the revelations former members of Labour staff deliberately sat on, delayed, and "lost" complaints about anti-semitism to damage the party? This is not conjecture; the evidence is available thanks to email chains curiously not seen by the BBC.
Overall, this was a poor piece of journalism. It was pure hackery. If Dan Hodges made documentaries ... But again, it's part of a piece. That the BBC is biased is beyond reasonable doubt, but it is tilted against what it defines as the fringes and nods toward the permitted ground of establishment reasonableness. It's why the SNP, Nigel Farage, George Galloway, and the BNP have all had the sloppy take down treatment in the past. However, with Jeremy Corbyn and the left-led Labour Party, this is all ramped up to ten. Every Labour dispute commands disproportionate coverage, every time Tom Watson undermines Corbyn the BBC cameras are ready, anti-semitism gets more broadcast traction than Tory racism, and now an hour-long documentary at the behest of disgruntled former employees less than forthcoming about their experiences working for the party. The BBC's traditional defenders - the left - wouldn't mind if there was parity and honesty in the coverage of Labour's difficulties. There are problems with anti-semitism, and it has proven very difficult sorting it out. But the BBC are not acting as an honest broker and are as guilty as those Labour MPs who see anti-semitism less a problem in and of itself and more an opportunity to take down the party's leadership. And ultimately, when the day of reckoning comes for the BBC, thanks to their shitty behaviour they will no longer find its traditional supporters willing to defend it.