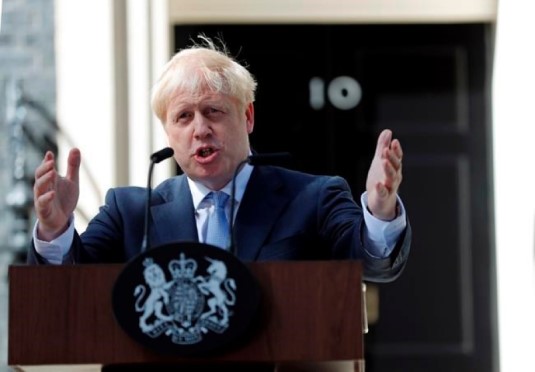 If you're reading this, you've survived the first day of Boris Johnson as Prime Minister. Well done. With a bit of luck and fortuitous politics, there won't be many of these we'll have to endure. There are two notable things the Johnson administration accomplished in its opening hours: a speech outside Downing Street (with a new lectern, no less), and controversial new appointments - but what do they say about the government Johnson's leading?
When Theresa May stood on the Downing Street steps for the first time, she made an audacious pitch that sounded like a real break with Dave's government. No more demented deficit determinism, a planned approach to economic policy, a commitment to (nebulously defined) social justice, and a one nation community in which everybody had their place. Not my cup of tea nor I suspect yours, but it resonated and awarded the Tories a seemingly unassailable lead over Labour. Even worse, it suggested we could look forward to a new authoritarian consensus. Thankfully, we avoided that fate and all of May's objectives remained aspirations. What of Johnson's first address?
Unlike May, whose speech was peppered with generalities, Johnson's pitched a set of promises. More money for schools (a 0.1% spending increase), more coppers "forthwith", and a social care plan were among the more eye-catching pledges (more here, but overall and as you would expect, Johnson inflected his speech with sunlit uplands optimism. He talked about Britain as a beacon of democracy, and how leaving the EU by 31st October is the best way of affirming this most British of values. He talked up the potential of the country by unleashing the productive power of the regions, and waxed lyrical about science and technology (gene therapies for blindness, world leading battery power research, more satellites). This was a polemic against "the doubters, the doomsters, the gloomsters" which does characterise continuity remain, and set out to strike a settling tone with unbounded optimism. Whether we'll see these pledges realised, it is clear the tone of government is enforced cheerfulness with the less ebullient cabinet members required to paint on their rictus grins.
And those appointments, what can we say? The headlines were fixated by the greatest round of sackings of government by a sitting party, ever. The night of the blond knives, as The Sun predictably put it, saw practically all the remaining, er, remainers sent packing to the back benches. Jeremy Hunt said no to the defence brief and tried clinging on to the Foreign Office, but his vote share in the leadership contest was such that his disposal was a formality. As for the rest, hints of past impropriety didn't imperil the returns of Priti Patel and blog favourite, Gavin Williamson. They're back with big jobs - Home Secretary and Education Secretary, respectively. Sajid Javid gets the Treasury, a position he's long coveted, and Dominic Raab was appointed Foreign Secretary to ensure the Prime Minister doesn't go down in history as the UK's worst chief diplomat, among everything else. Gove gets the Duchy of Lancaster non-brief, where he will overlook Brexit preparations, Liz Truss replaces disgraced former minister Liam Fox at International Trade while Andrea Leadsom, another firm favourite of ours, goes to Business. After her public selling out of Never Johnson-ism, Amber Rudd stays at the DWP, and Nicky Morgan - another so-called hard remainer (and proof there's really no such a thing as a Tory rebel) - heads over to Culture. Jacob Rees-Mogg gets Leader of the House, where he'll no doubt look forward to tangling and wrangling with the Speaker over procedural matters - especially as the latter proved to be a frustrating opponent of May's. And Grant Shapps makes a come back too, replacing Failing Grayling at Transport. Alas, there were no spare positions for his stable of aliases so he had to make do with the one. And perhaps the most interesting appointment is Dominic Cummings as Chief of Staff. Needless to say, he hasn't been hired to sort out HR issues.
As many have observed, this is a Leave cabinet. Well, yes, would you have expected anything else? Cummings is a bruiser whose legend was amplified by victory in the EU referendum, the Machiavellian casting of him by "Shippers" in his popular and compulsive gossipy tell-alls, and getting played by Benedict Cumberbatch in Brexit: The Uncivil War. This suggests a number of things. That Johnson has brought him in to give the faint hearted the hair dryer treatment should they deviate from the true path of Brexit, that Johnson (eventually) wants to take an axe to the civil service, that Johnson needs someone to strategise his premiership and appeal to the same bundle of frustrations Cummings tapped into in 2016, and that sooner or later Johnson is planning an election. Good job we have a good idea what this could look like.
A good first day for Johnson? The optics, they say, look good. A bombastic speech followed by a norovirus-level clear out of government confers the impression of someone urgently wanting to get on with the job. Johnson promised decisive leadership, and his first actions in office confer the right impression. But might he have already made his first missteps with such brutality? His cabinet is overwhelmingly composed of the hard right and leave ultra-tilting wings of the party, but has pushed out most of the remainers May had hanging around as well as leavers who didn't display the requisite gushing sycophancy - like Penny Mordaunt. Johnson, never known for having much nous, thinks a cabinet of true believers and loyal bandwagon chasers can ram his will through the Commons where Theresa May failed. But his situation, while not as precarious as hers was, is still tricky. The would-be leaders aren't circling for the moment, but the parliamentary arithmetic is still against him and his majority is pitiful. Getting no deal across the line is tricky, and his preferred option - expertly burst by Andrew Neil during the campaign - is not credible nor available. The only other option is a return of May's deal with a lick of paint. That might satisfy the backbench remain grumblers whose ranks Johnson swelled yesterday and a few lily-livered Labour MPs, but even with Rees-Mogg on board the ERG are going to have a hard time swallowing it, as well as the members (remember them?), and Nigel Farage's Brexit Party. When Johnson proves to be as fixated as keeping the party together as his predecessor, he's going to be hit with a great stonking headache.
For the brief moment of right now, Johnson's government are looking confident and assured. We'll see how long that lasts as it faces up to the hard realities of a deeply sceptical Commons and a not-at-all-amused European Union. Johnson is about to find out his mindless boosterism can only carry him so far.