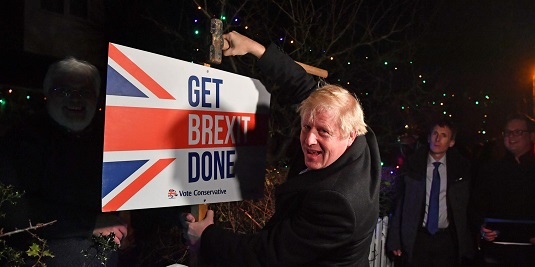 It's happened more than once. Since last Thursday a number of colleagues have said they thought about me as the election results rolled in. Not because I'm our office's Mr Labour or the fact there's very little to me except politics, but because of my shtick. If I'm known for anything at all it's as the Tory decline guy. I've banged on about how Labour is increasingly aligned with an emergent and ever-more dominant section of the working class, and also how, on the flip side, the changing class structure and composition of the Tory vote is storing up significant problems for them. Problems that could put their viability as a party of government into question in the years to come. Quite understandably, with a majority of 80, a whisker away from 14 million votes and a broad advance in to seats never held by the Tories before, you could be forgiven for thinking my focus should be on the long-term decline of Labour. The Tories, contrary to everything written here these last seven years, are in rude ass health.
Yet despite their handsome win the declinist tendencies have not gone away and, in many respects, Boris Johnson's triumph is a culmination of these trends. This has gifted him a wider base for sure, but as New Labour eventually discovered having support that is miles wide but only an inch deep leaves it prone to evaporation. The new Tory voters have injected some new tensions into Johnson's voter coalition he's going to have to manage, and while he is pressing ahead with gerrymandering the electoral system around party interests his win, paradoxically, might curtail the disappearance of some of the small seats, like Stoke Central, which certainly would be on the chopping block.
First things first, when a party is in decline that does not rule out its capacity to win elections and recruit supporters. For a while. Decline is never linear and can affect periods of growth and apparent renewal. This Tory win should be seen in this light. Writing last year, I argued there were three possible futures for the Tories: disintegration and splits between the hard Brexit right, the traditional Tories, and the remainy-Cameroon continuity wing. The second was stagnation arising from managing the Tories as was by doubling down on Brexit, and a more moderate Christian Democrat-style make over minus the illiberalism and bigotry. As it turned out, Johnson gave us a combination of all three. Signalling his intent in the Tory leadership contest to pile up leave votes versus a disunited remain-adjacent opposition, Johnson's reckless approach - which even saw his brother quit in disgust - successfully broadcast his intent to get Brexit done, to coin a phrase. He wagered that chucking out remainy rebels would trouble few Tory voters, and the horrendous prospect of Jeremy Corbyn would remind remain-inclined supporters that they're Tories first. And it paid off.
There is more to this than just referendum determinism. It is well established by now that there are clear age patterns when it came to the Brexit vote and the last three general elections. And these age splits are not the consequence of essentialist nonsense about people growing more conservative as they age. They are rooted in class relationships and the acquisition of property.
I'm not one for crediting Ben Bradley for, well, anything, but a recent thread of his explaining Tory success in the likes of Mansfield, Bolsover and Stoke etc. shows he knows but simultaneously misrecognises his support. The key to Tory advance, he argues, is understanding that the bulk of the working class is uninterested in socialism and radical change. They join unions out of self-protection, and go on strike to advance wage claims and defend existing conditions if provoked, and not because their heads are filled with Bolshevist dreams. Bradley is right about the pragmatism, up to a point. This was the basis of Labourist politics in the post-war period and, to a lesser extent, the persistent and significant minority of workers who ritually voted Tory. Collective action was a way of defending and raising living standards, but beyond that a quiet life was the heart's desire of the many. And now? A lot of these people, regardless of their politics then, now draw their pension and queue up outside the postbox to mail in their Tory votes. The actually existing working class are, in the main, non-unionised, know little to nothing of collective bargaining and the other institutional trappings of strong trade unions, and are housed, shuffling boxes back and forth, in metal sheds sitting atop the pits the likes of Bradley lionises.
The working class our "blue collar Tories" and their Blue Labour analogues get into a lather about is the working class of the past. The contemporary working class, the socialised worker is disproportionately young, more likely to be disengaged from official politics, but also largely spontaneously anti-Tory thanks to how the Tories are barriers to getting on and have vested interests in keeping this state of affairs so their voter coalition can hold together.
Why the old and the retired then. Why are they prepared to return governments who actively make life tougher for their children and grand children. Well, obviously, they don't see it like that. At its most conscious it's going to be articulated as tough love but ultimately, as a group of voters and a segment within the wider class structure there are certain structural characteristics conditioning their choices. The first is property. After a life time of work under a more benign economic and political settlement than now, they are more likely to own a home and have a decent pension. A decent number hold small quantities of shares. As modest as this property ownership is, you want to keep hold of it. And so suggestions Labour are going to tax the rich is code for 'they want to nationalise my bungalow'. Property, therefore, is something to be jealously guarded.
On top of this has to be considered the atomising effects of retirement. From the discipline of the working day to a modest but real enough freedom, retirement opens up the vistas of free time (conditioned by income, naturally) not available to those in work. As such it is a relative estrangement from the social and, therefore, the interests articulating and clashing within it. Further, whether a pensioner has property or not - about a third don't - the bulk of retirees are on fixed and modest incomes without the means, and in some cases the capacity, to make good shortfalls if, for whatever reason, something goes wrong. This means pensioners are prey to the sorts of ontological anxieties. In this case, a suspicion of change, a bewilderment tinged with fear about the state of the world, and a propensity to soak up stories that feed these anxieties. See The Mail, for example. Within this imaginary Corbyn was a danger because he cavorted with Britain's enemies, and condensed all their fears around tolerance, multiculturalism, softness, and big spending. He epitomised all that was wrong, now and in the immediate future. And so their votes for "change", be it Brexit or Boris, is a vote against a world that scares them, do not understand, and do not want to understand. This is pensioner as petit bourgeois.
Social being conditions consciousness, and the Tory gains demonstrate this better than anything else. In Bed Bradley's Mansfield, over the last three decades (according to Centre for Towns research), the number of over 65s are up 30%. Bolsover 35%. Scunthorpe 40%. Younger people, the socialised workers, have tended to mover where the jobs are - hence the massive Labour majorities in the big cities - and those left are more likely to be stuck in the more precarious, low paid end of the labour market and not be as likely to vote as their pensionable neighbours. Therefore Labour's collapse in these seats has been a long time coming - but could have been headed off. The Tory victory then was brought by attracting older voters by patriotism, their attachment to the eternal solidity of Britain/England in an uncertain world and their outrage at London elites disregarding their leave votes. After all, Brexit for them is not about Singapore-on-Thames but asserting independence, putting the Great back into GB and sparking off national renewal.
Well played then, Boris Johnson. However, taking these deprived constituencies into the roster of Tory seats means the party is going to have to learn to manage them if it wants to keep them. Immediately, under the boundary review undertaken earlier this decade a few dozen of these seats were slated for disappearance when they were Labour's. Johnson certainly has a majority big enough to get rid if he was minded, but that could do the Tories an unnecessary mischief, so the criteria is going to have to be thought about carefully. The second concerns postal votes, which the Tories rely on now much more heavily than Labour, and photo ID at polling stations, which is going to disadvantage the older worker/pensioner base than younger workers who carry more identification you can shake a stick at. There was no suggestion in today's Queen's Speech these were being caveated in any way, so we shall see how they handle this issue - or if they even identify it. Also announced, which doesn't bode well for our blue collar seats, is the absence of a hike to the minimum wage and watering down the already paltry policy concerning nurses' bursaries. Johnson can carry on in this cavalier way while basking in the victory glow, but it doesn't last long. Without a Brexit wedge in four or five years' time, if the Tories have clearly done nothing for these areas, what then?
The curiously empty manifesto offers some clues. Having successfully elided patriotism with Brexit and appealed to enough voters, the planned assaults on Travellers' property, the free speech "protections" and review of "low quality" courses in universities, the move to the much trailed points-based immigration system all offer culture war opportunities as per Bannon/Cummings. They hope running scapegoating and scaremongering campaigns on these issues will appeal to its traditional and its new support alike by prodding their fears and stoking up their anxieties. It's the oldest trick in the right's play book.
Johnson, however, is not invulnerable. His coalition can be undone, must be undone. One is his diet of thin gruel and hard Brexit for these communities. Things will change here alright, for the worse. Undoubtedly, the culture war posturing aided by their press satraps will find ways of blaming those who do not "believe in Britain" for it. Unless Johnson pillages Labour's manifesto and comes up with something. The exacerbation of tensions with the SNP should, at least initially, aid the Tories in terms of the thrifty English standing up to the grasping Scots, but issues around the union could portend a constitutional clash. And there is Labour as well. There is little chance of a lurch back to, as Peter Hain put it, "wishy-washy centrism" and Labour's radicalised activist army aren't going anywhere. If the party spends the next several years organising in communities, meeting people's needs, registering voters, and doing the slow job of winning back the Corbyn-sceptical-but-Brexit-happy, a Johnson government with little to no material improvements to its name and fiddling while climate change burns offers many openings.
The Tories won then because Johnson was better able to exploit the dynamics of working class decomposition better than Labour was able to ride the wave of working class recomposition, as it did in 2017. The Tory victory shouldn't blind us to the fragility of the voter coalition now assembled, meaning it's too early to suggest last Thursday represents a renewal and reversal of their long-term decline. And, happily, thanks to the interests they have to manage already the biggest obstacle to stabilising the composition of this vote is the Tory party itself.