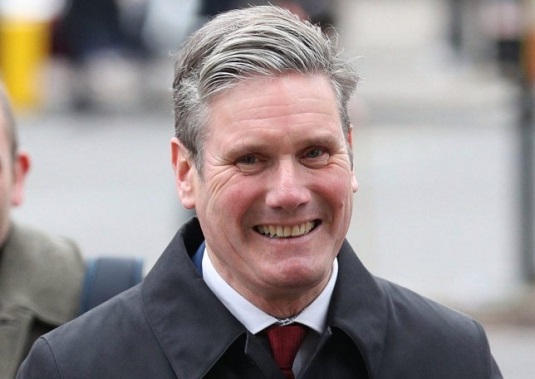 Were you surprised to find Keir Starmer at the top of YouGov's Labour leadership poll? Can't say I was, to be honest. Running at 31% vs Rebecca Long-Bailey's 20% (and 61% to 39% if there is a run off between the two), the omens are not auspicious for the left. Not least because it seems some of us are happy to throw their lot in with Keir, or "Starmzy" has he's started to be known in some quarters. How and why has he taken an early lead over the candidate who was the heir apparent straight after the election?
First off, a quick note about the polling itself. Since its publication we've had the same old, same old tendency of conspiracy theorists and Twitter stans declare the poll ... a conspiracy. YouGov is owned by Tories, not every candidate has declared their intentions yet, how does YouGov know their sample is representative and, well, do you know anyone who's been surveyed by YouGov? The argument goes the Tories want Starmer, so they have their polling company cook up a result that has him come out on top. While uninterested in how polling works, if the comrades can manage a bit of reflection they might want to think about how, this time, YouGov got the election right. And how, during the 2015 and 2016 Labour leadership contests, they got both of those right on the basis of the same pool of Labour members. None of this invalidates the argument that polls are used to shape political debate (they are), nor that they can't be shifted (they can), but it is nevertheless slightly concerning a section of the party prefer clinging to illusions than comprehending the challenge the left has in front of it.
Back to Starmer's lead, there are two intertwined parts to this: left failure and the composition of the membership. Transforming the Labour Party in four years after a century of right wing domination was always a huge ask, and while it has done so in many ways what hasn't been addressed is the party's deep seated anti-intellectual culture. True enough, there is an explosion of left wing thought and a rebirth of socialist ideas thanks to the Corbyn moment, but this has been diffuse and spearheaded by individual initiative and comrades coming together mainly outside of party structures. For most of 2019, it remained the case that Labour Party meetings were the best place to go if you wanted to avoid politics. Who needs meetings about policy or labour movement history when much fun can be had discussing process and procedure? But party education isn't, or rather shouldn't be about jolly debates and showing off your depth of knowledge, it's about rounding out members and transforming them from passive voting and leafleting fodder into people who can organise, lead, and help politicise others. Notwithstanding the sharpening happenstance of the 2019 election, which turned tens of thousands of members into battle hardened activists and effectively cadreising them, the party officially remained steadfast in doing nothing about the political development of its members.
The result? Under the impact of traumatic defeat, significant numbers of people who supported Jeremy Corbyn previously and were mobilised by the appalling behaviour of the Labour right have politically collapsed behind not-the-left candidate. This, however, only goes part of the way. The second strength is how Starmer taps into the residuum of remain feeling in the party. After 2017, Labour's leadership didn't really make the case for retaining its election positioning and basically gave continuity remain free rein to organise around the second referendum, when they should have been challenged. This was picked up on by elements of the Labour right (and the centrist/liberal establishment) as a means of driving a wedge between pro-Corbyn members and voters, and Labour itself. This culminated in the disastrous EU elections this May and, to prevent the party's position disintegrating entirely Labour had no choice but to adopt the second referendum, with all the electoral consequences that followed. None of this was inevitable and the leadership could have used its considerable standing to assert its view on Brexit, but alas. Keir Starmer as the most prominent shadcab advocate for a second referendum is the personification of this strand of opinion he did so much to cultivate, a consequence of Corbynism's failure to consolidate. And for this reason he's well placed as a sort of unity candidate who manages to straddle the left and the right.
In this respect, as an opening salvo RLB's progressive patriotism argument may prove to be a misfire. Going remainy won't cut the mustard whereas a pitch that emphasised holding the Tories to account for using Brexit for attacking our people could have generated more of a positive buzz. However, in this first pre-contest skirmish Starmer's base is unruffled, giving him a free hand to move next wherever he pleases which, if he is smart, will be confronting the soft leave/blame remain school of thought championed by Ian Lavery and Lisa Nandy. And if he isn't, he'll set about dismantling his own support just as Andy Burnham, Yvette Cooper, and Liz Kendall did a life time ago. Unfortunately, there is zero chance of that happening. Which leaves the position of the left more precarious than it should be.