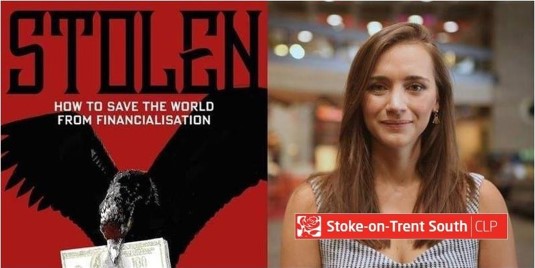 In and around North Staffordshire on the evening on Monday 20th January, around the 7pm mark?
Wondered why, over a decade ago, a crisis in the American housing market spiralled out and brought the world's financial system to its knees?
Tried making sense of it all but find the jargon around equities, securitised mortgages, and collateralised debt obligations completely off-putting?
And how we can avoid a crisis of this magnitude in the future?
Grace Blakeley, author of the excellent Stolen: How to Save the World from Financialisation will be in conversation with some bloke called Phil Burton-Cartledge to make sense of the crisis, what it has to do with Thatcherism, how the Tories were able to use it to justify their decade-long programme of cuts, and why democratic socialism is the answer.
Hosted by Stoke-on-Trent South Labour Party, attendance is free but you will need to register. You can do so via Eventbrite here. And our evening takes place at
Fenton Town Hall
Stoke-on-Trent
ST4 3BX
There will be copies of Grace's book going for the cheaper price of £10 on the night. It comes highly recommended!